For Women In Prison, The Only 'Choice' Is No Choice
@ChandraBozelko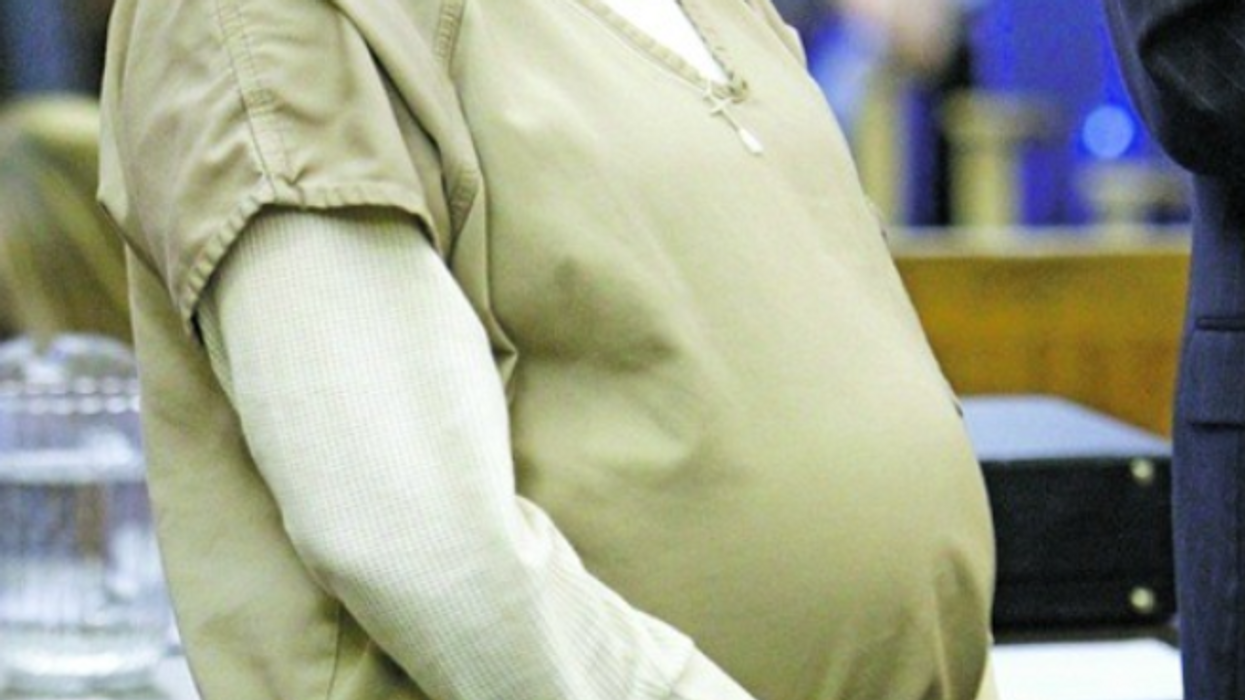 Abortion is the new protection racket.
Three states among the 28 that will ban or restrict abortion if Roe v. Wade is overturned — Arizona, Florida, West Virginia — have specifically vowed to "Protect Life in the Womb at 15-Weeks Gestation."
If elected, Michigan Republican gubernatorial hopeful Garrett Soldano wants to "protect" the DNA of fetuses by banning abortion.
"It is my sincere hope that, in addition to the criminal bill passed this session, this civil liability bill will provide strong, additional protection of the life of unborn children in Oklahoma," said Wendi Stearman, the Republican state representative who sponsored the bill that defines fertilization as the start of life — one that would be the most restrictive in the country when Gov. Kevin Stitt soon signs it as partial fulfillment of his promise to make Oklahoma the most anti-abortion state in the country.
Even Supreme Court Justice Samuel Alito got into the protection game. In his leaked draft opinion in Dobbs v. Jackson Women's Health Organization, Alito wrote that "Roe [v. Wade]'s central holding" was "that a state may not constitutionally protect fetal life before 'viability.'" He and four other justices want states to protect fetal life at all stages.
One need look no further than prisons and jails to see that the purpose of regulating reproductive rights isn't to protect anyone but rather to frustrate a woman's will.
Because women have no choice inside them, prisons and jails would be the perfect place to execute consistent reproductive guidelines; after all, prison is a place devoid of choice. Reproductive rules should be clear in these places because the authorities who make them have absolute control. Policy is much easier to implement when few — maybe none — can effectively challenge it.
But correctional reproductive practices are entirely inconsistent.
Only 21 states have codified anything regarding an inmate's access to abortion. In the remaining 29, it's overly generous to describe situations as administrators' "case-by-case" decisions. Essentially, prisons and jails can make it up as they go.
And that's exactly what they do. A pioneering study, published online last year by the Guttmacher Institute and Johns Hopkins University, of 22 state prison systems, the Federal Bureau of Prisons, and six local jails — places that house 57 percent of incarcerated women — found 11 states that explicitly allow abortion for incarcerated persons in the first and second trimesters and three that don't allow it at all.
But it's not clear that the states that say they allow choice and freedom mean it. The abortion rate was 1.4 percent for prisons and 18 percent for jails, the latter being much closer to the national rate of 20 percent.
Their lower abortion rates doesn't mean that prisons are more restrictive than jails. Jails and prisons aren't the same facilities; in 44 states, defendants are detained in jails while sentenced inmates live in prisons. It would make sense that women who enter custody pregnant and choose an abortion would make that choice in the earlier part of their incarceration.
The Guttmacher/Johns Hopkins study may be groundbreaking but it has limited utility. Examination of these statistics provide no insight into whether incarcerated women wanted and chose the pregnancy results they live with. And there's reason to doubt that they do.
Last year a Nebraska prisoner sued for access to abortion services after she was denied transport to a local clinic. But for the ACLU jumping in and filing suit to secure an emergency order, administrators' decisions might have been final. It was just the most recent example of a woman's choice being intentionally obstructed; it's happened in other states like New Jersey, Virginia, and Alabama.
But prisons aren't so invested in women having babies; what prison administrators want is control. From 2003 to 2014, the California Department of Correction of Rehabilitation sterilized 1400 women prisoners without their informed consent. A documentary released in 2020 titled Belly of the Beast shed more light on this atrocity.
It appears that women who expressed a desire for future childbearing were targeted for these illegal procedures. A doctor asked then-inmate Kelli Dillon if she wanted children in the future and she answered in the affirmative. The doctor then proceeded to perform a hysterectomy on Dillon, telling her both that she could have children in the future and that cancer necessitated his extreme surgical decision. Neither of the doctor's statements were true. It stands to reason that if Dillon had forsworn children her reproductive organs might have remained intact.
This isn't some extension of the right to life movement infiltrating correctional spaces. Ann Hose's case is proof that carceral systems seek to impede a woman's choice even if she wants to keep a pregnancy. A nurse in a Hawaii prison injected inmate Hose with depo provera, a contraceptive injection, without her agreement. Hose wanted to maintain the pregnancy; she asked to call her husband to discuss her decision but wasn't allowed.
We know about all of these cases because they made their way to media outlets after someone filed suit over the decisions forced on the plaintiff women. Scores of untold stories await, tales of women who want to give birth being denied that right and women who want to terminate their pregnancies being prevented from doing so.
Those cases will be hard to suss out. In 2015, a woman confined at the Lauderdale County, Alabama Detention Center sued for access to an abortion clinic with lawyers from the ACLU representing her. Before the case was resolved, the woman agreed to carry the child to term and filed an affidavit averring that no one had coerced her to change her mind, but even the woman's own counsel recognized the immense pressure that jail officials can apply to disabuse an inmate of her choice.
Once advocates and attorneys get involved, the problematic management of women's reproductive freedom tends to subside. But that's because courts have consistently held that incarcerated women do, in fact, have an unfettered right to abortion while Roe's ruling remains in place. Without that right, a woman like the Alabama inmate might not get the assistance she needs to file in court.
Even if the precedent established in Roe v. Wade stayed intact, one national rule on reproductive rights in carceral settings would be almost impossible to develop, as the Tenth Amendment gives power over both public safety — which means policing and corrections — and health policy — such as reproductive rights — to the states.
In the absence of a single sensible, overarching practice, the best way to predict how a correctional facility will react to a pregnant inmate is to ask the incarcerated woman what she wants. Prison administrators will then oppose her choice — no matter what it is.
Decisions made for inmates reveal the truth about anti-choice laws outside of prisons and jails; they've never been shields wielded with protective intent, but swords used to separate women from their freedom.
Chandra Bozelko did time in a maximum-security facility in Connecticut. While inside she became the first incarcerated person with a regular byline in a publication outside the facility. She wrote a"Prison Diaries" column for The New Haven Independent and a blog that earned several professional awards. She recently won a reporting fellowship from the Education Writers of America. Her columns now appear regularly in The National Memo.