Former Prosecutors Criticize Media's 'Uninformed Speculation' On FBI Email Letter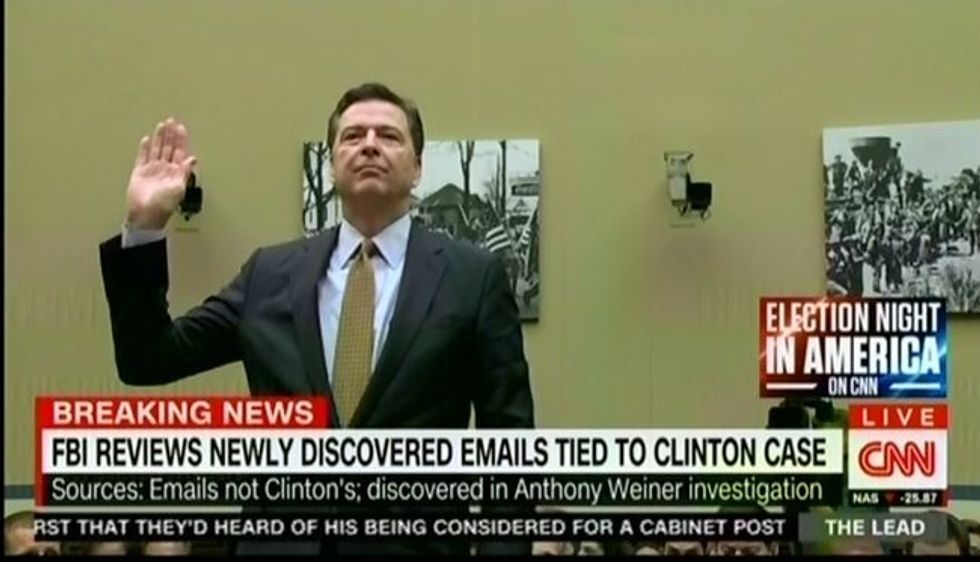 Reprinted with permission from Media Matters. 
Several former prosecutors are criticizing the wildly speculative and overblown media coverage of FBI Director James Comey's Oct. 28 letter announcing that the bureau plans to review additional emails that "appear to be pertinent" to its investigation of Hillary Clinton's use of a private email server as secretary of state.
Comey's letter has been criticized by figures across the political spectrum due to its vagueness and apparent defiance of Justice Department precedent. This weekend, the Clinton campaign distributed a letter featuring several dozen former federal prosecutors and officials at the Department of Justice "expressing serious concerns over FBI Director Comey's departure from long-standing department protocols."
In interviews with Media Matters, several signatories of the letter were critical of the "firestorm of misinformation" and baseless speculation that has dominated media coverage of Comey's actions since Friday.
"It's a predictable result of what happens when you depart from well-settled DOJ practice regarding criminal investigations," said Tony West, a former U.S. Associate Attorney General from 2012 to 2014. "Oftentimes it's uninformed speculation. It created a firestorm of misinformation and misinterpretation and speculation from the media and political commentators."
He later added, "There's a tension between trying to be first and fast and trying to be accurate. I find that with stories like this, it's not unlike what I experienced in the Justice Department – you would have an incident and early intelligence on that incident and oftentimes the early intelligence is incorrect. You see that play out with stories like this. It is very difficult to correct first impressions."
Stuart M. Gerson, former acting U.S. Attorney General and a former Assistant Attorney General from 1989 to 1993, agreed.
"The problem with it is we are in an age of scoop journalism. Finding an accurate picture requires a lot more experience, judgment and perception," Gerson said in an interview. "There is nothing in that letter that suggests there is a single culpable email, there is not even an indication of that. They should have dug further. There should have been tougher interviews of sources. There needed to be something more from the Justice Department itself. More real reporting."
For Donald B. Ayer, a former deputy U.S. Attorney General from 1989 to 1990, there was "a lot of confusion surrounding" Comey's letter that should have sparked caution.
"Who knew what?" he said. "The media is running around trying to pick up the story and examine it. The letter he wrote wasn't a masterpiece of clarity."
"To the extent the media reported they were emails from Hillary Clinton, no one ever said that," he added, later saying of the media reaction, "there were people with their hair on fire, 'oh my God,' 'the end of the world is upon us,' there was a lot of alarm."
Ayer also stressed that Comey's letter said "he had no way to know that there was any information at all that they had that had any bearing. If the press was really trying hard, they could have deduced that they had come upon things to look at, but we don't know anything about them. That would have been better than to put talking heads on TV to speculate on what it might be."
Jamie Gorelick, former Deputy Attorney General of the United States, struck a similar note, saying Comey's letter was "so unusual that it allowed kind of rank speculation."
Timothy Heaphy, a former U.S. Attorney from 2009 to 2014, accused many in the press of being "more focused on the sensationalist headline of reopening the investigation and nefarious speculation. There could have been more careful reporting, going beyond the FBI's letter. There were more questions raised than answered by that letter."
Bill Nettles, former U.S. Attorney for the District of South Carolina from 2010 to 2016, said many in the news media should have just reported what was known and not guessed at what was not revealed yet.
"Just to report the letter and then let it speak for itself," Nettles said. "You've got all of these people with opinions who would rather be in the media than be right. Do a little bit more in-depth reporting and let more facts come out."
Donald Stern, former U.S. Attorney for Massachusetts from 1993 to 2000, said the letter's vagueness and timing "led to the kind of rampant, unwarranted and purely speculative reporting of what the FBI had and what it meant. Some of it is uninformed speculation and some of it is speculation without knowing what to make of it."
Asked what the press should be doing differently, he said, "put it in context, parse the language that Comey is saying, and make clear he is really not saying anything of substance, that they do not know what is relevant and they don't even have [the emails] in their possession yet. That way, a much more restrained way, would have been the way to go."