Fox News, Alt-Right Spread Lie That Teenager Made CNN-Bashing Meme
@AlKapDC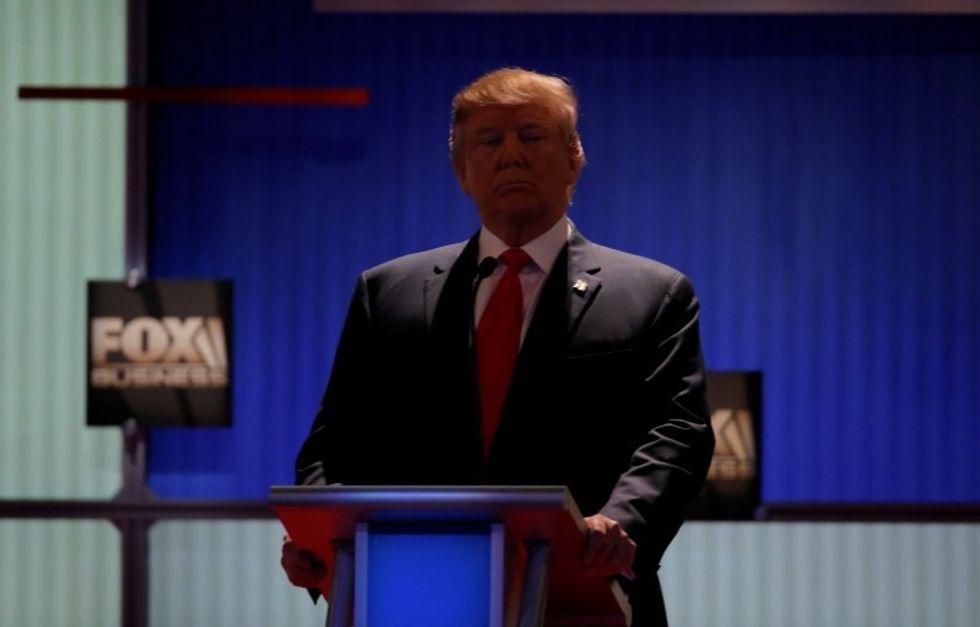 Reprinted with permission from MediaMatters.
A false claim posted on 4chan that a Redditor who created an anti-CNN GIF, and who was tracked down by CNN, was just 15 years old made its way to Donald Trump Jr. and on Fox News within 12 hours. According to CNN and the reporter who helped identify the Reddit user, the man is actually middle aged. The fact that the claim (made to smear CNN for attacking a teenager) was able to spread so quickly exemplifies how misinformation from fringe sources can make its way through the "alt-right"/fake news ecosystem and to outlets with a broader reach, such as Fox News.
On July 2, President Donald Trump tweeted a video showing himself wrestling and punching a man with the CNN logo superimposed on his face. The video started as a GIF posted on the Reddit forum r/The_Donald by user HanAssholeSolo and was later turned into a video with music, which is the version Trump tweeted. The Reddit user expressed glee at his GIF being tweeted by the president. On July 4, CNN's Andrew Kaczynski reported that CNN had identified the man but was "not publishing" his name "because he is a private citizen who has issued an extensive statement of apology … and because he said he is not going to repeat this ugly behavior on social media again," adding, "CNN reserves the right to publish his identity should any of that change."
CNN and Kaczynski received a flurry of criticism, "simultaneously draw[ing] accusations of going soft and issuing a threat," as The Washington Post's Callum Borchers wrote. But among the accusations made by online trolls and figures affiliated with the "alt-right" was that CNN had threatened and blackmailed a 15-year-old. Responding to the allegation, Kaczynski tweeted, "HanAssholeSolo is a middle aged man. People claiming he's 15 are wrong. Some are intentionally spreading this." Business Insider previously reported that the user had "claimed to be 37 in another post."
The claim seems to have first appeared right before midnight on July 4, when a user on the "alt-right"-affiliated 4chan forum /pol/ claimed that the "tough guys over at CNN" "doxxed a 15 year old kid." Within an hour, in the early hours of July 5, Twitter user Kaiser Willy tweeted a photo of the 4chan user's post, writing, "Potentially huge development in #CNNBlackmail Reddit user is believed to only be 15." A couple of hours later, neo-Nazi and "alt-right" website The Daily Stormer pointed to Willy's tweet to push the claim, adding that CNN "must be made to taste their own medicine."
Shortly after 1 a.m., "alt-right" personality Rick Vaughn tweeted a photo of a 4chan post of supposed CNN advertisers, writing, "Would be a shame if we make this List of @CNN 's Advertisers a lot shorter after CNN blackmailed a 15 year-old… #CNNBlackmail." Additionally, "alt-right"-affiliated Lucian Wintrich of The Gateway Pundit tweeted, "@CNN pushes propaganda for 1/2 a year, Trump calls them out, they threaten to doxx a 15 year old, now #CNNBlackmail is trending. Happy 4th!" Mike Cernovich, an online troll who dwells in the alternative media sphere, retweeted both Vaughn and Wintrich's tweets. The claim then spread to Reddit's r/The_Donald, with users highlighting the original 4chan post. Shortly after, "alt-right" figure Jack Posobiec tweeted, "I can confirm Reddit user HanAHoloSolo is 15 and is an LGBT Trump supporter." Paul Joseph Watson of Infowars, also an "alt-right" figure, tweeted, "The poor kid that CNN threatened to dox is reportedly only 15 years old. #CNNBlackmail."
At around 7 a.m., fake news purveyor TruthFeed published a post, claiming, "Many are saying that the Reddit user is actually a 15-year-old kid, which looks even worse for CNN." Not long after, Donald Trump Jr., who regularly pushes fringe claims, tweeted, "So I guess they weren't effective threatening the admin so they go after & bully a 15 y/o?"
By 9:00 a.m., the lie had made its way to Fox News, as frequent Fox News guest Dan Bongino said CNN "out[ed] a 15-year-old" and added that CNN should find sources for its Trump/Russia stories before they "out a bunch of teenagers playing their Xbox, making giphys you don't like." In response, Fox & Friends host Brian Kilmeade said that CNN "made the kid apologize" and noted that the internet was "going to bat for the 15-year-old."
The evolution and dissemination of this claim shows an alarming trend: How fake news and misinformation can go from the fringe of the internet to Fox News within a short period of time. The speed with which this falsehood spread demonstrates the dangers of the "alt-right"/fake news ecosystem, which has helped 4chan to attempt to impact a foreign election campaign and which regularly pushes conspiracy theories and falsities.
UPDATE: During Fox News' Fox News Specialists at 5:00 p.m. on July 5, host Eric Bolling repeated the lie, claiming the person being "threatened by CNN" was "a young kid."