Cheney Reveals Texts Of Trump Allies Begging Him To Act During Capitol Riot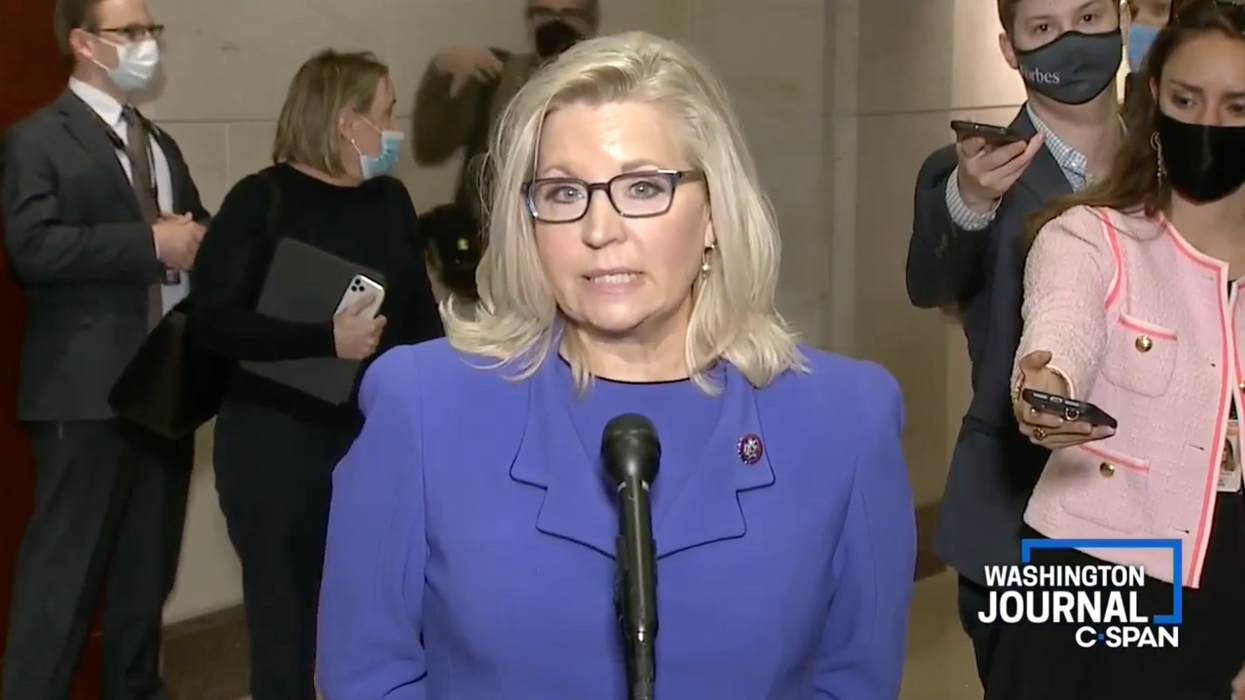 Reprinted with permission from AlterNet
During a televised meeting of the House Select Committee investigating the Capitol insurrection on Monday, Republican Rep. Liz Cheney of Wyoming read aloud a series of texts from former President Donald Trump's allies who pleaded to have him stop the attack in real-time.
The texts were sent to Trump's then-Chief of Staff Mark Meadows as the Capitol was overtaken. They showed the raw reactions of the former president's supporters, many of whom have since downplayed the severity of the attack.
"According to the records, multiple Fox News hosts knew the president needed to act immediately. They texted Mark Meadows, and he has turned over those texts," Cheney said.
Fox hosts Laura Ingraham, Sean Hannity, and Brian Kilmeade all texted Meadows about the attack, according to Cheney. They reportedly said:
Ingraham: "Mark, the president needs to tell people in the Capitol to go home. This is hurting all of us. He is destroying his legacy."
Kilmeade: "Please, get him on TV. Destroying everything you have accomplished."
Hannity: "Can he make a statement. Ask people to leave the Capitol.
Liz Cheney reads texts from Laura Ingraham, Sean Hannity, Brian Kilmeade, and Donald Trump Jr. urging former President Trump to act while he sat around and did nothing for hours during the insurrectionpic.twitter.com/jkk7KhxF0s

— Acyn (@Acyn) 1639441225
The president's eldest son, Donald Trump Jr., reportedly texted Meadows: "He's got to condemn this shit ASAP. The Capitol Police tweet is not enough."
And Meadows reportedly responded: "I'm pushing it hard. I agree."
"Still, President Trump did not immediately act," Cheney explained.
Trump Jr. kept texting, she said, later admitting, "It has gone too far."
"But hours passed without necessary action by the president," Cheney said.
Democratic Rep. Benny Thompson of Mississippi, the chair of the committee, revealed texts to Meadows from members of Congress.
NEWS: The select committee is describing texts Meadows received on Jan. 6 from members of Congress\n\n\u201cThere\u2019s an armed standoff at the House chamber door.\u201d\n\n\u201cWe are all helpless.\u201d\n\n\u201cIs Trump going to say anything?"\n\n"POTUS needs to calm this shit down."

— Kyle Cheney (@Kyle Cheney) 1639440883