GOP Leader McCarthy Dismisses Concern Over Trump's Enrichment With Taxpayer Dollars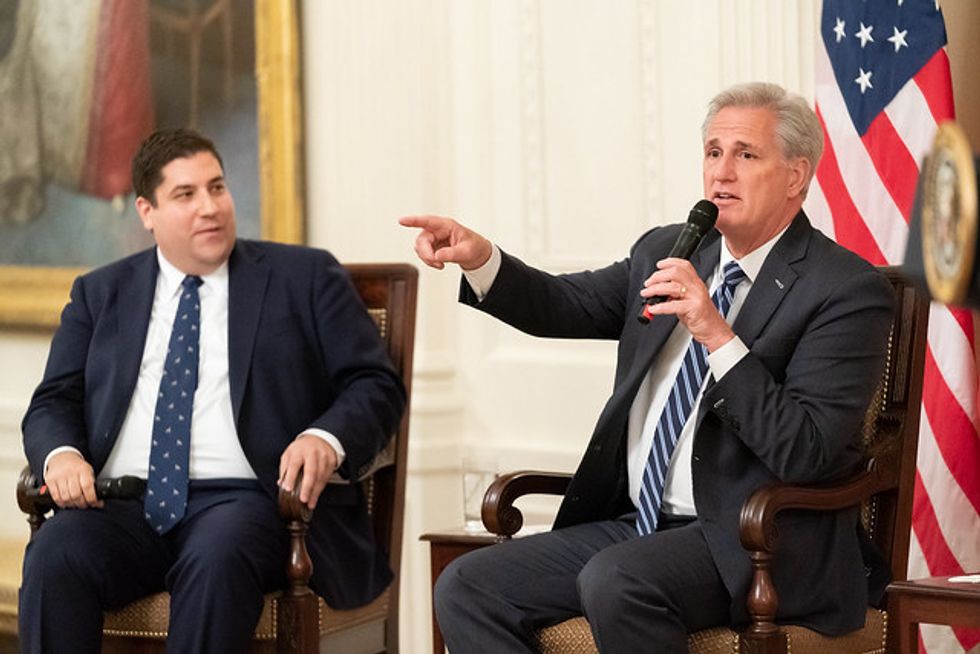 House Minority Leader Kevin McCarthy suggested Tuesday that there was nothing wrong with officials like Mike Pence staying at a hotel from which Trump profits, even claiming those resorts were "just like any other hotel."
McCarthy was asked in his weekly press conference to address Pence's decision to stay at Trump's resort in Ireland last week, nearly 200 miles away from where Pence was holding meetings with Irish officials.
McCarthy dismissed concerns about how the travel arrangements helped to enrich Trump, who has not divested from his private real estate holdings.
"The president's resorts are hotels that he owns. People are traveling. It's just like any other hotel," McCarthy said.
"I know people will look at it," he continued. "I don't know that it's different from anything else. Is it different that if I go and stay at a Marriott here or eat at the Trump?"
McCarthy insisted the president was "competing in a private enterprise," adding, "It's nothing – something that he controls in that process."
In fact, Pence's chief of staff Marc Short first told reporters that Trump did suggest to Pence that he stay at his hotel. After a firestorm of criticism, however, White House officials repeatedly changed their story, and now claim that Pence made the decision to patronize Trump's resort on his own.
The stay generated money for Trump and taxpayers were on the hook for the security and other resources used to accommodate Pence.
That visit has since has triggered a congressional inquiry into how U.S. government funds are being used to prop up Trump's personal business ventures.
Recent reporting has shown that Air Force activities may have helped Trump's hotel as well.
"Air Force crews have stayed overnight at President Donald Trump's Turnberry resort in Scotland on at least four occasions," Politico reported on Monday.
Sixty service members stayed on Trump's property during the trips in question, which were flights moving crews between the United States and the Middle East.
In July, Democrats passed a clause in House legislation prohibiting the military from spending money at Trump properties. With the recent disclosures about Scotland, they are trying to get the GOP-dominated Senate to pass a similar rule.
Published with permission of The American Independent.