The GOP's Impeachment Two-Step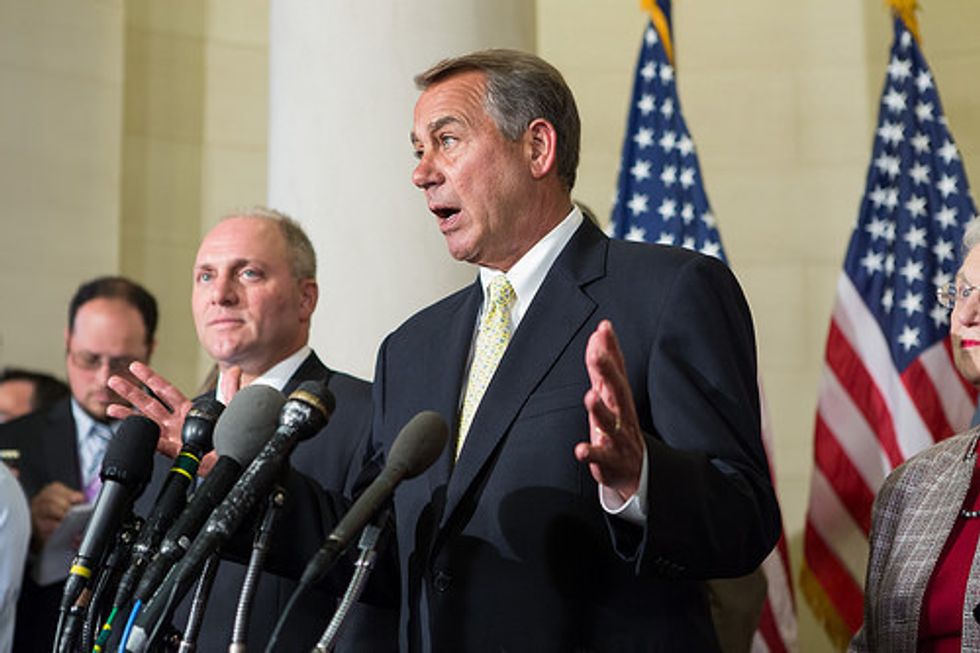 WASHINGTON — If you attack the president repeatedly for lawbreaking, executive overreach and deceiving the public and Congress, do you have an obligation to impeach him? This is the logical question Republicans are now trying to duck.
There is a reason why impeachment is a big deal in Washington this week. It's not just because a call to defend President Obama motivates the Democrats' base, although it surely does. John Boehner is having trouble countering fears that House Republicans will eventually try to oust the president because the Speaker's colleagues have spent years tossing around impeachment threats as a matter of routine.
At issue are not merely the open demands for throwing Obama out from Sarah Palin, Rep. Steve Stockman and many others on the right wing. The deeper problem lies in the proliferation of loose impeachment talk linked with one overheated anti-Obama charge after another.
As far back as May 2010, Rep. Darrell Issa (R-CA) said the allegation that the White House had offered former Rep. Joe Sestak (D-PA) a job so he wouldn't oppose Senator Arlen Specter, a Republican turned Democrat, "is in fact a crime, and could be impeachable." (Sestak beat Specter in a primary, and then lost to Republican Pat Toomey.)
During a hearing on Operation Fast and Furious in December 2011, Rep. Jim Sensenbrenner (R-WI) accused the Justice Department of withholding information and said that "if we don't get to the bottom of this," Congress might have to resort to the "only one alternative" it had, "and it is called impeachment." In this case, involving a Bureau of Alcohol, Tobacco, Firearms and Explosives sting operation that went wrong, the impeachment threat was directed at Attorney General Eric Holder. Indeed, 20 House Republicans filed to impeach Holder.
In May 2013, Senator James Inhofe (R-OK) said that because of allegations of a White House Benghazi coverup, "people may be starting to use the I-word before too long" about Obama. Also in 2013, Rep. Kerry Bentivolio (R-MI) said it would be his "dream come true" to author Articles of Impeachment against the president, while Senator Tom Coburn (R-OK) said the nation was "perilously close" to circumstances that might require impeachment.
Only space limitations prevent me from multiplying such examples.
Boehner claims that "this whole talk about impeachment is coming from the president's own staff and coming from Democrats on Capitol Hill … trying to rally their people to give money and to show up in this year's election."
But if impeachment is a sudden Democratic invention, why did The New York Times' Jennifer Steinhauer write a detailed news story in August 2013 under the headline: "Ignoring Qualms, Some Republicans Nurture Dreams of Impeaching Obama"? Why did my Washington Post colleague Dana Milbank publish an equally fact-rich column in December 2013 titled: "Republicans see one remedy for Obama — impeachment"?
Boehner's other difficulty is that in defending his lawsuit against Obama that he brought to the House floor on Wednesday, the Speaker has used arguments that could as easily be invoked to justify impeachment.
"In the end, the Constitution makes it clear that the president's job is to faithfully execute the laws," Boehner wrote on CNN's website in early July. "And, in my view, the president has not faithfully executed the laws when it comes to a range of issues, including his health care law, energy regulations, foreign policy and education. There must be accountability."
So what will Boehner do on behalf of "accountability" if the suit fails? Is it any surprise that House Majority Whip Steve Scalise (R-LA), pressed on Sunday by Fox News' Chris Wallace, declined to rule out impeachment?
Yes, Democrats are happy to use the danger that the House will go there by way of dramatizing the GOP's refusal to work with Obama on issue after issue and the right wing's open hatred for a president they cast simultaneously as a power-hungry lawbreaker and a weak steward of the nation's interests. But the underlying cause is a breakdown among conservatives of the norms and habits that governing requires in a system of separated powers.
The last time the country re-elected a Democratic president, House Republicans impeached him despite strong public opposition. With many in the ranks already clamoring for a replay of those glory days, it's fair to wonder if Boehner will hold fast and resist the impeachment crowd this time. His record in facing down his right wing is not encouraging.
E.J. Dionne's email address is ejdionne@washpost.com. Twitter: @EJDionne.
Photo: Speaker Boehner via Flickr
Want more political news and analysis? Sign up for our daily email newsletter!