Hannity Hosts Fake 'Town Hall' For Walker After He Skips Debate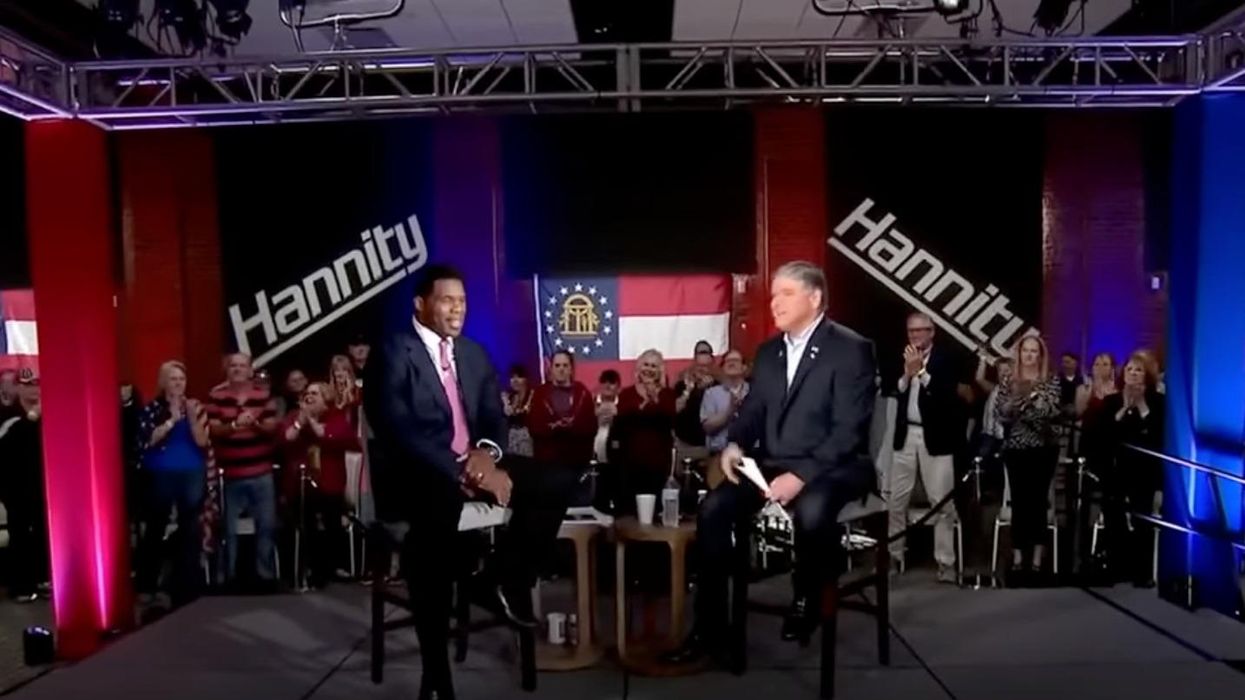 Youtube Screenshot
Fox News host Sean Hannity turned his prime-time show into a full-on campaign rally Monday night for Republican U.S. Senate nominee Herschel Walker, after the former football star had skipped an official debate Sunday night. Walker's appearance with Hannity was hastily announced Sunday evening, as incumbent Sen. Raphael Warnock (D-GA) prepared to face Libertarian candidate Chase Oliver (and an empty lectern in place of Walker) on the debate stage in Atlanta.

The episode of Hannity was officially billed as a "town hall," a label that the host used multiple times during the hour. But attendees in the audience never actually asked any questions of the candidate, instead simply delivering applause at various moments and engaging in call-and-response routines with Hannity or other speakers.
To be clear, this was simply a campaign rally for Walker, organized and promoted by Hannity and Fox News, and featuring special guests such as Republican Sens. Lindsey Graham and Tim Scott from neighboring South Carolina. (Hannity closed out the program by promoting another supposed "town hall" episode of his show scheduled for Wednesday, featuring Pennsylvania GOP Senate nominee Mehmet Oz — another candidate whose campaign Hannity was instrumental in boosting — as well as Republican gubernatorial candidate Doug Mastriano, a favorite of far-right media.)
Walker's appearance with Hannity followed his participation in another debate that took place Friday, which is likely to be the only televised face-off between the two major-party candidates in the Peach State. During that debate, when Warnock made comments about Walker's documented history of violence, including when he had threatened a "shoot-out with police," Walker responded by producing an honorary "prop" police badge from his jacket pocket as alleged proof of his close relationship with Georgia law enforcement.
Walker appeared on Hannity on Monday after he didn't attend Sunday's debate hosted by the Atlanta Press Club. Hannity opened the pseudo-"town hall" with Walker by declaring that Sunday's debate was an attempted "ambush," citing an article in the right-wing Washington Free Beacon that attacked some of the organization's members who had donated to Democratic candidates in 2020. (The debate moderator was radio host Scott Slade, who has been a fixture of Georgia political news for more than 50 years.)
Dismissing other media coverage, Hannity further declared that "in Friday night's debate, Herschel Walker proved them all wrong and he won that debate," followed by a clips reel of Walker speaking on stage. (Walker has actually been widely lampooned for his stunt involving the prop badge, a moment that Hannity's team did not include in the clips reel.)
Reprinted with permission from Media Matters.