Hard-Core Trumpists Presented As 'Swing Voters' In Times Report
@alexvhenderson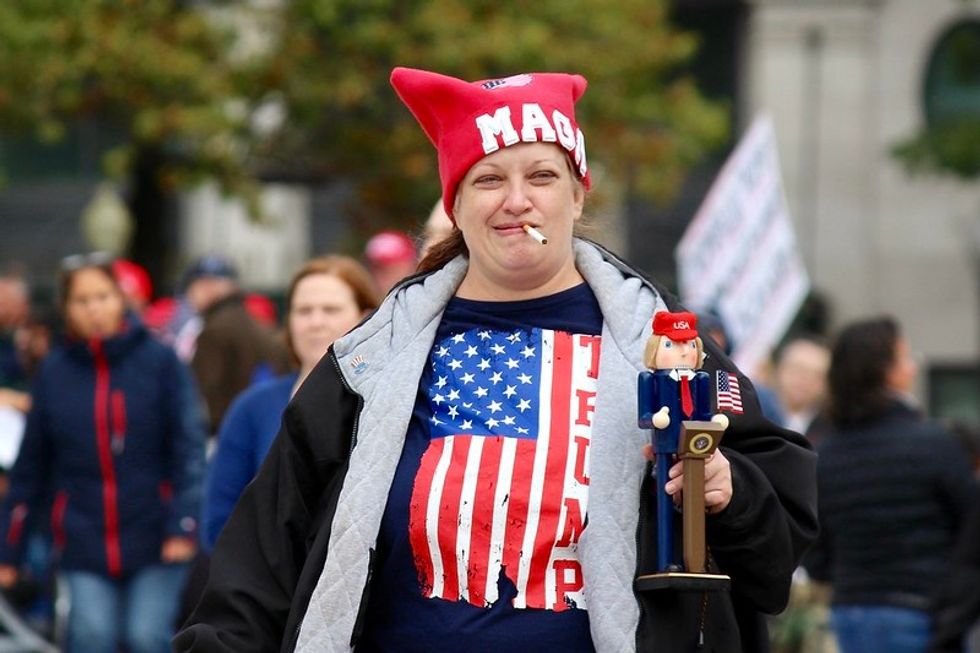 Reprinted with permission from Alternet
This week, Sabrina Tavernise and other New York Times reporters have been focusing on swing voters and the issues that could sway them either for or against President Donald Trump in the 2020 election — including an impeachment inquiry in response to the Ukraine scandal. Tavernise, on Twitter, posted, "I talked with six swing voters today. Impeachment repelled every one of them. This could cost Dems at polls." But pollster Matt McDermott responded that the voters Tavernise was referring to weren't really swing voters, but committed conservatives or strong Trump supporters.
McDermott, responding to Tavernise's tweet, posted, "No, the New York Times did not talk to six 'swing voters' about impeachment. The article quotes a handful of devout GOP voters who the NYT has repeatedly interviewed multiple times."
The New York Times article that McDermott was referring to rang with the headline, "Elated, Furious, Wary: Impeachment Divides Voters, Like Everything Trump."
McDermott, director of Whitman Insight Strategies, specifically discussed some of the voters the Times had interviewed and explained why he didn't consider them swing voters but rather, staunch conservatives or Trump loyalists.
For example, a Tennessee woman named Donna Burgraff was interviewed. McDermott notes that the Times presented Donna as an example of a swing voter who "doesn't favor impeachment. The problem? NYT interviewed the same woman last year. She voted for Trump and the Republicans again in the midterm."
McDermott notes that another person presented by the Times as a swing voter, Trisha Hope, has repeatedly attended Trump rallies. Hope, McDermott tweets, "admits she's been to 23 Trump campaign rallies. 23!…. She's a Trump fanatic, not a swing voter."
Reggie Dickerson is also presented by the Times as a swing voter, but Dickerson, McDermott points out, "was highlighted in an AP story last year entitled 'In the heart of Trump country, his base remains unshaken.' Reggie has a portrait of Robert E. Lee hanging in his living room. No, Reggie is not a swing voter."
McDermott asserts, "The NYT is repeating its exact same 2016 reporting antics, presenting devout Trump supporters as some sort of forgotten swing constituency. Why does this keep happening, and why do they keep going back to the same individuals for interviews?"
No, the New York Times did not talk to six "swing voters" about impeachment. The article quotes a handful of devout GOP voters who the NYT has repeatedly interviewed multiple times. A thread…. https://t.co/QYKCWB9V5I

— Matt McDermott (@mattmfm) September 26, 2019
The NYT article also includes an interview with Reggie. Reggie was highlighted in an AP story last year entitled 'In the heart of Trump country, his base remains unshaken.' Reggie has a portrait of Robert E. Lee hanging in his living room.

No, Reggie is not a swing voter. pic.twitter.com/3TD6OJw9oO

— Matt McDermott (@mattmfm) September 26, 2019
How frequently has this happened? @gregpinelo not only guessed the NYT would do this 'swing voter on the street' reporting, but correctly guessed exactly how many interviews they'd reference! https://t.co/KcUmBnPzxz

— Matt McDermott (@mattmfm) September 26, 2019
UPDATE:
On Thursday morning, Tavernise posted a new tweet offering some clarification on the tweet in which she said she had "talked with six swing voters." Tavernise, on Thursday, wrote that she had deleted that earlier tweet because it "didn't give the full picture of the story I helped report yesterday":
I deleted a tweet I wrote last night that didn't give the full picture of the story I helped report yesterday with 9 colleagues on voters' reaction to impeachment. There were a range of views from all over the country. It wasn't focused on swing voters https://t.co/LtBqS62Gq2

— Sabrina Tavernise (@stavernise) September 26, 2019
I deleted a tweet I wrote last night that didn't give the full picture of the story I helped report yesterday with 9 colleagues on voters' reaction to impeachment. There were a range of views from all over the country. It wasn't focused on swing voters https://t.co/LtBqS62Gq2

— Sabrina Tavernise (@stavernise) September 26, 2019