Harsh Realities Set In For Some Immigrants Shielded By Dream Act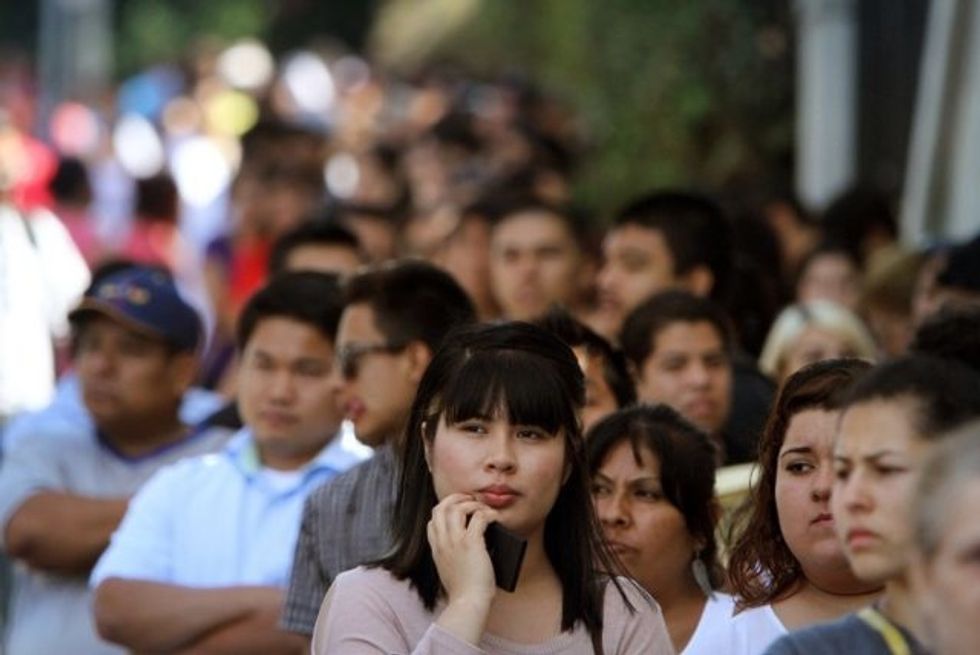 By Lalita Clozel, Tribune Washington Bureau
WASHINGTON — Working as a Jack in the Box cashier, Marissa Cruz Santos breathed a sigh of relief last year when she qualified for an Obama administration program that defers deportation of young immigrants who came to the U.S. illegally as children.
With high expectations and a freshly minted work permit, Santos, 27, hit the job market, hoping to leverage her new status and a Cal State Fullerton degree into an entry-level office position. But after applying for several jobs near her Riverside home, Santos got only two interviews and no offers.
Yes, she said, the president's Deferred Action for Childhood Arrivals program has made it easier for her to apply for jobs that were previously out of reach, but obstacles remain to actually getting them, mostly because of gaps in her skill level and a weak resume caused by years toiling at low-paying fast-food jobs.
"I don't think we were ready for the fact that a lot of us have been out of school for a long time and that we don't have experience," Santos said.
As prospects for comprehensive immigration reform this year fade, many young immigrants like Santos are confronting the limits of the president's program, saying it has not transformed their lives as much as they had hoped.
The program offered a two-year deportation deferral and work permits to hundreds of thousands of undocumented immigrants who came to the country illegally before age 16. Santos and others, dubbed the "dreamers," were encouraged to come out of the shadows and build new lives. The program was hailed as an important first step in addressing the plight of more than 11 million immigrants living in the U.S. illegally.
But since the program started, more than 40 percent of participants have failed to land new jobs after receiving work permits, and only 45 percent reported getting pay increases, according to early results from a 2013 survey of 2,381 participants, conducted by Roberto G. Gonzales, an assistant professor at Harvard University's Graduate School of Education.
He said the "prototype dreamer" that most immigration activists talk about — straight-A students and valedictorians who are now free to pursue successful, productive careers — represents the minority. Most participants, he said, are having "a hard time re-entering mainstream life."
Many have been unable to take advantage of new opportunities because they lack a high school diploma or college degree, Gonzales said. He noted that the program did not make participants eligible for financial aid or in-state tuition in every state.
"The biggest barriers to higher education … still exist," he said.
Maria Del Carmen Reyes, 31, an unemployed Santa Ana waitress, said she had enrolled in a program to become a licensed vocational nurse but quit after four months because she realized it was futile. "I was almost going to finish," she said, but "people were telling me, 'You don't have a Social Security (number). … You're not gonna be able to work.'"
Through the program, she received a work permit and hopes to go back to school. But that could take years. Reyes, who is expecting a baby in July, recently quit her restaurant job to take care of her other three children and a husband, who is in the country illegally and cannot qualify for deferred deportation because of his previous gang ties.
Even those with degrees and education are finding that they lack adequate work experience to get jobs in their desired fields. Some have internalized the stigma of growing up in the country illegally and lack confidence during job interviews.
Antonia Rivera, 32, who moved from Mexico when she was 6, received a degree in literary journalism from the University of California, Irvine. After graduating in 2006, Rivera applied for a position at an insurance company but didn't reveal her immigration status. Rivera said she just wanted to see whether she could get a job on her merits.
Rivera not only got the job, but the firm also offered her a better position than the one she applied for, she said. When the company asked for a driver's license, however, she never called back, knowing it would not hire someone in the country illegally.
Nearly a decade later, she has almost no experience except for fast-food and customer-service jobs.
Now with a work permit, Rivera renewed her search for a job at another insurance company. But when potential employers review her resume, they invariably ask her to explain the long gap since graduation and why she took such low-level jobs.
"They would kind of look at me weird," she said, wondering to themselves, "Why haven't you done anything with your abilities?"
She said she was still nervous about explaining her circumstances to potential employers. "I'm so used to being undocumented. When I go into an interview, I think that's kind of holding me back," she said.
Hoping for a fresh start, she recently moved to Des Moines, where she found a job as a clerk at Wells Fargo's home services division. But because the deferral program is temporary, Rivera and other applicants say it's difficult to make long-term plans. Though the two-year program is expected to be extended, U.S. Citizenship and Immigration Services still has not released instructions on the general reapplication process.
Santos, who recently quit her job at Jack in the Box to devote more time to her job search, said she too feels on shaky ground.
"If deferred action is not renewed or the government takes it away, it's going to send us back to basically nothing again," she said. "I'm just kind of taking it day by day."
Photo: Francine Orr/Los Angeles Times/MCT