Heritage Tries Its Hand At News, But Forgets The Facts
@DavidCayJ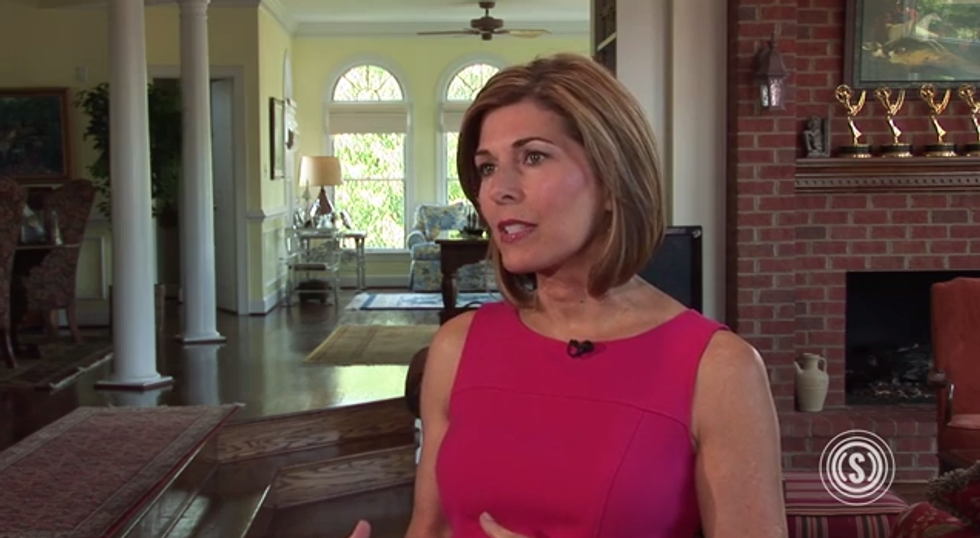 The Daily Signal,  The Heritage Foundation's online "news" website, debuted Tuesday, offering up vagaries and unverifiable assertions aplenty, but too few empirical facts and little in the way of attribution. Its first video was a publicist's dream, a puff piece that no serious news organization would air.
What appears in The Daily Signal matters because it is assured a large audience eager for reinforcement of deeply embedded views, but no real evidence that would challenge or even bring into question the factual basis of those views.
Reader comments on the Signal's first investigative piece – the only solid piece of fact-based journalism it published Tuesday – showed just how eager Signal readers are to read confirmation of their biases into pieces and to ignore inconvenient facts, especially subtly presented truths that run contrary to the Heritage Foundation's well-established perspectives.
Heritage opened its doors in 1973 and has since worked to ensure business dominance of American politics and government. It likes to describe itself as the true champion of the poor in America. A realistic appraisal of its policies shows that it favors protecting existing wealth against the creative destruction by which the existing economic structure is constantly under siege from new wealth seekers.
Heritage also turns a blind eye to the many stealth forms of welfare for the already rich that I detailed in my books Perfectly Legal, Free Lunch, and The Fine Print.
America needs fact-based, insightful and aggressive journalism — both opinion and fact — from every point on the spectrum. But sadly, much of what we get from what mainstream news organizations mislabel  "conservative" is radical rhetoric that far too often has little basis in fact or even reality.
Progressives and liberals in particular should encourage, and read, quality journalism from the right because it will help weed out flabby, half-baked ideas by everyone not in accord with the Koch brothers and Fox News chief Roger Ailes. Without rigorous journalism from the far right, the whole country suffers a paucity of informing debate.
The framers used empiricism and reason to make their case for our Constitution and were critical of naked assertion, vague accusations and failure to test hypothesis with verifiable facts.
The breathtaking distortions and even lies by some of our best-known opinion journalists who self-identify as conservatives drew my scrutiny in National Memo columns this year, which you can read here, here, here and here.
The Signal surely cannot quarrel with my call for fact-based news and opinion, as its website says, "We are committed to news coverage that is accurate, fair and trustworthy. As we surveyed the media landscape, it became clear to us that the need for honest, thorough, responsible reporting has never been more critical. That's a challenge in today's fast-moving world. And it's a challenge we're willing to accept."
The website then proclaims:
We are dedicated to developing a news outlet that cuts straight to the heart of key political and policy arguments – not spin reported as news. The Daily Signal is supported by the resources and intellectual firepower of The Heritage Foundation – a dedicated team of experienced journalists to cover the news and more than 100 policy experts who can quickly help put issues in perspective. We believe this combination of news, commentary and policy analysis will establish The Daily Signal as a trusted source on America's most important issues.

We believe that high-quality, credible news reporting on political and policy issues is of paramount importance to an informed and free society. This is a reflection of that Jeffersonian notion that the greatest defense of liberty is an informed citizenry.
So, let's take a look first at the Signal's featured first-day video, an interview with Sharyl Attkisson, a former reporter and anchor for CBS, CNN and PBS.  The headline is hyped, describing an interview with the Signal's own correspondent as "exclusive."
The headline also promises a report on "Journalism's Very Dangerous Trend" but presents zero verifiable evidence of anything dangerous or even of any trend.
After Attkisson quit CBS, she told Bill O'Reilly in April that her Benghazi, Obamacare and "Fast and Furious" gun stories did not make the air because senior producers lost interest. O'Reilly, an entertainer possessed of masterfully honed commercial instincts, skillfully conflated that into an implication of foul motives at CBS without a shred of empirical evidence that anyone could verify. Classic O'Reilly.
At The Daily Signal, producer Kelsey Harkness tossed Attkisson softballs, even puffballs. As edited, the video shows zero effort to get beyond rhetoric to empirical evidence — names, dates, specific stories, etc. Naked assertion without verifiable specifics is not reporting, it is propaganda, an irony evidently lost on the Signal's editors.
Harkness promises two more installments, so perhaps we will see some actual reporting by her in the days ahead. Hopefully she will improve with experience, but if not, she can look forward to a superb career as a flack, as reporters call publicists.
The Daily Signal let Attkisson mix and conflate issues in a way no serious and experienced journalist would let pass. Her vague assertions about CBS newsroom managers, as edited, flowed seamlessly into a different issue — non-journalists who use social media to confuse the public.
Attkisson gave no specifics, nor did Harkness ask for any. Attkisson did express a belief that stories want to "tell themselves" in "natural" ways, whatever that means.
News does not exist in nature. It does not just happen. News is made by reporters who gather facts, check and crosscheck them, seek out a range of perspectives and present what they learn in the time available as narrative, attributing facts to sources. Reported columns, like this one, combine those facts with expert knowledge gained through years of study and practice.
Differences between reporters in the field and editors at their desks are, and always will be, sources of disagreement and even angry words.
Different news organizations also have different takes on what is significant and where the heart of the story lies, as shown by academic studies. Long ago, a front-page series in the Los Angeles Times by the late David Shaw, the pioneering news-as-a-beat reporter, documented how little the front pages of the nation's major newspapers have in common. That's competition for you.
Attkisson has done serious work, winning Emmys and once being named a finalist for an Investigative Reporters and Editors award. But as presented by The Daily Signal, she comes across as a disgruntled former employee who does not offer even one telling detail to back up her vague implications of news distortions.
News distortions do sometimes occur. In 1973 I exposed how for years the owner of what was said to be the most profitable TV station in America and five other broadcast outlets issued orders to manipulate the news to advance his commercial interests, which eventually resulted in the forced sale of those stations.
Attkisson's own words describe what is nothing more than routine disagreements about significance, yet The Daily Signal gullibly presented her story without a single tough question.
Attkisson also indicates she may have been late on some of the stories, coming up not with solid facts, but merely tantalizing leads she wanted to pursue. In TV news, where immediacy is paramount, potential new angles on last week's news to be offered sometime next month is not a formula for success. But The Daily Signal failed to explore this perfectly legitimate and routine basis for telling Attkisson to move on to more pressing stories.
This puff video comes with the Signal's first investigative piece, a report by Attkisson about deceiving parents of premature babies into participating in a federally funded medical experiment. It is a troubling tale that I recommend.
But unless you are a careful reader, you could miss that these experiments all took place during the George W. Bush administration.
That brings us back to Heritage's new outlet feeding an audience what it wants rather than what it needs to know. Deciding what matters among an overwhelming array of choices is the judgment for which journalists get paid.
One of the first to comment on Attkisson's investigative piece wrote: "Don't forget that this is the Obama administration. The same people that burn aborted babies to generate electricity."
Many of the other comments on the piece, and the video, are also mindless screeds against Obama, Democrats and anyone with whose views the posters viscerally disagree. Plenty of liberal and centrist websites post equally mindless comments, a practice that would diminish if people had to sign their real names.
America needs well-informed, thoughtful and fact-respecting conservative journalists. Without serious and fact-based, issue-oriented journalism, we get civic debates that confuse rather than enlighten, we get poorly conceived ideas that sometimes become law. The quality of our civic debate matters so long as we intend to choose our own fate.
Going forward, I hope that new website's managers demonstrate that they are in fact in the business of news, a difficult task given that TheDaily Signal is an arm of an advocacy organization with a well-established reputation for ignoring important issues, not the least among them how its supporters sup with big spoons at the public trough. They are not off to a good start, but that can change if The Daily Signal is really about what its website asserts.
Screenshot: The Daily Signal/YouTube