Hillary Campaign Twitter-Trolls Bernie — And Rubio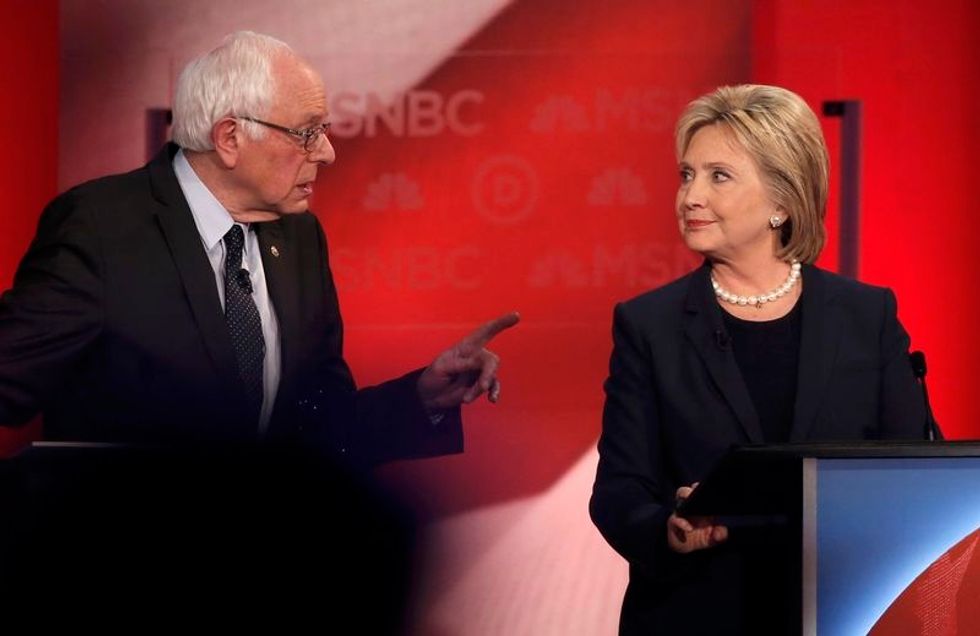 The Hillary Clinton campaign posted an interesting tweet Thursday, seizing on a Republican attack line against President Obama in order to illustrate her own support for the president.
This was, of course, the grammatically strange phrase that Marco Rubio delivered — and then repeated several times — at last weekend's Republican debate in New Hampshire, where his fumbled performance caused his numbers in the state to crash all the way down to fifth place. (The tweet was not signed "-H," which is used to indicate authorship by the candidate herself. Thus, it was apparently written by the campaign team.)
But the linked article from NBC News is not about Rubio — it's about Hillary's rival Bernie Sanders, whom she will face in a debate Thursday night. The headline: "Sanders: Obama Hasn't Closed 'Presidential Leadership Gap.'"
The piece concerns an interview that Sanders conducted with MSNBC political correspondent Kasie Hunt. From NBC's report:
"There's a huge gap right now between Congress and the American people. What presidential leadership is about closing that gap," he told MSNBC in an interview Wednesday that will air in full Thursday evening on "The Last Word with Lawrence O'Donnell."

Asked if he believed President Obama had closed that gap, Sanders said: "No, I don't. I mean, I think he has made the effort. But I think what we need, when I talk about a political revolution, is bringing millions and millions of people into the political process in a way that does not exist right now."
The message from Clinton's campaign is clear: She's the one who has continuously supported President Obama, and is equipped to successfully carry on his programs in office. That theme will certainly be important for the upcoming Democratic contests in Nevada and South Carolina.
Photo: Bernie Sanders speaks directly to Hillary Clinton. REUTERS/Mike Segar