House Democrats Didn't Win The Battle, But They Are Preparing To Win The War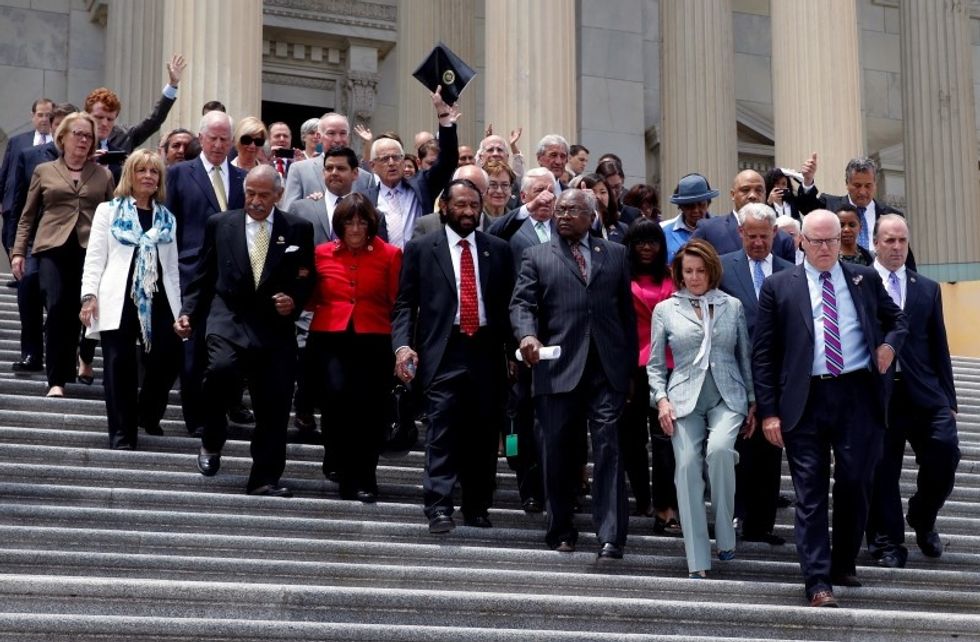 After nearly 26 hours, House Democrats, lead by civil rights icon Rep. John Lewis, decided Thursday to end their sit-in demanding stricter gun control legislation.
As expected, they didn't get what they were asking for – a vote on the "no fly, no buy" bill, and another vote on universal background checks.
What Democrats did get was lots of attention. Public interest in the sit-in was intensified after congressional leadership shut off CSPAN cameras, forcing Democrats to connect with the public directly through social media and their smartphones.
Speaker of the House Paul Ryan said the sit-in was a "publicity stunt."
And it was — but is there anything wrong with that?
Democrats are used to being silenced in the House – as the minority party, they are at the whim of Speaker Paul Ryan. Even if they got to a vote, the bills didn't have a chance of passing, and Democrats knew that.
But as members of a Congress considered too deadlocked and too bound to special interests, House Democrats had to show a willingness to fight. If they want a chance to eventually change the composition of the legislative branch and one day pass comprehensive gun control measures — a real possibility, with Donald Trump leading the Republican Party in November — Democrats have to "make a little noise," As Rep. Lewis put it.
The 76-year-old Georgia congressman knows a thing or two about fighting against the odds, and about the importance of getting the public's attention in order to put pressure on the government to eventually urge legislative action. Rep. Lewis used the same method, a the sit-in, to fight for the civil rights of black people in the deep South alongside Martin Luther King Jr.
This sort of stunt isn't new to the Congress, either. In 2008, House Republicans staged a similar protest to push for a vote on offshore drilling. As then-Speaker Nancy Pelosi tried to adjourn Congress for summer break, GOP members refused to leave. She shut off the lights.
After the Orlando tragedy that killed 49 people in the worst mass shooting in American history, gun control has become one of the most debated issues in the nation. With 90 percent of people now supporting stricter gun control, according to a recent CNN poll, Democrats know how valuable focusing on guns will be in November. It doesn't hurt that, at least judging from videos of the sit-in, Democratic legislators are as angry about the lack of inaction on the issue as their constituents.
That's especially true after Republicans like Rep. Steve King refused to update their views to match the demands of most Americans. "I've had it with the gun grabbing Democrats and their sit-in anti 2nd amendment jihad" The Iowa congressman said on Twitter. "I'm going to go home and buy a new gun."
Democrats are betting that gun control will remain an issue for the next few months, and they're itching to re-stage the fight with a Congressional majority. After his own "publicity stunt," – a 15-hour filibuster for gun control – Senator Chris Murphy announced that he would use the momentum to get people to vote next November. "I'm going to be turning my attention to the November election. I'm going to take some of my energy and help make sure that people who cast the wrong vote don't come back." He said after ending the filibuster.
"We are going to win," said Rep. Lewis on the capitol floors as he left his latest sit-in protest. "So don't give up, don't give in. Keep the faith, and keep your eyes on the prize."
Photo: A photo shot and tweeted from the floor of the House by U.S. House Rep. John Yarmuth shows Democratic members of the U.S. House of Representatives, including Rep. Joe Courtney (L) and Rep. John Lewis (C) staging a sit-in on the House floor "to demand action on common sense gun legislation" on Capitol Hill in Washington, United States, June 22, 2016.  REUTERS/U.S. Rep. John Yarmuth/Handout