House Democrats Gain First Republican Ally In Immigration Push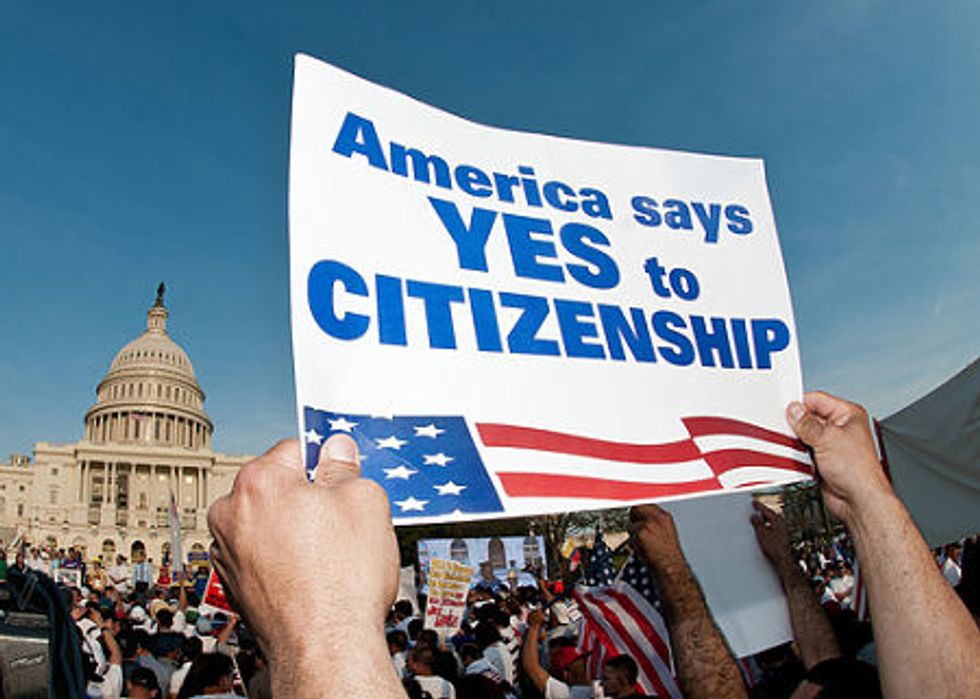 In a rare piece of positive news for immigration reform efforts, U.S. Representative Jeff Denham (R-CA) has become the first House Republican to cross the aisle and publicly back House Democrats in their push for comprehensive immigration reform before the end of the year.
Denham is joining the 185 House Democrats who have publicly endorsed their party's comprehensive reform bill. That bill adopts most of the bipartisan reform measures that passed the Senate in June — including providing a pathway to citizenship for the more than 11 million undocumented immigrants in the U.S. — but replaces the Senate's plan to add 700 miles of fence and 20,000 new agents along the U.S.-Mexico border with a measure written by Rep. Michael McCaul (R-TX), which would require the government to achieve a 90 percent apprehension rate of those who cross the border illegally.
"I'm the first Republican," Denham told the Washington Post, adding, "I expect more to come on board."
Denham's support for comprehensive reform comes as little surprise. The second-term congressman comes from a district that is roughly 40 percent Latino, and he has been urging the House to take up the Senate bill for months.
There is some reason to believe that Denham's optimism is warranted. Although Denham is the first House Republican to publicly endorse the Democratic bill, 28 of his colleagues have spoken out in favor of establishing a path to citizenship for undocumented immigrants (although some, such as Rep. Raul Labrador (R-ID), are unlikely to support a bipartisan reform effort). According to Rep. Luis Gutierrez (D-IL), "40 to 50" House Republicans have quietly expressed support for comprehensive reform. Just 20 of their votes would be enough to pass the Democrats' bill, assuming that House Minority Leader Nancy Pelosi (D-CA) can keep her caucus united behind the issue.
On the other hand, Denham is one of very few House Republicans with a strong structural incentive to support immigration reform. As Greg Sargent explained in August, of the 29 districts in which Democrats have the best chance to turn a Republican seat blue, only eight have a Latino population of over 10 percent. While some non-Latino voters will want to punish Republicans for killing reform (and immigration reform is certainly not the only issue motivating Latino voters), most House Republicans can safely assume that punting on the issue won't cost them their seats in 2014.
Ultimately, immigration reform's fate rests in the hands of House Speaker John Boehner (R-OH). Even if a majority of the House supports the Democrats' bill, Boehner would have to bring it to the floor for a vote, potentially incurring the wrath of the GOP's right wing. To this point, he's given no indication that he intends to do so.
Photo: SEIU International via Flickr