House Democrats Top GOP Fundraising By Nearly $100 Million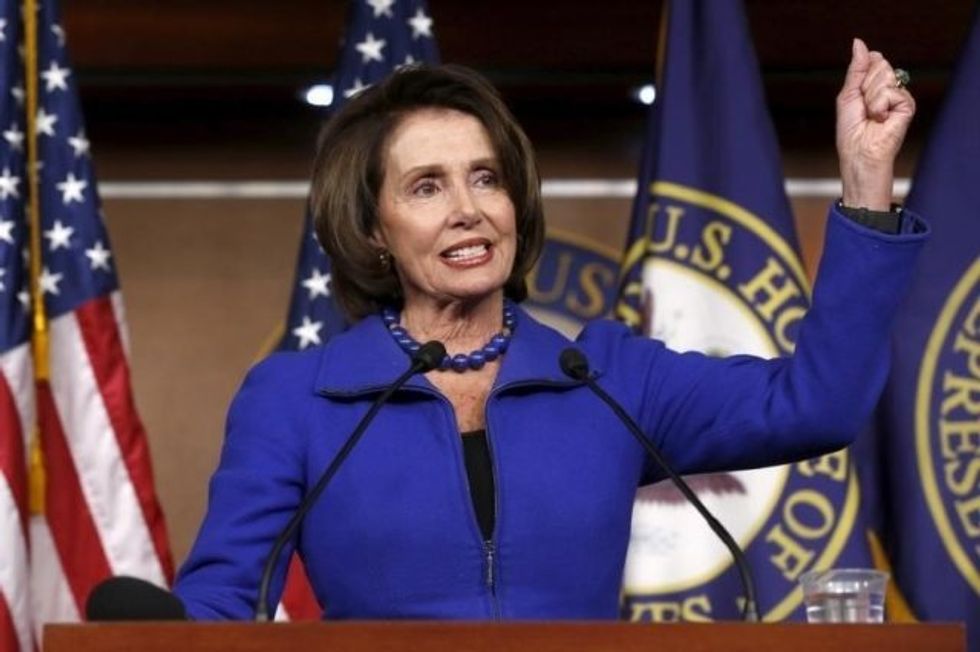 Reprinted with permission from DCReport.
Democratic Congressional candidates have trounced their Republican counterparts in fundraising efforts through the first two quarters of the 2018 election cycle toward a record-breaking year of fundraising. And while the full third-quarter tallies aren't due to be filed to the Federal Election Commission until Oct. 15, it looks like the Democrats are still killing it.
Through the first six months of the year, Democratic House candidates pulled in about $312 million, almost $100 million more than the GOP's $214 million total, according to FEC data, compiled by Center for Responsive Politics.
For the third quarter, more than 60 House Democratic candidates have raised more than $1 million, which Democratic Congressional Campaign Committee Chairman Ben Ray Lujan announced a week before the official numbers were due to be filed with the FEC. And several candidates have pulled in far greater sums.
Danny O'Connor broke a fundraising record for his district, Ohio's 12th, by pulling in $6 million in the third quarter. Andrew Janz, who faces off against Rep. Devin Nunes (R-Calif.) reported raising $4.3 million despite a district that is likely to stay red.
Other big tickets include Kentucky's 6th District candidate Amy McGrath, who raised $3.7 million and Mikie Sherrill of New Jersey's 11th District, who raised $2.6 million.
Even the good stories on the other side of the aisle fall under the challenger's shadow. For example, Rep. Kevin Yoder (R-Kan.), raised $1.1 million in the third quarter in his re-election bid for his seat in Kansas' 3rd District. But his Democratic challenger, Sharice Davids reported raising $2.7 million in the third quarter. Incidentally, Yoder has been very vocal about not receiving enough financial support from both House Speaker Paul Ryan's (R-Wis.) PAC the Congressional Leadership Fund and the House campaign arm, the National Republican Congressional Committee.
ActBlue, the online grassroots fundraising tool for Democratic candidates has seen a staggering $385 million pour in over Q3, with its biggest dollar days in its history falling on the days Dr. Christine Blasey Ford testified at Brett Kavanaugh's confirmation hearing on Sept. 28 and the two following days. Through the third quarter, ActBlue has raised about $1.3 billion this election cycle for Democratic candidates and organizations. That compares with $634 million in 2016, and $259 million in 2014, for the same period.
Meanwhile, Democratic Senate candidates are flush with cash, too. But people seem to be literally throwing gobs of greenbacks at Beto O'Rourke, who is challenging Sen. Ted Cruz (R-Texas). In the third quarter alone, he raised $38 million, easily smashing any quarterly record – ever – for a U.S. Senate candidate. The haul is made up of more than 800,000 individual contributions, according to the candidate, who has not taken any money from corporate or labor PACs. In contrast, Sen. Cruz has raised $12 million over the past three months.
The odds of O'Rourke winning waxes and wanes from week to week, but he's mostly considered the underdog in the red Lone Star State. It's noteworthy that more than 47% of O'Rourke's individual donors are women, compared with the average for Senate primary winners, which is 38%.
In Arizona, Rep. Kyrsten Sinema (D), who is running for the Senate seat Jeff Flake (R) is vacating, has raised nearly $7 million in the third quarter, according to an article in The Hill. She's up against Rep. Martha McSally (R).
And Sen. Tammy Baldwin (D-Wis.) raised more than $6 million in Q3 through 140,000 individual contributions averaging $19.
So, what will happen with all this campaign cash? A media blitz like we've never seen is forming thanks to so much money to burn and get-out-the-vote campaigns, which is what could really sway the outcome in November.