House Intel Report: Trump 'Flouted' The Constitution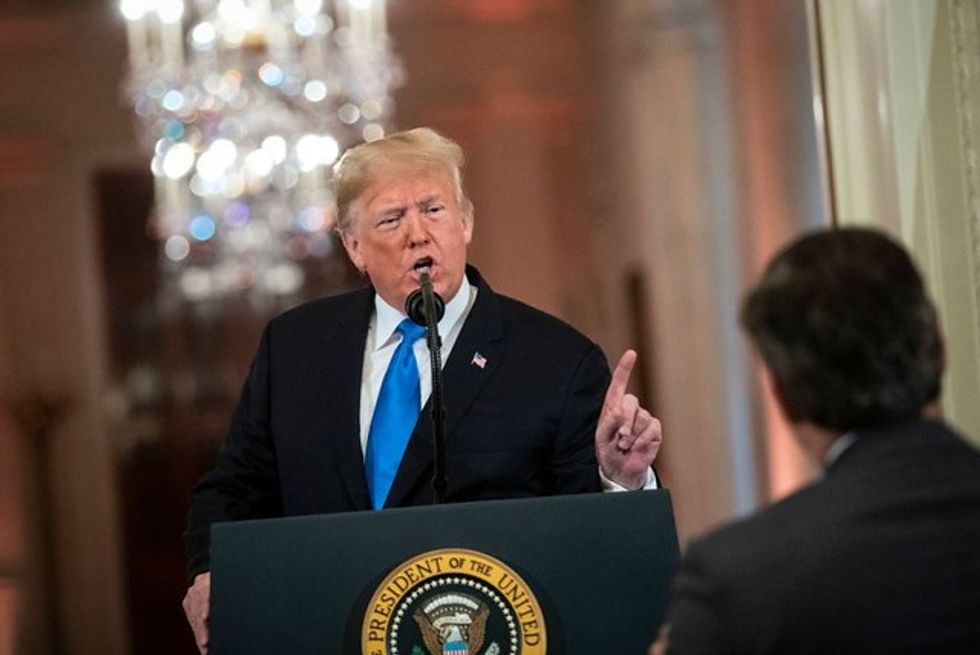 The House Intelligence Committee on Tuesday released a scathing report from its impeachment inquiry into Donald Trump, finding that Trump "subverted U.S. foreign policy" and "undermined our national security" when he withheld military aid to Ukraine in an effort to force the country to investigate his political rivals.
The 300-page report lays out two impeachable offenses: That Trump "conditioned official acts" on the military aid, and that he obstructed justice by blocking government officials from testifying and turning over subpoenaed documents to congressional investigators.
"No other President has flouted the Constitution and power of Congress to conduct oversight to this extent," the House Intelligence Committee — which held hearings with fact witnesses in the case — wrote in its report.
"If left unanswered, President Trump's ongoing effort to thwart Congress' impeachment power risks doing grave harm to the institution of Congress, the balance of power between our branches of government, and the Constitutional order that the President and every Member of Congress have sworn to protect and defend," the report continued.
The House Intelligence Committee plans to vote to adopt the report Tuesday evening, sending it over to the House Judiciary Committee — which will begin its phase of the impeachment inquiry on Wednesday.
Reps. Adam Schiff of California, Carolyn Maloney of New York, and Eliot Engel of New York — chairs of the House Intelligence Committee, House Oversight Committee, and House Foreign Affairs Committee, respectively — said in a statement that Trump's "actions have damaged our national security, undermined the integrity of the next election, and violated his oath of office."
"The evidence is clear that President Trump used the power of his office to pressure Ukraine into announcing investigations into his political rival, former Vice President Joe Biden, and a debunked conspiracy theory that it was Ukraine, not Russia, that interfered in the 2016 election," the three Democratic lawmakers wrote in the statement.
Multiple administration officials testified during the course of the Intelligence Committee's probe that Trump withheld critical aid to Ukraine and dangled the possibility of a White House visit to pressure Ukrainian President Volodymyr Zelenskiy to launch investigations into his political rivals. Trump specifically urged Zelenskiy in a July 25 phone call to do him a "favor" and look into a long-debunked conspiracy involving the Democratic National Committee, which claims Ukraine was behind interference efforts in the 2016 election.
The U.S. intelligence committee has unanimously concluded that Russia was in fact behind that effort. Special counsel Robert Mueller, who lead the nearly two-year long probe into Russian meddling, detailed in his final report this past spring how Russia accomplished that feat using social media disinformation and by using hacked emails from Democrats, which it released to damage then candidate Hillary Clinton's White House bid.
One of the witnesses who testified before the Intelligence Committee last month said that the baseless Ukraine meddling conspiracy was one favored by Russian President Vladimir Putin.
"Some of you on this committee appear to believe that Russia and its security services did not conduct a campaign against our country — and that perhaps, somehow, for some reason, Ukraine did," said former White House National Security Council adviser Fiona Hill, largely referring to Republicans on the committee who have repeatedly pushed the idea. "This is a fictional narrative that has been perpetrated and propagated by the Russian security services themselves."
The full House Intelligence report can be read here.
Published with permission of The American Independent Foundation.