New House Financial Services Chair Took $8 Million From Banks
@jeisrael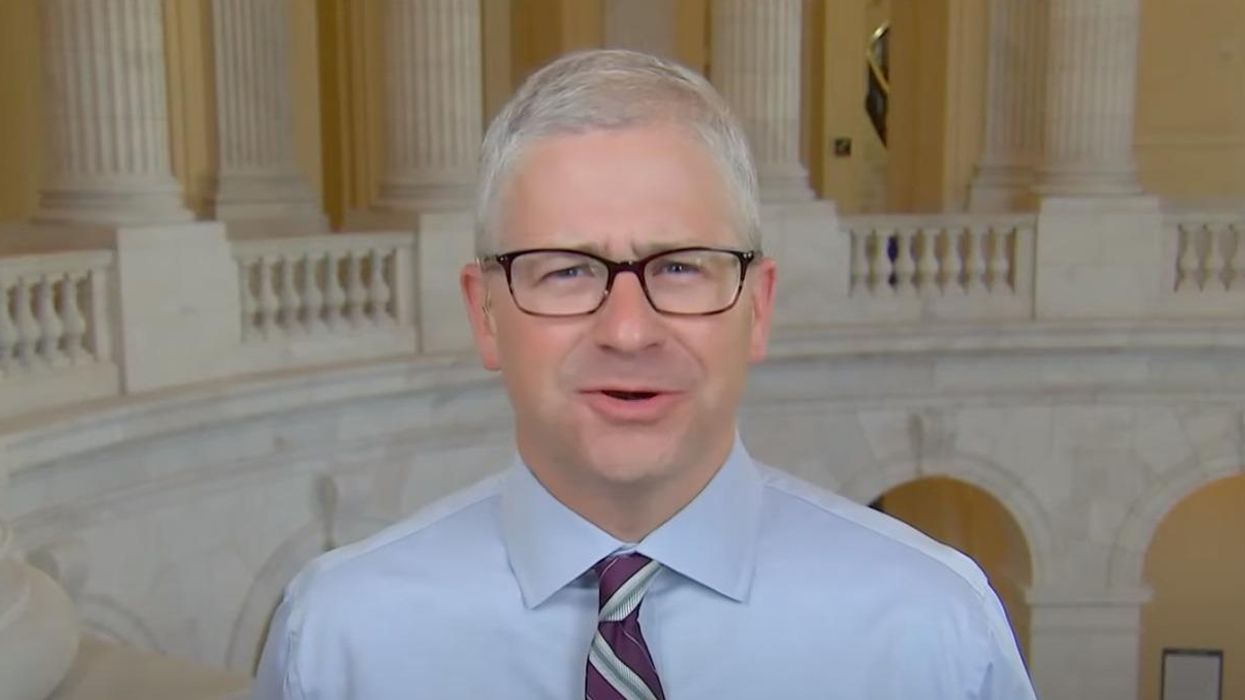 Youtube Screenshot
Republican Rep. Patrick McHenry of North Carolina has been selected to chair the House Financial Services Committee in the newly sworn-in 118th Congress. Rather than focus on oversight of Wall Street banks and other financial institutions, the 10th-term lawmaker plans to use the position to investigate the federal agencies that regulate them.

The committee's jurisdiction includes banks and banking; insurance; international finance; money and credit; housing; urban development; and securities and exchanges.
The North Carolina Republican's campaign website boasts that he "is fighting regulatory constraints that have killed competition, closed community banks, and hurt families in western North Carolina."
In a November interview with Roll Call, McHenry said his first goal should he become chair of the panel would be "appropriate" and "vigorous oversight" of the Commodity Futures Trading Commission and the Securities and Exchange Commission, the two agencies tasked with regulating markets.
McHenry has taken more than $8,000,000 in campaign contributions from the financial sector over the course of his career in Congress.
McHenry was one of 221 Republican representatives who voted on Monday to eliminate 71 billion in funding for the Internal Revenue Service that was appropriated in 2022 to provide additional agents, improved "investigative technology," and additional legal support to crack down on wealthy tax cheats.
A McHenry spokesperson did not respond to a request for comment for this story.
The commercial industries the Financial Services Committee oversees have provided millions of dollars in campaign donations to McHenry, according to OpenSecrets. They make up five of his top six career industry contributors: securities and investments (at least $2,626,941), insurance ($1,956,679), commercial banks ($1,621,198), real estate ($1,268,490), and finance and credit card companies ($780,399).
In 2007, McHenry voted against the Mortgage Reform and Anti-Predatory Lending Act, a bipartisan bill that would have improved consumer protection for borrowers, just before the underregulated mortgage system collapsed and fueled the Great Recession.
In 2010, he voted against the Dodd-Frank Wall Street Reform and Consumer Protection Act, which aimed to crack down on the sort of reckless financial sector behavior that had caused the 2008 economic meltdown.
A year after it passed, he told CNBC, "Dodd-Frank has acted as a wet blanket on our economy and could pose a significant threat to American competitiveness."
Since then he has advocated for rolling back the consumer protections in the law.
He voted for the 2018 Economic Growth, Regulatory Relief, and Consumer Protection law, which aimed to reduce regulation of lenders. Consumer groups blasted the legislation in a letter to representatives for its "destructive policies that roll back or eliminate essential protections put in place by the Dodd-Frank Wall Street Reform and Consumer Protection (Dodd-Frank) Act after unchecked reckless lending nearly destroyed the US economy."
The 26 organizations said, "Contrary to its stated purpose, the bill would re-expose consumers, investors, and the public to a host of risky and abusive financial practices, including many of the practices that contributed to the last recession and foreclosure crisis."
A year later, McHenry helped organize an amicus brief urging the Supreme Court to strike down the entire Consumer Financial Protection Bureau, the independent agency created under Dodd-Frank to make sure banks, lenders, and financial institutions treat customers fairly. The Supreme Court rejected the brief's argument in its 2020 Seila Law v. Consumer Financial Protection Bureau ruling, allowing the bureau to continue operating.
In 2020, McHenry said in a press statement:
It's time to permanently repeal Dodd-Frank's costly and unnecessary mandatory disclosures, which hurt American businesses. The history of the resource extraction provisions proves the problem with trying to do social policy through public company disclosure requirements. While this rulemaking fulfills a statutory mandate and is an improvement over the two previous iterations, more must be done to ease this unnecessary burden.
He also authored a 2017 bill to protect "rent-a-bank" loans, offered by high-rate lending companies together with small banks to circumvent state caps on interest rates.
In March 2022, McHenry opposed an effort by the Securities and Exchange Commission to require the businesses it regulates to disclose climate-related risks and greenhouse gas emissions as part of their periodic reports.
"The Biden Administration is pushing its climate agenda through financial regulators because they don't have the votes to pass it in Congress," he argued in a press statement. "The SEC's proposal to require disclosure of information related to climate change that is not material for most companies is tone-deaf and misguided."
Accountable.US, a nonprofit that investigates the influence of corporations and special interests in politics, criticized McHenry in December as being "under the influence" of the industries he will oversee as chair of the House Financial Services Committee.
"Patrick McHenry made a career out of obstructing federal crackdowns of predatory lenders and financial scammers that sap billions of dollars from the pockets of average Americans every year," Liz Zelnick, director of the group's economic security and corporate power program, told the American Independent Foundation in an email. "McHenry never met a consumer protection effort he liked and has been rewarded accordingly with millions of dollars from greedy industries he now oversees."
Reprinted with permission from American Independent.