How Republicans Empower Violent Fascist Gangs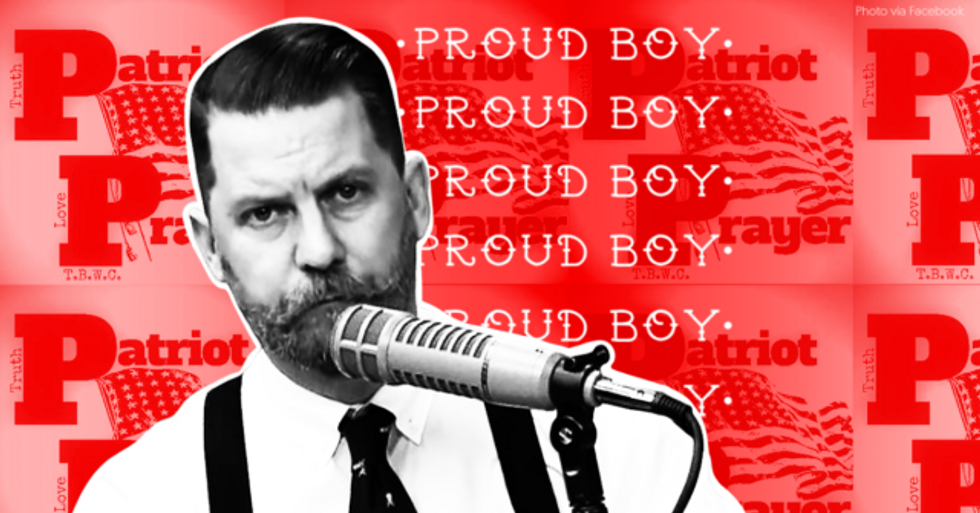 Reprinted with permission from MediaMatters.
Let's be clear about the state of things. A well–connected sitting congressman endorsed a neo-Nazi for political office, and it wasn't the first time this sort of thing happened. To the contrary, GOP candidates across the country have links to white nationalists. The GOP president — who is the undisputed center of the party — is a former game show host whose administration has repeatedly defended violent extremists. And his son has even appeared on a white nationalist show. The debate is over. The extremists have taken over the party.
And yet, legacy media outlets are too often caught completely unaware.
On October 12, the Metropolitan Republican Club hosted Gavin McInnes, founder of the self-identified "gang" Proud Boys. During the event, McInnes re-enacted the violent 1960 murder of Japanese socialist party leader Inejiro Asanuma. After McInnes' appearance, a number of Proud Boys were taped nearby "brutally beating and kicking several individuals" and shouting homophobic slurs at protesters. Videos show "more than a dozen" Proud Boys, including at least three skinheads, punching and kicking protesters on the ground.
In response, The New York Times has covered McInnes' exploits with kid gloves and reduced his extremism to mere provocation. Just look how thrilled white supremacist Ann Coulter was with the piece:
The Times' irresponsible description of McInnes as simply a "far-right provocateur" is already memorialized on Wikipedia, potentially the most widely read source of information by audiences that might never have heard of him before. As Jacob Weindling wrote, "You can quote Gavin McInnes directly while describing events that happened and get a harsher description of McInnes than the NYT wrote. … I don't know how you can call the beginning of this article anything other than white nationalist propaganda."
Weindling is correct. Just look at McInnes' speech to the Manhattan Republican Club, in which he told Republicans that they need Proud Boys as "foot soldiers," because of what they have in common. Or look at what McInnes said on his podcast on October 14, when he defended the use of anti-LGBTQ slurs.
And this characterization matters. While the Times is describing McInnes as a "provocateur," and NBC News is portraying the Proud Boys as a "nationalist movement," the reality is that we're in far more dangerous territory. As Daily Beast reporter Kelly Weill noted, by making alliances with groups like the Proud Boys, "mainstream Republicans can sort of outsource the political and physical violence that they'd like to enact against opponents."
And McInnes is not an isolated figure: He and the Proud Boys are deeply entwined in right-wing media. McInnes was a contributor to Fox News for eight years, appearing on Sean Hannity's show at least 24 times. In 2017, Hannity hosted another Proud Boy with ties to the violent white supremacist "Unite the Right" rally to discuss political violence. Fox host Mark Levin has given McInnes two shows on his online outlet CRTV, where McInnes has pushed extremist bigotry like promoting men's rights activism, calling female journalists "colostomy bag for various strangers' semen," and glorifying violence and fighting. Fox host Tucker Carlson happily posed with Roger Stone and two Proud Boys in a Fox green room and "declined to disavow" the group when asked about it. McInnes shows up on right-wing radio and on right-wing YouTube. In an era in which the right-wing is doing everything it can to suppress opposition, it's no wonder that the Proud Boys are now part of the Republican machine.
It's not just the Proud Boys, either.
On the October 17 edition of Today, NBC gave a platform to Identity Evropa — a white supremacist group actively seeking to rebrand its racism as identitarianism. The network referred to Identity Evropa as a "fringe group," yet NBC still gave its leaders a softball interview on a show that consistently reaches the coveted demographic of adults ages 25-54; its affiliated channel MSNBC also aired segments featuring the group and other white supremacists.
The midterm elections are just 20 days away, and @peteralexander got a rare look inside one fringe group hoping to capitalize on deep divisions within the country: white nationalists. pic.twitter.com/9pvqVP3UvU

— TODAY (@TODAYshow) October 17, 2018
NBC's Peter Alexander played into Identity Evropa's obsession with "optics" and rejection of "anti-social behavior" by remarking on how "clean cut" its representatives look. The segment allowed the white supremacist organization to expand its reach beyond YouTube and social media to recruit followers and promote its talking points, which include blatantly pushing white nationalism using the Republican Party as a vehicle. The group's leader was thrilled was the exposure.
It's clear that the communications wing of the GOP has no problem with these groups.
On October 16, Fox News host Laura Ingraham invited Patriot Prayer's Joey Gibson on her show for a softball interview. Patriot Prayer is a far-right coalition whose membership overlaps with the Proud Boys and whose unity relies on their common "hatred for the left." Gibson has personally encouraged his followers to instigate violence, promising that counterprotesters "are going to feel the pain." Ingraham's interview conveniently ignored a report by The Oregonian that the group had "a cache of guns" including "long guns" on a rooftop in Portland, OR, before a summer protest. That's where we are: One of the president's favorite television hosts did a friendly interview with the type of person whose group sets up a cache of guns during a protest of that president.
Fox also frequently hosts Turning Point USA's most prominent members, Charlie Kirk and Candace Owens, close allies of the president. Left unmentioned are the extremist views of TPUSA. The Miami New Times unearthed online chats from one TPUSA chapter that feature members warning each other about not using racial slurs too often, talking about "watching underage cartoon pornography and deporting Latina women," and sharing memes about "Syrian men raping a white Swedish woman at gunpoint." An attendee at a TPUSA conference was filmed praising Nazi Germany. And when TPUSA pushed out the person who wrote "I HATE BLACK PEOPLE. Like fuck them all. … I hate blacks," the replacement was someone who said, "I love making racist jokes." Undeterred, Fox News hosts and top allies of the president happily attend TPUSA events, and TPUSA members openly raise money off of Fox segments that fearmonger about the liberalization of college campuses. It's quite the con.
Or look at Fox host Tucker Carlson, an innovator in this space. Instead of mainstreaming an extremist group, Carlson is cutting out the middleman and mainstreaming men's rights and white supremacist propaganda himself.
Make no mistake: People across America are seeing all of this and speaking up. But at some point, it'd be nice if the legacy media would notice too.
Header image by Melissa Joskow / Media Matters