Hulu's Sarah Lawrence 'Cult' Series Omits Bernard Kerik's Creepy History
@ChandraBozelko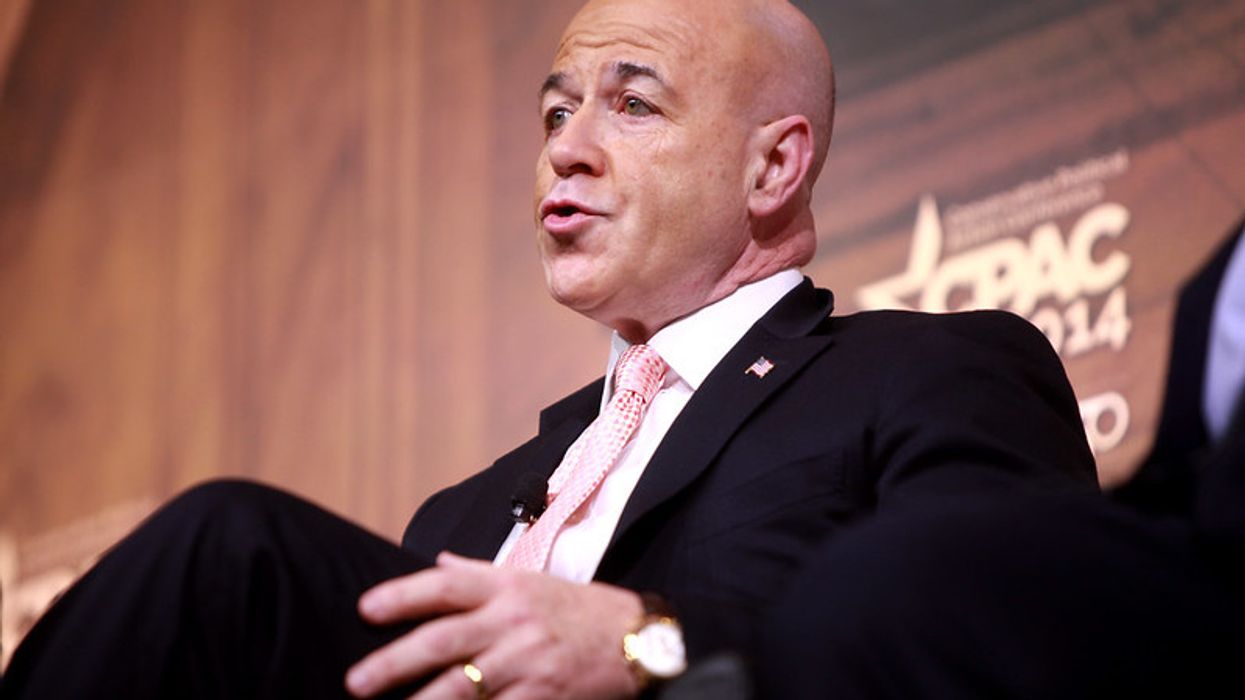 Hulu's three-part documentary series Stolen Youth: Inside the Cult of Sarah Lawrence is getting a lot of attention — but perhaps not the right kind.
The upshot of the story is this: Returning citizen Larry Ray bunked with his daughter at Sarah Lawrence College when he was released from prison. He ended up gaslighting his daughter's roommates enough that he convinced them they owed him thousands upon thousands of dollars — and that his and their lives were in danger because former New York Police Commissioner Bernard "Bernie" Kerik had a team of people stalking Ray after he turned Kerik in to the FBI for the charges that eventually led to his four-year prison sentence and cost him a Bush administration appointment as secretary of homeland security.
Ray's stories were outlandish and false. There's no evidence that Kerik targeted Ray, yet bright young people — students at Sarah Lawrence and Columbia University and a psychiatry resident at UCLA/USC — believed his fantasy.
It's unfathomable to the average audience, mostly because the series doesn't mention Kerik's history of harassing and stalking his detractors. Knowing how Kerik operates, which the cult members did, makes it easier to understand why up-and-coming adults, those with potential to succeed in ways most people never do, fell for Ray's histrionics.
The crime Ray described is called gang stalking, and it refers to harassment and intimidation tactics used by a group of individuals against another person or toward a smaller group of people.
Some psychiatric professionals don't acknowledge gang stalking as an actual phenomenon; they consider it a "novel persecutory belief system" which means there's no stalking and the alleged victim is simply paranoid or a QAnon adherent.
Formal research has been conducted into gang stalking; the few academic studies do their best not to deny the existence of the activity, but thinking one is gang-stalked nevertheless comes off as a manifestation of mental illness. One study quoted the answers to the question of why targets thought they were being stalked, and they sound decidedly kooky:
"It is part of an overt agenda to create and test mind control. They are creating weaponry tested on us."
"I am watched (sic) for 30 years after they put in the implants to see what the implants did to me."
"Because I refused to join their devil cult and become an operative, I became a victim. My invitation to join came at an early stage via voice-to-skull." Voice to skull is a technology that transmits sound into the skull of a person or animals.
We shouldn't write off these accounts of gang stalking automatically; sometimes these stories are real. This became clear recently when it was revealed that a group of eBay employees, including two members of its executive leadership team, stalked and harassed two e-commerce bloggers, Ina and David Steiner of Natick, Massachusetts. The Steiners had criticized some of the auction site's policies, including outsized executive pay, on their blog EcommerceBytes.
As well as sending threatening messages, eBay employees sent deliveries to the Steiners' home, including a book on surviving the death of a spouse (the implication being one of them was headed to the graveyard soon), a funeral wreath (because eBay is nothing if not socially adept when it comes to acknowledging a death in the family), a bloody pig Halloween mask, a fetal pig, and live insects. They also posed as the Steiners on Craigslist and asked anyone reading the ads to show up at their home and knock on the door for a sexual tryst. For good measure, they ordered $70 of pizza to be delivered at 4:30 a.m.
This was the best the team could come up with after James Baugh, eBay's senior director of safety and security, showed the 1988 Anthony Michael Hall film Johnny Be Good, in which two friends send pizzas, an elephant, a stripper, an exterminator, and Hare Krishna missionaries to their football coach's home.
The only reason why the Natick Police Department was able to unspool all the crazy — and prevent Baugh from delivering a bag of human feces, a running chainsaw ,and a rat to the Steiner's front porch — was that David Steiner managed to get a picture of the license plate on a car that was tailing him and it was traced back to a rental agency. Seven eBay employees were criminally convicted for this gang-up, the last one just this past January.
Their narrative was completely unembellished, but if David or Ina Steiner had said to someone "I think eBay is sending me fetal pigs and pizza," a psychiatrist would have filled them to the gills with Haldol.
Being gang-stalked by Kerik and his crew was a fiction of the odious Larry Ray, a misrepresentation that served his degradation of young minds, but these team terrorizations do happen — and they happen to many people who associate with Bernie Kerik.
It's not like Kerik didn't foreshadow this to all of us. According to a whistleblower report, the convicted felon gave a speech back when he was New York City's corrections commissioner that included a vow to make anyone miserable who had been disloyal to him and a warning that he had been an effective 'hunter of men' and would hunt down those who didn't display sufficient fealty.
And it looks like he lived up to the promise. When he broke up with one of his mistresses, publisher Judith Regan, he called her while she was dining out with another man and described what she was eating. According to Regan, he had her followed to Los Angeles and called her to inform her he was following her son back to college in Massachusetts. Regan looked crazy, too; an associate of Regan's described her to the New York Post as "raving" about Kerik's stalking her.
Kerik didn't leave these hijinks behind after he was incarcerated from 2010 to 2013.
Dara D'Addio sent the married Kerik a card while he was doing time and they started a non-physical but intimate relationship wherein she ended up essentially co-authoring his memoir. Kerik mailed her 135 letters, made 150 phone calls to her personal unlisted number, and sent her 735 emails. But when Kerik didn't invite her to his homecoming party, she ceased contact and asked him to do the same.
Instead, Kerik started threatening and harassing her through a third party. On her blog, "Doing Time with Bernie," D'Addio says Kerik pledged "to destroy [her] life."
It's the same modus operandi that infused Kerik's support for former president Donald Trump. The House Select Committee to Investigate the January 6th Attack on the Capitol subpoenaed Kerik in November 2021 and he provided papers, among them a 22-page "strategic communications plan" he wrote, to be implemented between December 27, 2020 and January 6, 202. The plan targeted elected officials who wouldn't buy into the lie that the 2020 presidential election was stolen. Kerik wanted the home of Jocelyn Benson, Michigan's secretary of state, to be surrounded.
There's no defense to Larry Ray's reign over the Sarah Lawrence students — literally. The Hulu series secured the video Ray recorded of his abuse from the court file; Ray's attorney had used it at trial in an attempt to show that her client really believed his story.
But Kerik sports a verifiable record of attacking, stalking, and seeking to destroy any critics, people who did less damage to him than Ray did. Believing Ray wasn't as crazy as this series makes it appear.
Chandra Bozelko did time in a maximum-security facility in Connecticut. While inside she became the first incarcerated person with a regular byline in a publication outside of the facility. Her "Prison Diaries" column ran in The New Haven Independent, and she later established a blog under the same name that earned several professional awards. Her columns now appear regularly in The National Memo.