'I Hereby Order': Internet Mocks Trump's China Tariff Tweeting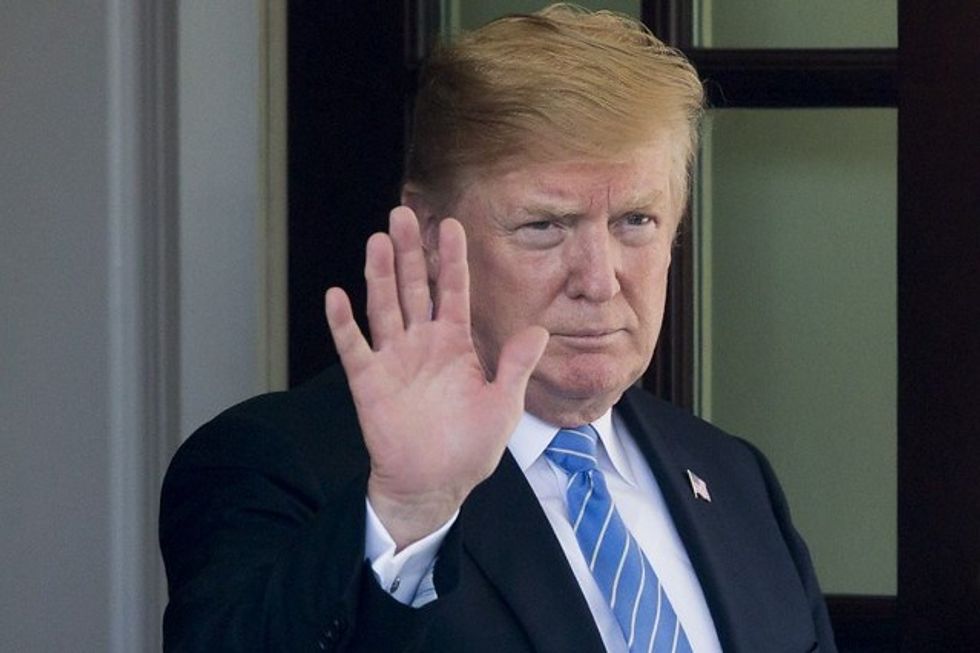 Reprintedwith permission from Alternet
President Donald Trump is being mocked right now for his insane Twitter meltdown in response to China's announcement it is imposing $75 billion on tariffs on U.S. goods.
But it was not only Trump's meltdown, but his insistence that he can dictate how private American companies operate that added to the hilarity.
After saying China has "stolen our Intellectual Property at a rate of Hundreds of Billions of Dollars a year," and claiming "We don't need China," Trump made this fascist declaration:
"Our great American companies are hereby ordered to immediately start looking for an alternative to China, including bringing your companies HOME and making your products in the USA."
The President of the United States does not have any authority to do that.
Many responded in mockery with the hashtag #Iherebyorder, which is now a top tending topic. Take a look:
I hereby order the White House staff to take @realDonaldTrump to
Walter Reed, and to convene the cabinet under Section 4 of the Twenty-fifth Amendment.#Iherebyorder

— George Conway (@gtconway3d) August 23, 2019
I hereby order my Great American Cat not to wake me up at 6am

I hereby order my Great American Daughter to be nice to her dad even when she feels like a moody teenager

I hereby order our Great American postal service not to deliver flyers from stores I don't like#IHerebyOrder

— Tom Nichols (@RadioFreeTom) August 23, 2019
Fun fact: #iherebyorder is socialism.

— Rep. Eric Swalwell (@RepSwalwell) August 23, 2019
I hereby order you to get off my lawn.#iherebyorder pic.twitter.com/pWIWqLJWql

— Smitty D (@smittyd060) August 23, 2019
"I hereby order all the Filet-O-Fish in town."#Iherebyorder pic.twitter.com/8fanqW9FPB

— Orange Leader (@OrangeLeaderUSA) August 23, 2019
#iherebyorder mental health check on the President of the United States

— Rick Wilson (@TheRickWilson) August 23, 2019
I hereby order all television networks to consult me *personally* before canceling programs that I like.
I hereby order all pizzerias to cease putting pineapple on pizza.
I hearby order all technology companies to put real security into the #InternetOfThings#IHerebyOrder

— Maureen Sheridan (@mcscajun) August 23, 2019
I hereby order that we all time travel back to November 2016, knowing what we know.#Iherebyorder

— Terry Dresbach (@draiochta14) August 23, 2019
I hereby order Republicans to get real about Trump's mental state.#Iherebyorder https://t.co/eFhMsM6Mh1

— George Conway (@gtconway3d) August 23, 2019
#IHereByOrder all toilet paper be hung in the correct position. pic.twitter.com/tJ6TWB4VCX

— Shelly (@TexHellCat) August 23, 2019
I hereby order @SpeakerPelosi to start impeachment proceedings #iherebyorder

— ThomasPaine (@ThomasP95104077) August 23, 2019
#Iherebyorder @POTUS, @DonaldJTrumpJr @EricTrump @IvankaTrump and the Trump Organization to immediately STOP doing business with China. Perhaps before ordering everyone else to do it. pic.twitter.com/eAqz7hiPDK

— Kurt Eichenwald (@kurteichenwald) August 23, 2019