Idaho Republicans Bitterly Divided Over Lindell's 'Fraud' Claims
@alexvhenderson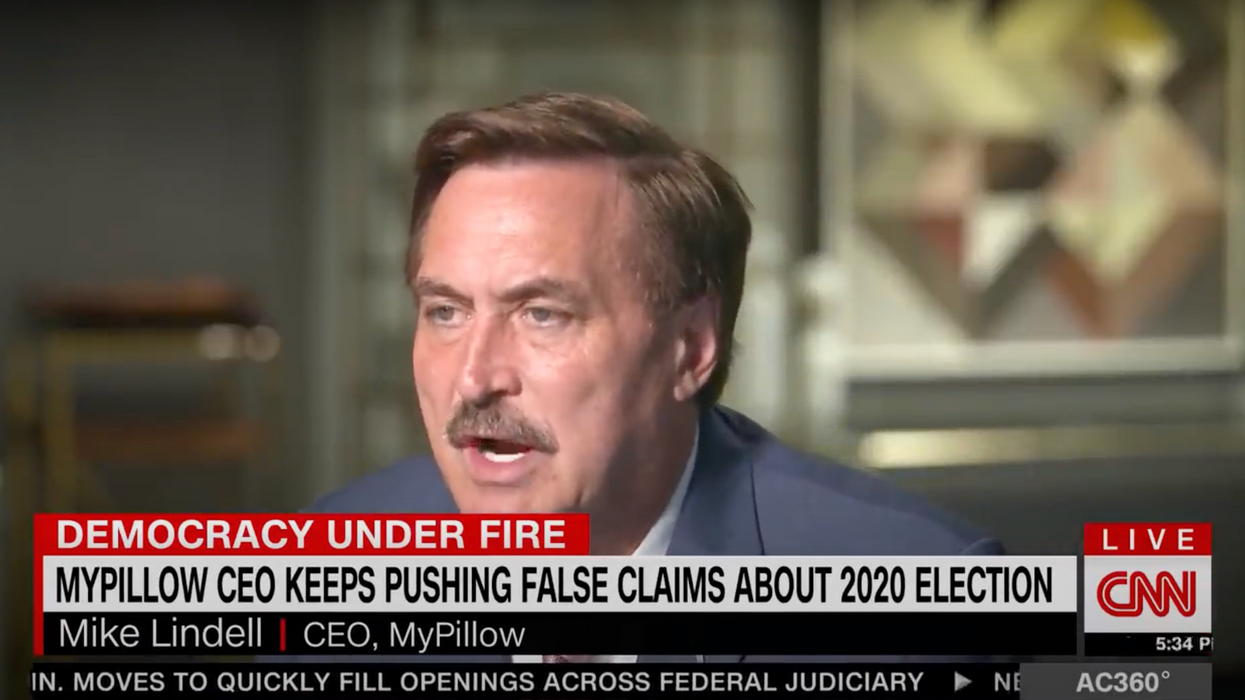 Although now-President Joe Biden enjoyed a decisive victory in the United States' 2020 presidential election — winning 306 electoral votes and defeating then-President Donald Trump by more than 7 million in the popular vote — it certainly wasn't because of Idaho, a deep red state that Trump won by 30 percent. But far-right conspiracy theorist and MyPillow CEO Mike Lindell, a tireless promoter of the Big Lie, has claimed that Trump's margin of victory was even higher than 30 percent in Idaho but that votes were stolen from Trump there through widespread voter fraud. And Lindell's false claim, journalist Allan Smith reports for NBC News, has become a divisive issue among Idaho Republicans .
"Last summer, Idaho officials received demand after demand to investigate extraordinary claims of widespread voter fraud in the 2020 presidential election," journalist Allan Smith reports in an article published by NBC News' website on March 6. "In a state where former President Donald Trump won by more than 30 points, people claimed a vast conspiracy cheated the former president out of an even greater margin of victory. Almost all the e-mails referred to theories promoted by MyPillow CEO Mike Lindell, Deputy Secretary of State Chad Houck said. Lindell, people claimed, had proof of major malfeasance — if only someone would look into it."
Houck and the office of Idaho Secretary of State Lawerence Denney, according to Smith, investigated Lindell's claims and "found them to be totally without merit."
According to Smith, "Houck's office decided to manually count the ballots in two of Idaho's smallest counties — Camas and Butte — as well as manually recount the ballots in eight of the 32 precincts in Bonner County, a medium-size locale in the state. Between the three counties, it found an error rate of roughly 0.1 percent."
But Lindell's supporters in Idaho are not satisfied.
"Idaho's work combating Lindell only seems to have made supporters of his fraud narrative angrier, Houck said, and has set the stage for midterm battles along fault lines Republicans are contending with nationwide," Smith reports.
Houck told NBC News, "We've received two types of responses back to the office. One has been: 'How dare you attack a patriot like Mike Lindell.' On the flip side, (others) said: 'Thank you for standing up to Lindell's narratives'…. I've had counties that have had individuals come into county commissioner meetings and threatened the entire county commission that they were going to be unseated. And if they couldn't do it through bureaucratic means, then they're going to do it through physical means, to a point where I've had counties that have requested assistance in funding to put additional security measures into their county buildings, just to secure the election office from physical threat."
Reprinted with permission from Alternet