Is This The Greatest Election Ad Ever Made?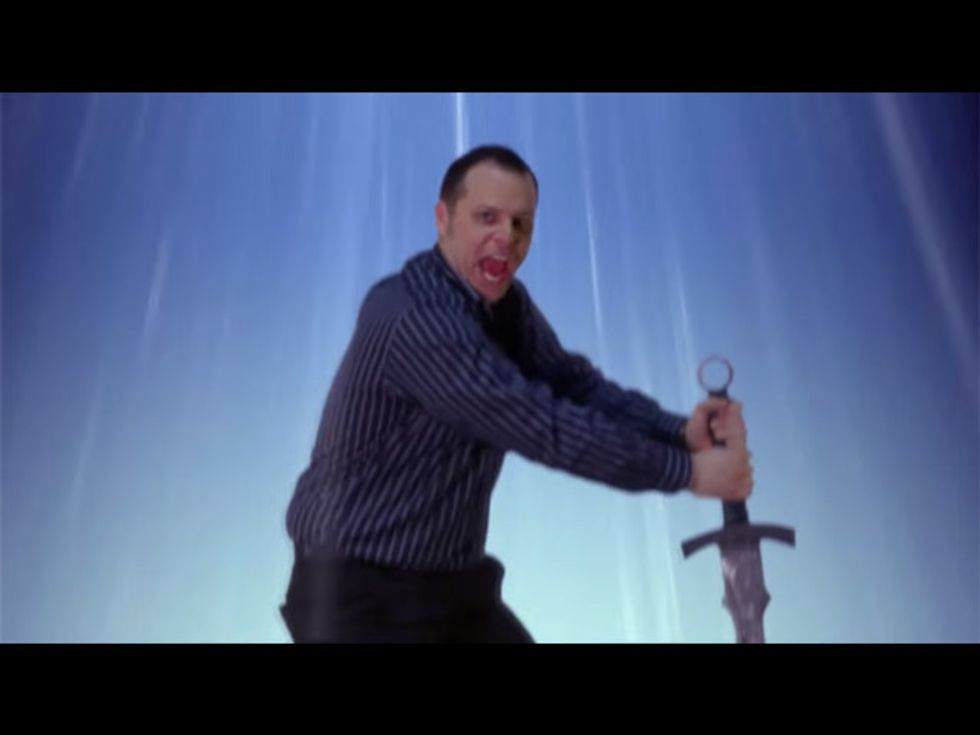 An independent candidate in Canada's federal election has gone viral with the release of an awesome new Web video.
Wyatt Scott is running in the rural district (called a "riding" in Canada) of Mission-Matsqui-Fraser Canyon located in British Columbia. In the video, replete with over-the-top computer animation effects and comically poor dialogue replacement (potentially intentional), Scott rides a giant goose, rescues a damsel in distress (a man wearing a dress), and fist-bumps an alien.
"I'm an independent candidate, and I'm here to fight for Canada!" he yells, as he pierces a dragon through the skull with a large sword.
He cites a list of issues including "too damn expensive" universities and the cutting of social programs. "The indigenous people aren't even protected by their own government," he says, as he walks past what are apparently Aztec pyramids of Latin America — rather than anything pertaining to the First Nations cultures of Canada.
And in his greatest triumph, Scott destroys a giant invading robot bearing the logo of the incumbent Conservative Party, using laser beams from his eyes.
Scott told The Canadian Press that he took out an ad for a student filmmaker on Craigslist, and got a response from a group ready to work with him. "Humor is a big part of my life," he said. "I told them, 'I want to push the envelope. I don't want to go too far, but I want to push the envelope.' And that's what we came up with."
According to Scott's website, he has had some past political involvement with the provincial chapter of the New Democratic Party, Canada's social democrats, who are currently ahead nationally in a tight three-way with the Conservatives and the Liberals.
In this election however, Scott was campaign manager for a local Liberal candidate who lost that party's nomination through a caucus meeting process that Scott has alleged was influenced by improper party machine tactics. "The reason I am running is because of the Liberal nomination in my riding… I am calling shenanigans on it," he said to The Vancouver Sun.
So good luck, Wyatt Scott — slay those party dragons.