Israeli Coalition Collapses As Netanyahu Fires Key Ministers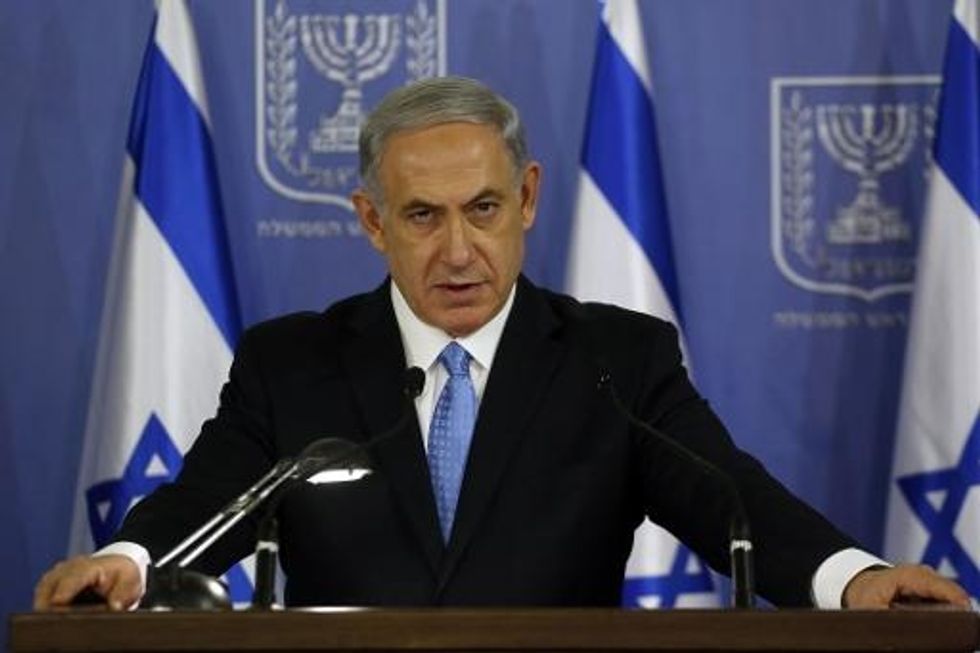 By Batsheva Sobelman, Los Angeles Times (TNS)
JERUSALEM — Less than two years into office, Prime Minister Benjamin Netanyahu's government collapsed Tuesday as he fired two ministers who lead key parties in his ruling coalition.
Ending a protracted political crisis and speculation about early elections, Netanyahu dismissed Justice Minister Tzipi Livni and Finance Minister Yair Lapid, who have repeatedly challenged his leadership.
"I will no longer tolerate an opposition within the government, I will not tolerate ministers attacking the policy and head of the government from within," Netanyahu said in announcing the changes.
The statement from his office added that Netanyahu will call to dissolve the Knesset, Israel's 120-seat parliament, as soon as possible in order to "go to the voters and receive a clear mandate to lead Israel."
An opposition bill to dissolve the Knesset is already slated for discussion Wednesday, and is expected to pass.
Preliminary approval then would start the clock ticking toward general elections, which have to be held within 90 days, or slightly more. The Cabinet would remain in place until a new government is formed after elections.
The Knesset may be dispersed as soon as next week, and new elections could be held around March 17. Previously, the next elections were not scheduled until 2016.
The five-party coalition Netanyahu formed after the last elections in January 2013 was divided from the beginning on a wide range of key issues, including the peace process with the Palestinians, settlements and economic policies, but managed to coexist on other matters.
Political gaps between liberal and hawkish members were further challenged over the last year by a chain of events including the peace talks and their collapse, the war in Gaza, settlement controversy and the recent wave of terror attacks.
The fraying coalition unraveled rapidly in recent weeks amid fierce clashing between Netanyahu and his top ministers over increasingly contentious legislation, and the budget and economic issues. Coupled with an increasingly restive hawkish contingent within Netanyahu's own Likud party, infighting effectively paralyzed the government.
The latest deadlock was sparked by a controversial nationality bill, declaring Israel to be a Jewish state, and a budget that put Livni and Lapid on a collision course with Netanyahu, whose policies they openly criticized with increasing frequency and urgency.
Both issued erupted into a full-blown crisis as both ministers signaled they preferred elections to compromise. Netanyahu, for his part, demanded loyalty from his entire coalition and said daily threats of resignation and other political dictates made government work impossible.
A series of last-minute meetings Netanyahu held Monday and Tuesday with the leaders of his coalition partners failed to stop the downward spiral of his feuding government.
Fierce accusations flew after a late-night meeting between Netanyahu and Lapid. A late-night statement said Netanyahu does not favor elections now but that this was better than "the continued existence of a Cabinet whose ministers sabotage the government's actions against the public interest."
Lapid, leader of the Yesh Atid party, accused Netanyahu of "acting irresponsibly" and reneging on promised guaranteed support for the budget and a flagship economic reform, both geared to lower the cost of living.
"We had an alternative, a good alternative," Lapid said, adding that billions will now be wasted on unnecessary elections rather than going to education, welfare and health. The cost of elections is estimated at about $500 million.
According to Livni, who chairs the liberal Hatnuah party, elections will not be about the economy but a choice between moderate Israeli Zionism and "dangerous extremists that mustn't be allowed to take over the country."
Livni, Israel's chief negotiator with the Palestinians, called for a more centrist government that would "fight terror but also make the necessary diplomatic decisions."
The Labor party, which heads the opposition, already kicked off its campaign two weeks ago, with the slogan "Israel's stuck with Bibi," referring to the prime minister's popular nickname.
Earlier this week, opposition leader Isaac Herzog said Netanyahu "failed in every parameter" and brought the country to "a dead end" in diplomacy, security and the economy.
Israel's political system has taken sharp U-turns in similar situations in the past, but the crisis appeared beyond repair Tuesday.
"Israelis don't really understand why we are headed to elections after less than two years but that doesn't matter, it's a fact," Foreign Minister Avigdor Lieberman said.
Lieberman said the political system would have to get back on track immediately after the elections to "form a government capable of handling the many challenges" the country faces.
___
(Sobelman is a special correspondent.)
AFP Photo/Gali Tibbon