Why Republican 'Investigations' Are So Lurid -- And So Empty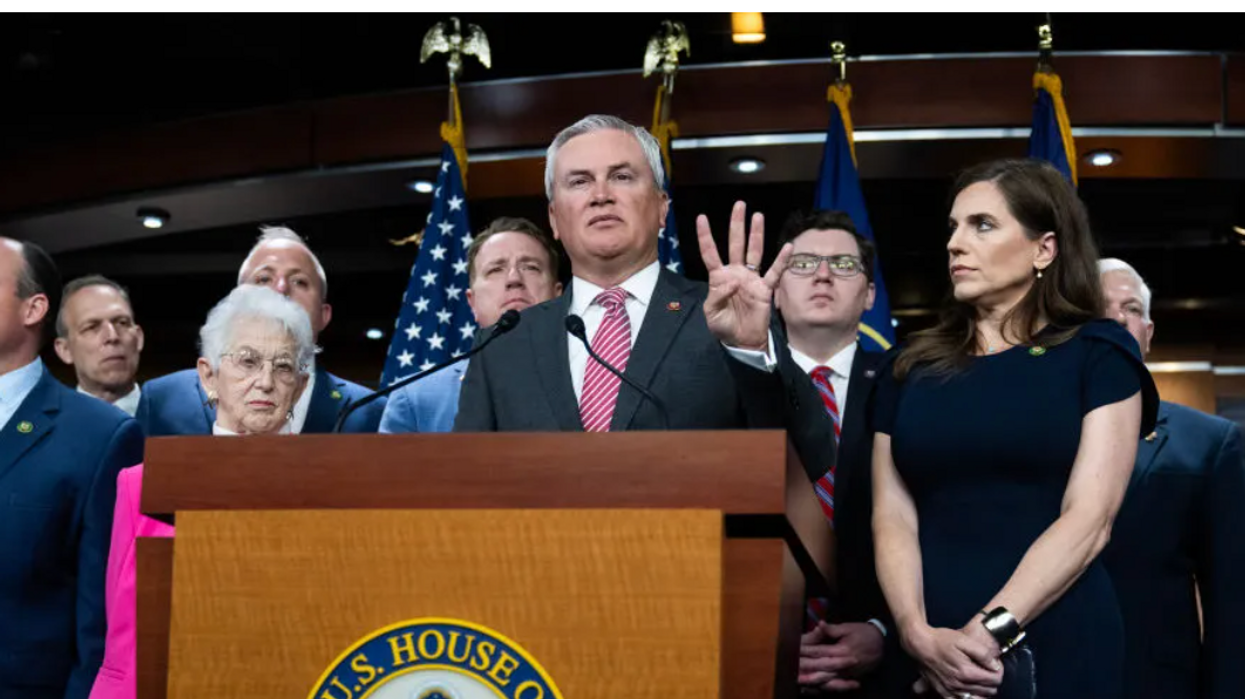 No matter how often they are disappointed, Republicans perennially repose their political hope in baroque scandals and conspiracies. The further to the right they lean, the more fascinated they are by the most absurd and lurid narratives — a tendency that spawned the full-blown destructive cult known as QAnon, which blends authoritarian politics with gory fantasies of pedophilia and cannibalism among the elite, usually topped with a smudge of antisemitism.
Not every self-styled "conservative" shares the perverse imagination of QAnon cultists like Rep. Marjorie Taylor Greene, and more than a few may have noticed just how many child pornographers and sex offenders have turned up among QAnon's top influencers.
But as America approaches another presidential election, we must expect top Republicans to declare ever more noisily that the scandal of the century has engulfed President Joe Biden, who is a Democrat and therefore guilty before any charges are specified, let alone proved. The project of smearing Biden began during the last election, in a still murky operation involving a laptop computer owned by his surviving son Hunter. Honest news outlets have openly questioned whether anything on that machine can be taken at face value, after it has passed through the hands of almost-disbarred Rudy Giuliani, grifter Steve Bannon, fraudster Guo Wengui and other discredited figures.
So, while far-right outlets still market "salacious" images from the Hunter Biden laptop, Congressional Republicans are out there pushing other supposedly incriminating themes and memes.
The latest is a document in the possession of the FBI, which is said to reveal a "tip" from a foreign figure about alleged influence peddling by Joe Biden back when he was vice president. Both Rep. James Comer, R-Ky., who chairs the House Oversight Committee, and Sen. Chuck Grassley, R-Iowa, whose specific role is obscure, have threatened to find FBI Director Christopher Wray in contempt for withholding this document, although both now admit that they have seen it already.
Asked by reporters what the FBI document shows, Comer and Grassley have refused to divulge its allegedly explosive contents. Then Grassley exposed the hollowness of their "investigation" during a Fox News interview on June 1, when he said, "We are not interested in whether the allegations against Vice President Biden (sic) are accurate or not." He and Comer were only concerned, the Iowan declared, to make sure the FBI "is doing its job."
Evidently the FBI finished that particular job some time ago, when former President Trump and Attorney General Bill Barr still controlled the Justice Department. According to CNN, Barr distrusted the document's validity and its origins among Giuliani's sources in Ukraine (who are notorious for providing voluminous amounts of fabricated information). And neither the FBI nor prosecutors could find any corroboration of its claims about Biden.
In short, the new improved scandal is going down the same soiled chute as so many others that have targeted Joe Biden, Hillary Clinton, Barack Obama and nearly every Democrat who has run for president since 1980.
For instance, Americans recently learned that when Trump left the White House, the federal investigation of the Clinton Foundation finally ended, with no evidence whatsoever of wrongdoing. Not only did the nonprofit that former President Bill Clinton founded more than two decades ago save and improve millions of people's lives across the world, but it has also achieved those objectives with transparency and integrity. Yet Republicans spent millions of public dollars on endless investigations, aiming to degrade its reputation for partisan advantage.
The smear attacks on the foundation began with a 2015 book called "Clinton Cash," sponsored by Bannon, promoted by The New York Times, and cited by Trump to justify the FBI probe during his presidency. Its litany of false accusations damaged Hillary Clinton badly during her presidential campaign, just as they were concocted to do.
Proof has since emerged, ironically enough, that it was Bannon who profited from a fraudulent nonprofit, swindling rubes who wanted to "build the wall" on the Mexican border — and that it was Trump who operated a family foundation to evade taxes and glom large sums for his own benefit. Indicted for those financial crimes, Bannon accepted a pardon from Trump, who had already been forced by New York authorities to dissolve his own phony foundation. By then the political damage to the Clintons, and the nation, had been done.
When Grassley confessed that he doesn't care whether the accusations his party publicizes are true, he blundered into a profound truth. The Republican Party's leaders are no more interested in uncovering corruption than they are in reducing deficits or preventing child abuse. They care about power and its rewards, and nothing else.
To find out more about Joe Conason and read features by other Creators Syndicate writers and cartoonists, visit the Creators Syndicate website at www.creators.com.
Reprinted with permission from Creators.