GOP's Grassley Admits 'Very Serious' Allegations Against Biden May Be Untrue
@next2godwin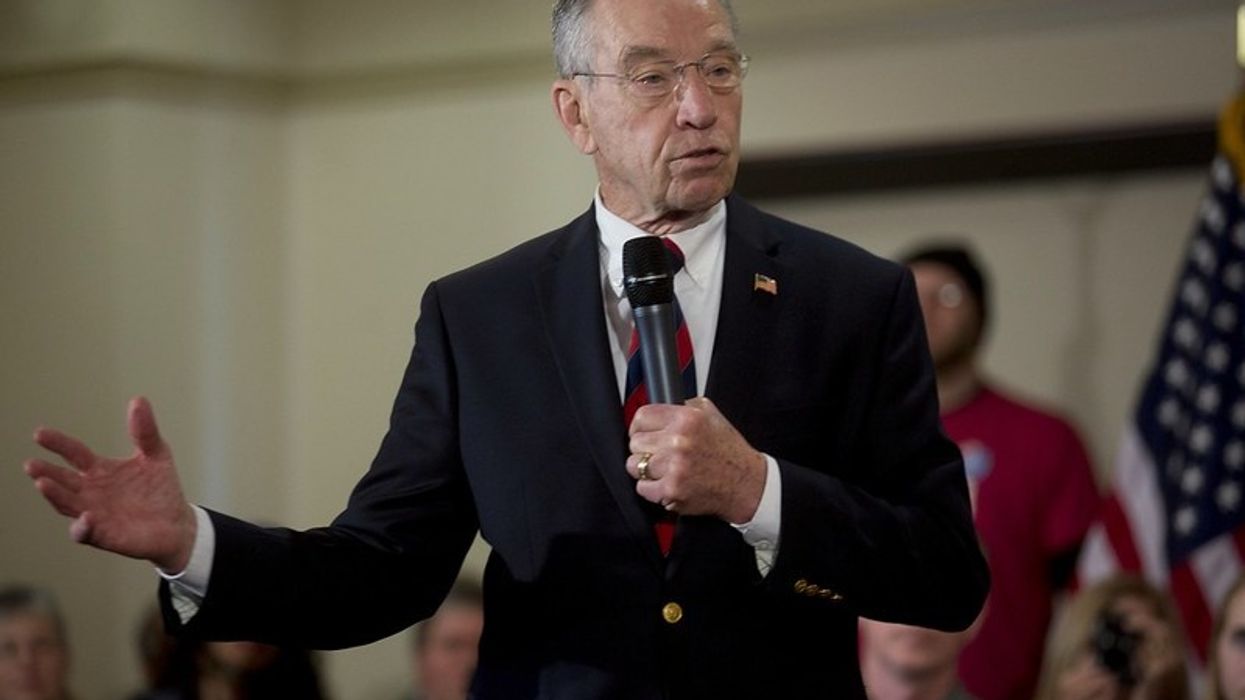 Senator Chuck Grassley (R-IA), who recently demanded the FBI release a document allegedly containing an unverified tip that an unnamed whistleblower claimed tied President Joe Biden to a bribery scheme, has admitted that he doesn't know whether the allegations are true.
Grassley and Rep. James Comer (R-KY), the House Oversight Committee chairman, asserted on Wednesday that the FBI possessed a document outlining "an alleged criminal scheme involving then-Vice President Biden and a foreign national relating to the exchange of money for policy decisions."
Both Republicans claimed a "highly credible whistleblower" had disclosed the potential existence of such a document. However, neither lawmaker offered any information on the purported whistleblower's background or how the person could have known the document existed.
"The DOJ and the FBI appear to have valuable, verifiable information that you have failed to disclose to the American people," Comer and Grassley said in a letter to FBI Director Christopher Wray and US Attorney General Merrick Garland.
However, in an interview with Newsmax on Friday, Grassley sought a safe distance from the accusations he had peddled, admitting that there was no evidence to back up the so-called bombshell exposé, according to Newsweek.
"It is a very serious allegation. I wish I could say that I knew it was true or untrue," Grassley told Newsmax host Van Susteren.
The comments mirrored Grassley's statement to Fox News on Thursday, contending that he couldn't ascertain "whether or not it's really criminal activity."
When a Fox News anchor, John Roberts, pressed Grassley on the unfounded allegations a day earlier, the 89-year-old lawmaker said, "We've got to wait to see what the document exactly says," Mediaite reported Wednesday.
Comer subpoenaed the FBI on Wednesday for all FD-1023 forms — records containing allegations from confidential sources — generated from June 2020 with the word "Biden" in them.
The Republicans gave the FBI until May 10 to comply with the subpoena.
"The FBI's recent history of botching politically charged investigations demands close congressional oversight," Grassley said in a press release Wednesday.
Republicans wanted "to determine if the Biden family has been targeted by foreign actors, if President Biden is compromised, and if there is a national security threat," he added.
Grassley's communications director, Taylor Foy, told Newsweek that — despite walking back his accusations under pressure — the senator believed the document existed and wanted to know what the FBI "[did] with that information."
Despite their promises to the American people in the lead-up to the 2022 midterms, Republicans have prioritized investigating Biden and his family since becoming the majority in the House of Representatives.
"For four or five years, I've made accusations by speech, by letter, by phone call, and all that stuff, and never once has it been challenged," Grassley told HuffPost.
Senator Ron Johnson (R-WI), a proponent of past unverified allegations against Biden, said that if the bribery allegation were disproven, it would be up to Republicans whether to admit they had made false claims.
Senator Josh Hawley (R-MO) told Fox News that the burden of proof for the Republican's latest allegation against Biden fell to "those Democrats out there screaming about how 'Joe Biden is innocent [and] Joe Biden hasn't done anything.'"
Several far-right Republicans have already backed the unsubstantiated allegation and demanded that Biden be removed from office.
Senator Ted Cruz (R-TX) told Fox News star Sean Hannity that there was "growing" evidence to show "Joe Biden being complicit and profiting from this corruption."
"It doesn't have to be a high crime or misdemeanor because the Constitution specifies that impeachment lies for treason, bribery, or other high crimes or misdemeanors," Cruz said.
"If President Biden is in fact compromised… I don't see how we could not look into impeachment," Oversight Committee member Rep. Tim Burchett (R-TN) told the UK's DailyMail.
Rep. Nick Langworthy (R-NY) told the paper that the allegation was the "textbook definition of a high crime that would demand impeachment."
On Thursday morning, Rep. Russell Fry (R-SC) told Fox Business that there was "a very strong possibility" that Biden would be impeached, a development he said was "certainly on the table."
Freedom Caucus firebrand Rep. Marjorie Taylor Greene (R-GA), who has issued several articles of impeachment against Biden, lauded the supposed whistleblower for revealing "very credible information" that Biden engaged in a "pay-for-play crime scheme with foreign nationals."
Rep. Jamie Raskin (D-MD), the ranking Democrat on the Oversight Committee, in a press release Wednesday, blasted House and Senate Republicans for pushing "unsubstantiated claims" from "an unknown informant" in a cynical attempt to "attack President Biden in one more baseless partisan stunt."
A White House spokesperson, Ian Sams, criticized Republicans for what he suggested were desperate, failed political attacks on the president in a statement to news outlets.
"For going on five years now, Republicans in Congress have been lobbing unfounded, unproven, politically motivated attacks against the President and his family without offering evidence for their claims or evidence of decisions influenced by anything other than U.S. interests," Sams said. "That's because they prefer floating anonymous innuendo, amplified by the megaphone of their allies in rightwing media, to get attention."