Jimmy Carter: Netanyahu Decided To Deprive Palestinians Of Equal Rights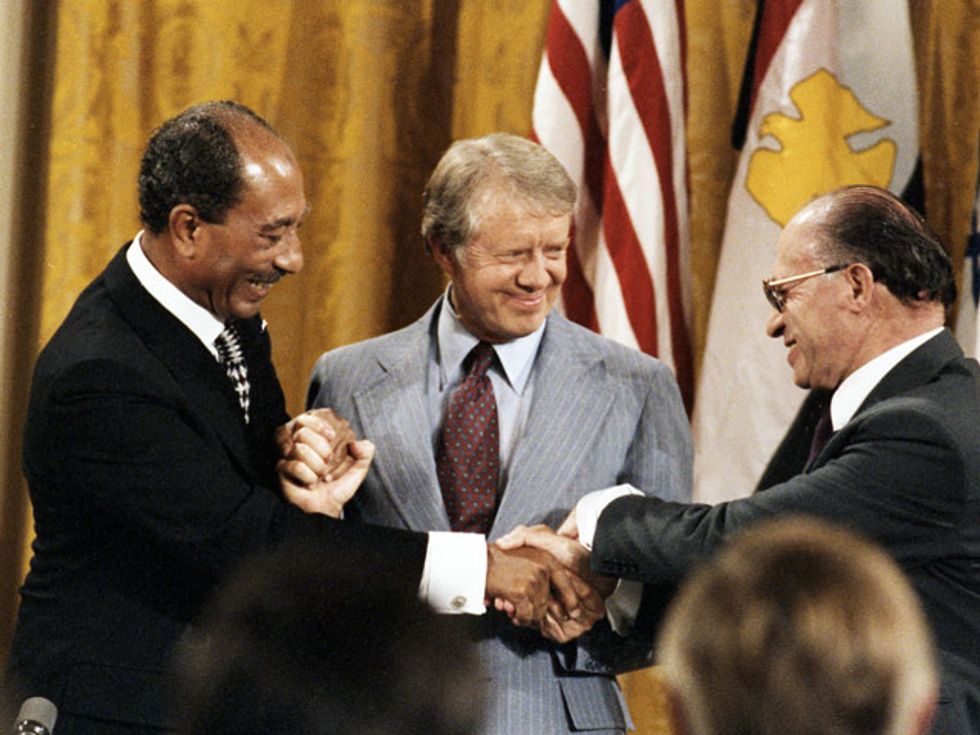 Former president Jimmy Carter is offering a bleak appraisal of the Israeli-Palestinian conflict: "At this moment, there is zero chance of the two-state solution."
Carter spoke with British political magazine Prospect — in an interview that occurred shortly before he was diagnosed with cancer — telling the magazine that Israeli prime minister Benjamin Netanyahu "does not now and has never sincerely believed in a two-state solution for Israel and Palestine."
"The Netanyahu government decided early on to adopt a one-state solution — but without giving them [the Palestinians] equal rights," Carter explained.
In 2006, Carter authored the book Palestine: Peace Not Apartheid, which by its very title provoked massive controversy about the former president's view of the occupied Palestinian territories.
Carter is still standing by that terminology — though not without some apparent discomfort:
Asked whether without a deal Israel was heading for apartheid, he said, "I am reluctant to use that word in a news article" but that there was real force to the argument because of the rising Arab population in the land that Israel controls. Either "Palestinians will have a majority in government" — something the Jewish state would not accept, he suggested, "or you deprive them of equal rights."
Carter is very unpopular in Israel today, to say the least. But during his presidency, he spearheaded one of the most important events in the history of that country's security, when he headed up the Camp David peace accords in 1978 between Israel's then-prime minister Menachem Begin and Egyptian president Anwar Sadat, the latter of whom was eventually assassinated by members of Egyptian Islamic Jihad in 1981.
Photo: Egyptian president Anwar Sadat, U.S. president Jimmy Carter, and Israeli prime minister Menachem Begin, September 17, 1978, via Flickr.