Why Joe Scarborough Says He's Abandoning The GOP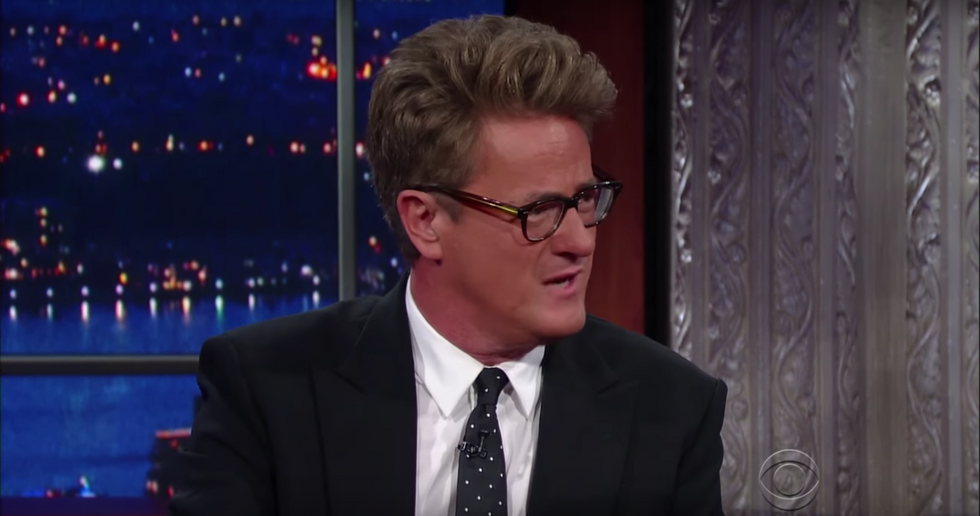 Reprinted with permission fromAlterNet.
Morning Joe co-host Joe Scarborough made a surprising announcement on The Late Show with Stephen Colbert on Tuesday: The former Florida Republican Congressman is giving his party the boot.
"You changed your mind about Donald Trump. Why haven't other Republicans done the same?" Colbert asked, drawing on Scarborough's lifelong allegiance to the GOP.
"I think it's inexplicable," Scarborough answered. "This is well before Donald Trump was elected president that my party has betrayed their core values."
Scarborough supported Jeb Bush in the Republican primary and backed John Kasich once Bush dropped out. He claims he was never "pro-Trump", much to the dismay of the president, who insisted in a tweetstorm that he no longer watches Scarborough's morning show.
According to Scarborough, Republicans had "a thousand" reasons not to vote for their candidate, from Trump's initial Muslim ban proposal, to his attack on Judge Gonzalo Curiel, to his feigning ignorance of David Duke and the KKK.
"Time and time and time again they turned the other way," he lamented. "And they're doing the same thing now. And it's actually disgusting."
"You have to ask yourself, what exactly is the Republican party willing to do?" Scarborough asked. "How far are they willing to go? How much of this country and our values are they willing to sell out?"
"But aren't you a Republican?" Colbert wanted to know.
"I am a Republican," admitted the Morning Joe host. "But I'm not going to be a Republican anymore. I've got to become an Independent."
Watch:
Alexandra Rosenmann is an AlterNet associate editor. Follow her @alexpreditor.