Federal Prosecutor Calls Gaetz Crony 'A Prolific Criminal' Who 'Was Not Alone
@Rebekah_Sager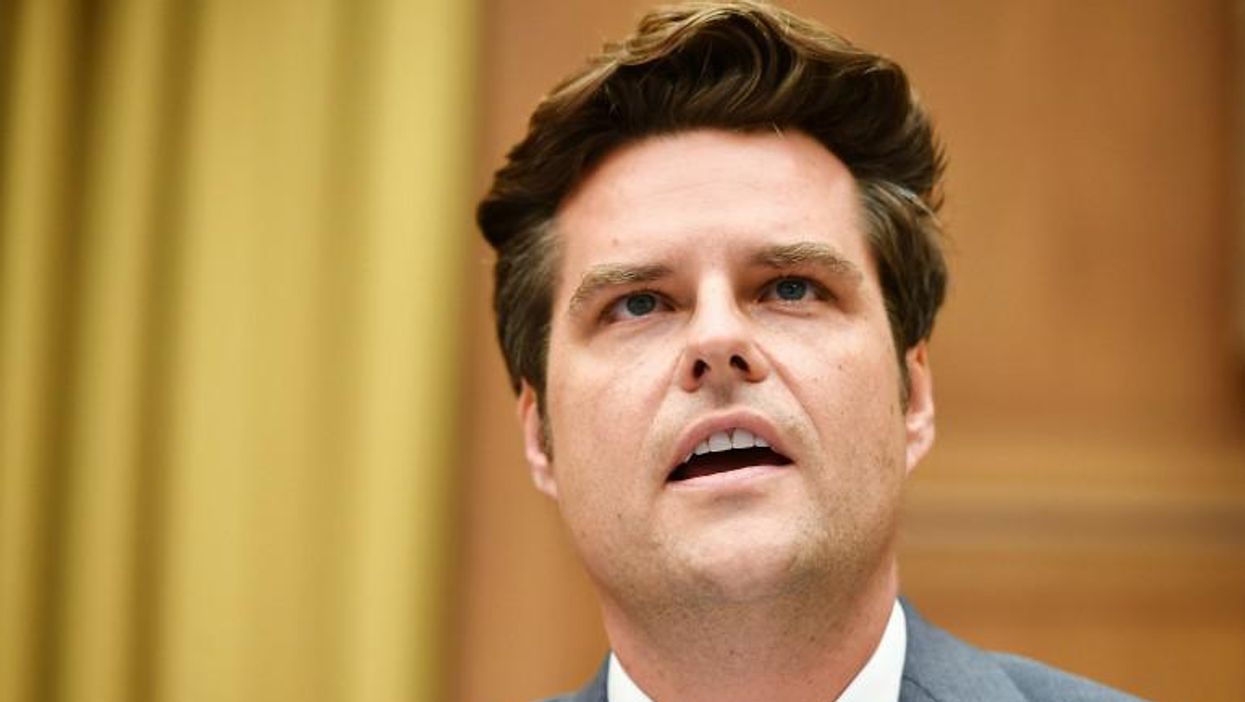 Reprinted with permission from DailyKos
Matt Gaetz may not be talking, but his partner in crime certainly is. Joel Greenberg, a former Florida tax commissioner, has been spilling the beans to the Justice Department (DOJ) following a guilty plea he took earlier this year.
During a brief hearing on Monday in Orlando, Florida, Greenberg was given a second delay in his sentencing after Roger Handberg, an assistant U.S. attorney, told the judge that "the evidence takes us places, and, frankly, it takes us places we did not anticipate."
In May Greenberg, who faced dozens of federal charges, pled guilty to six, including knowingly soliciting and paying for sex with a minor. Part of his plea deal requires him to give "substantial assistance" to investigators—which we're sure is making his sidekick Gaetz quake in his boots.
Greenberg was scheduled to be sentenced on November 18 for his crimes, but prosecutors asked U.S. District Judge Gregory Presnell to give them until March, in order to continue following up on Greenberg's information to investigators.
"Mr. Greenberg was a prolific criminal," Handberg said in open court, according to Politico.
"Mr. Greenberg was not alone. This is an unusual situation in the number of different investigations and lines of investigation we are pursuing," Handberg said, explaining that the extension was necessary "because of the need to follow up on some of these leads."Gaetz's involvement wasn't mentioned in court Monday, but investigators are exploring a 2017 case in which he allegedly paid to have sex with a 17-year-old girl, Greenberg introduced him to. Gaetz has not yet been charged with any crimes and has denied having sex with any minors. He is, however, under investigation for obstruction of justice for phoning a witness during the ongoing probe into a sex crimes case, a law enforcement source
confirmed to NBC News
.
Politico reports that prosecutors have been looking at a trip to the Bahamas Gaetz took in 2018 to see if the congressman, along with Halsey Beshears, then a state legislator, and Jason Pirozzolo, a hand surgeon and GOP fundraiser for Gov. Ron DeSantis, violated the Mann Act, which outlaws people from crossing state lines to engage in prostitution. Also on the trip was the victim of sex trafficking, who may have been under 18 at the time. Smarmy as this all is, there's another very Jeffery Epstein-like tangle: another buddy of Greenberg's, Joe Ellicott, is being investigated for sex-trafficking a 17-year-old in 2017.

Greenberg faces a mandatory minimum of 12 years in prison, but could be sentenced longer—all depends on how hard he'll turn against his supposed allies. He will also be required to pay at least $655,000 in restitution to his victims, including Seminole County taxpayers. "[Greenberg] is on a path of rehabilitation, and to a lesser extent, redemption," said Greenberg's defense attorney
Fritz Scheller
.
.
.
.