Just How Many Neo-Nazis Are There In The U.S., Anyway?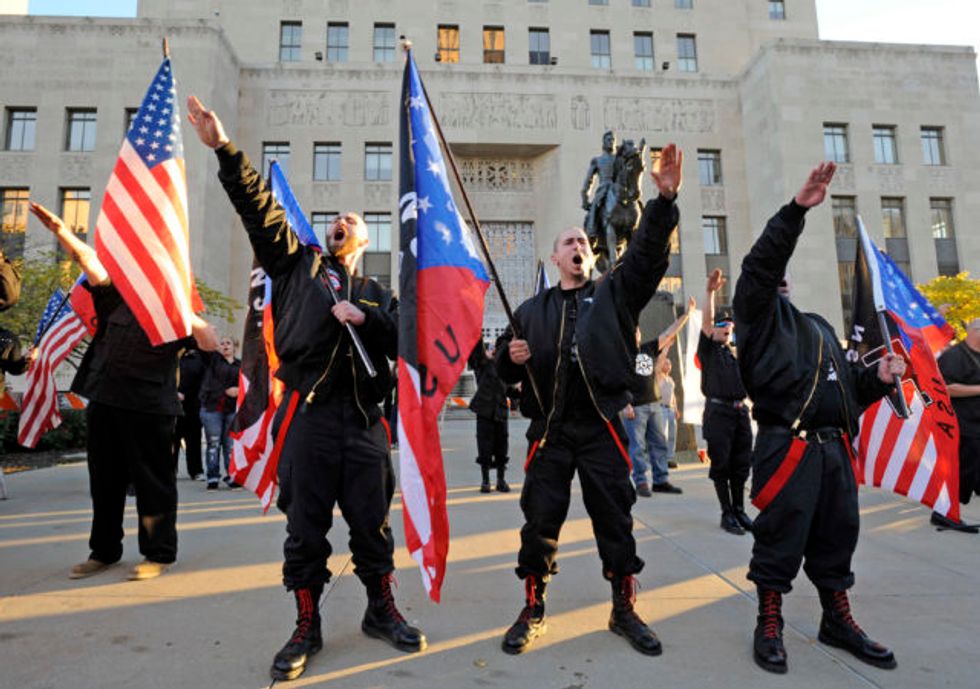 Reprinted with permission from AlterNet.
Neo-Nazis suddenly seem highly visible following this weekend's Unite the Right riot in Charlottesville that left counter-protester Heather Heyer dead. The protest was largely void of Klan hoods, suggesting that neo-Nazis and the Ku Klux Klan are feeling more emboldened. With the renewed visibility of these groups, many may be wondering: How many people do hate groups count as members, and where are these groups located?
Data from the Southern Poverty Law Center suggests the number of hate groups is currently near the country's all-time recorded high, in 2011. The SPLC reports that as of 2016, there are 917 active groups. (That's 100 fewer than the 1,108 groups reported in 2011.) The SPLC's hate map identifies groups by tracking their publications and websites. Of those 917, more than 90 are neo-Nazi groups. California has the highest number with 79, followed by Florida with 63 and Texas with 55.
Prominent neo-Nazi groups include the National Socialist Movement and Vanguard America. According to historian Federico Finchelstein, the KKK, white supremacists and white nationalists are also neo-Nazis, whether they identify as such or not, because they all "exhibit the fundamental traits of Nazism—chiefly racism, anti-Semitism, and the glorification of political violence." The Anti-Defamation League reports that these groups' underlying ideology dehumanizes and focuses on the "alleged inferiority of non-whites." The neo-Nazis in Charlottesville last weekend were recorded chanting "blood and soil," a Nazi slogan that affirms racial hatred by basing ethnicity on blood descent and physical territory.
In a speech given in Kentucky, Vanguard America leader Dillon Irizarry said he counted at least 200 members in 20 different states. The KKK itself claims it has "between 5,000 and 8,000 members nationwide."
Although the members of these groups may be especially vocal, the presence of racism in the U.S. cannot be quantified strictly by data. Nearly 63 million people voted for Trump, which means those voters were willing to accept and tolerate a racist, misogynist, xenophobe for a president, emboldening the small minority of neo-Nazis among them. Trump's own reluctance to condemn the neo-Nazis has led some Democrats to propose a bill to censure the president. But the enduring existence of these hate groups is indicative of racism's lasting presence in the United States' history.
Along with the rise in hate group membership since Trump's election, there has been an increase in racially motivated attacks. The SPLC has recorded 1,863 bias incidents from the day after the 2016 election up to March 31, 2017. Of the 1,863 incidents, 292—or 15.67 percent—were anti-black motivated.
Under Trump's presidency, hate and racism are finding their way into the mainstream. Racism isn't just Nazism, and the protests weren't just an aberration. Racism is a deeply engrained and systemic problem, built into the United States' values, biases and assumptions, especially against black Americans, since the country's beginnings. Dismantling white supremacy will require recognizing racism as an institution perpetuated in order to maintain privileges for white males. Rooting out the racist assumptions embedded in our laws and attitudes will require an intersectional movement that actively challenges police brutality and recognizes our history of slavery and Jim Crow laws.
Julia Flasphaler is a junior writing fellow for AlterNet interested in trauma, gender and race. She is a senior English Literature major at Columbia University. Follow her at @juliaflafla.
Header image source.