Kavanaugh's Public Support 'Historically Low'
@EricBoehlert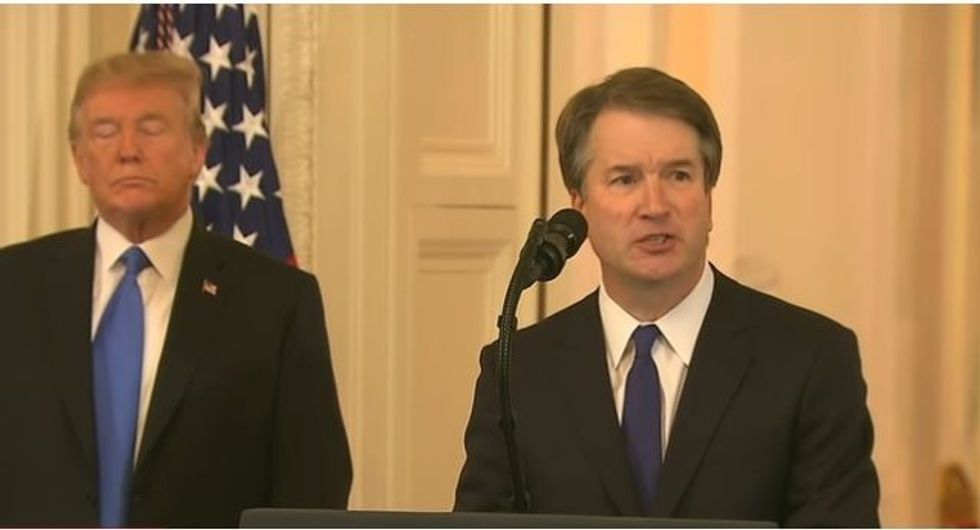 Reprinted with permission from Shareblue.
Trump's Supreme Court nominee, Brett Kavanaugh, began his Senate confirmation hearings on Tuesday — and as new polling released the same day shows, he is a wildly divisive and unpopular figure in America.
Just 38 percent of Americans support Kavanaugh's nomination, which makes him one of the least-supported Supreme Court nominees in the last three decades, according to an ABC poll released on Tuesday.
ABC reports that only two nominees — Harriet Miers and Robert Bork, neither of whom were ultimately confirmed — have had weaker public support.
Bork was famously rejected by the Senate in 1987, including by six Republican senators who voted no on his confirmation. Miers, meanwhile, had to withdraw her nomination in 2005 when even Republicans conceded she simply was not qualified to sit on the Supreme Court.
Usually, Supreme Court nominees enjoy widespread bipartisan support and are easily approved by the Senate. Justice Sonia Sotomayor, for instance, was approved by a wide margin of 37 votes in 2009.
But Trump's polarizing pick of Kavanaugh is different.
More people oppose Kavanaugh's nomination (39 percent) than favor it (38 percent), which wasn't true even for the unpopular Miers.
When Trump first nominated Neil Gorsuch for the Supreme Court last year, Gorsuch enjoyed a net support of +15, according to Gallup.
And Merrick Garland's net support was +23 when President Barack Obama nominated him in 2016, despite Republicans refusing to grant him even one hearing.
One reason for Kavanaugh's historically poor standing with the public may be the very real threat he poses to legalized abortion in this country.
A record-high majority of Americans, 71 percent, now say they don't want to see Roe v. Wade overturned. Yet Republicans are still obsessed with confirming nominees who will end legal abortion in America.
If Kavanaugh was hoping to win over popular support through his televised confirmation hearings this week, that strategy is off to a troubled start.
Republicans on the Senate Judiciary Committee are already fighting off relentless questions and protests over their shameful decision to hide or ignore key documents on Kavanaugh.
Clearly, Americans don't like what they've already learned about Kavanaugh — and the hearings are just getting started.
Published with permission of The American Independent.