Kerry To Press China On Isles, North Korea On Asia Trip
@AFP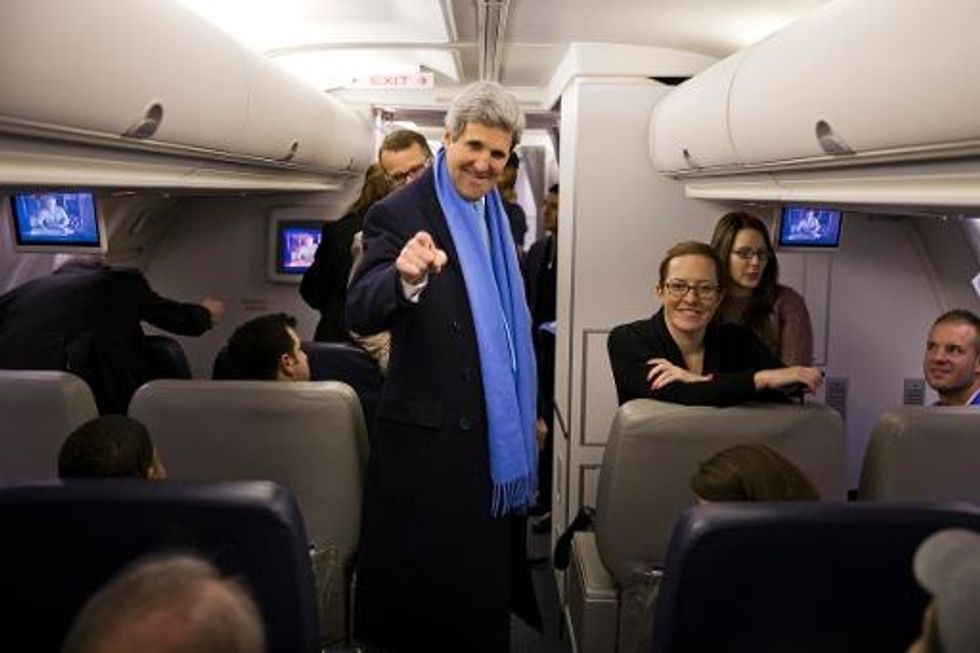 Elmendorf (United States) (AFP) – U.S. Secretary of State John Kerry will press China this week to dispel ambiguity over its territorial claims and to exert greater pressure on North Korea to rein in its nuclear program.
As Kerry headed out on his fifth trip to North and Southeast Asia, U.S. officials warned of Washington's renewed concern at rising territorial tensions driven by competing claims on disputed islands.
"It is unwise in the extreme for China to take actions that are disruptive of stability in the region," a senior State Department official told reporters travelling on the plane with Kerry.
All those claiming rights in the South and East China Seas should urgently clarify their maritime and island claims in line with international law, including the UN Convention on the Seas, he said.
"Ambiguity about claims generates uncertainty and raises risk," he added.
Beijing last year unilaterally extended its air defense zone over disputed islands in the East China Sea, and there have been reports it is considering a similar move over the South China Sea.
On Friday, Kerry reaffirmed a 1960 treaty with Japan and vowed the U.S. would defend its ally against attack, including over islands claimed by China.
Beijing lays claim to almost all the South China Sea, even areas far from its shoreline, but portions are also disputed by Brunei, Malaysia, the Philippines, Taiwan and Vietnam.
Another senior U.S. administration official said there had been increasing "incremental steps" by Beijing to assert its control over disputed areas, but said there should be ways to agree on some "fundamental principles to lower tensions."
Kerry was first headed to Seoul for talks on Thursday with President Park Guen Hye and Foreign Minister Yun Byung-se, before heading on to China.
In his talks on Friday in Beijing, Kerry wants to hear "what types of diplomacy China would be interested in pursuing," the official said, pointing to languishing moves to draw up a code of conduct with Southeast Asian nations.
The top U.S. diplomat will arrive in Seoul a day after the North and South held rare face-to-face talks seeking to thrash out common ground to improve ties, a move which the U.S. welcomed.
He will also call on Beijing to exert more pressure on its ally Pyongyang to show it is serious about wanting new six-party nuclear talks.
"The days are long gone when the international community will take North Korea's IOU … words alone will not do," the first State Department official said, shortly before Kerry's plane stopped to refuel in Alaska en route for Seoul.
Washington's current unwillingness to offer incentives such as food aid to lure Pyongyang back to the negotiation table "is a pressure point that we hope will lead North Korea to make the right choice," he added.
North Korea had the opportunity to end its international isolation, but had to take "convincing steps," he said, adding that Washington wanted to turn "denuclearization from a noun into a verb."
The U.S. has also repeatedly called for the isolated North to release Kenneth Bae, a devout Christian Korean American who was sentenced to 15 years' hard labor last year.
The State Department on Tuesday again voiced frustration that an invitation to U.S. envoy Robert King was extended on February 5 but withdrawn just three days later.
U.S. officials called on North Korea to show "compassion" for the 45-year-old, who is forced to work 10 to 12 hours a day even though his health is failing.
From Seoul, Kerry will travel to Beijing, Pyongyang's main ally where he will meet Foreign Minister Yang Jiechi, among other Chinese leaders.
He will also highlight the need to tackle climate change by the world's top emitters of greenhouse gases.
The theme is set to be a main focus of his next stop in Jakarta, where Kerry will give a major speech on global warming.
AFP Photo/Evan Vucci