Bitter GOP Infighting Over Speakership Spreads To Committee Chairs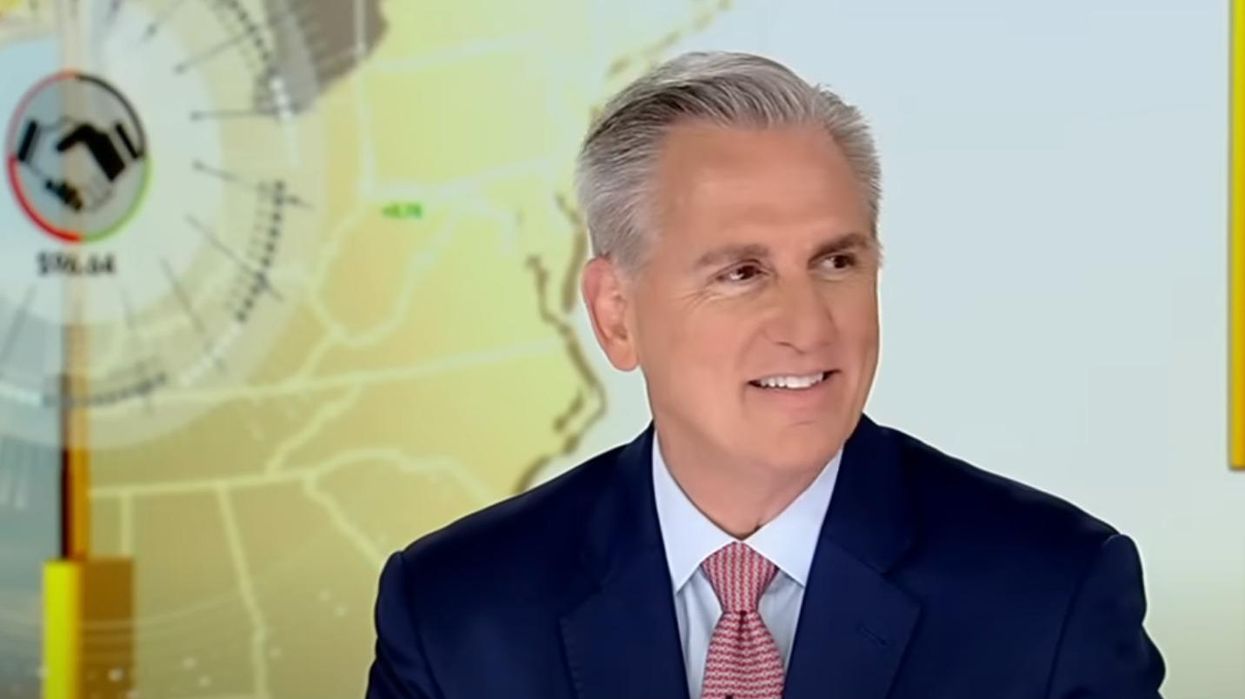 Youtube Screenshot
The GOP civil war over Kevin McCarthy's bid to become Speaker of the House next month has spilled over into skirmishes among members angling for plum spots in the new, tiny majority. It's vicious out there, people. And kind of hilarious.
Thursday morning broke with a report from Punchbowl News that McCarthy is talking about pushing all the contested chair races into January so that he doesn't end up angering people while he's trying to get them on his side. These races are usually decided in November or early December, so that the new majority and its committees can get staff in place and hit the ground running when the session begins. It's a sign of just how chaotic things are right now in the House GOP.
That was made a whole lot juicier with the additional news that one of the guys who wants to be Ways and Means chair—Rep. Vern Buchanan (R-FL)—is threatening to resign if he doesn't get the nod from McCarthy. That's a powerful threat—one fewer member could make McCarthy's math problem even direr. Except that Buchanan says that story is bunk. "I was never contacted for that story, but the notion that I would consider resigning is laughable and ridiculous," Buchanan told Florida Politics.
But here's the good part: "Sources close to Buchanan characterized the news blurb as a vicious rumor from Smith world." Fight! Fight!
The "Smith world" is by those around either of Reps. Adrian Smith (R-NE) or Jason Smith (R-MO) who are also vying for the chair of the powerful tax-writing committee. For now, the not-Smith in the race is hitching his wagon to McCarthy. "I'm committed to helping elect Kevin McCarthy Speaker and continue to work every day to earn the support of the Steering Committee to become the next Ways and Means Chairman," Buchanan said.
The idea that McCarthy is putting off these contests until his is decided was confirmed by one member interviewed by the Capitol Hill paper, Roll Call. That lawmaker, "with knowledge of the situation," said that it was likely these votes won't be held until after Jan. 3, "though the situation remains in flux."
That's because McCarthy's speaker bid remains in flux. Rep. Andy Biggs (R-AZ), the only announced candidate against McCarthy, doubled (tripled? quadrupled?) down on his challenge for the job Thursday.
He's going to take this fight all the way to the floor, he promises. That could be his response to the idea another one of his anonymous colleagues came up with that he's just putting himself forward as the sacrificial lamb, taking all the fire from McCarthy's team to allow an unscathed alternative to emerge and take the gavel.
Or he could be telling his fellow never-McCarthy guy Rep. Matt Rosendale (R-MT) to back off. Rosendale wasn't too subtle about testing the waters for himself in an op-ed he wrote in the Billings Gazette.
Or maybe Biggs' message is for current GOP whip Rep. Steve Scalise (R-SC), McCarthy's number 2 guy in leadership, who pointedly did not take himself out of the running for the speaker job with reporters this week.
Another person to keep an eye on is the odious Rep. Elise Stefanik (R-NY), who last month was re-elected as conference chair, the fourth-ranking post in the conference in a GOP majority. She got the job after the conference kicked Rep. Liz Cheney (R-WY) out of it last year, when Cheney proved a little too loyal to the Constitution for Republicans' liking.
Stefanik has been uncharacteristically silent throughout this whole business. Granted, her path to the job is limited by the fact that she's a she and thus will be written off by a decent chunk of the conference. Sure, she can be in a support job, but sitting in the chair? That's for Democrats. Don't count her out when it comes to making coups. Just ask Rep. Cathy McMorris Rodgers (R-WA), who had the conference chair post until Stefanik came along, and who isn't in leadership anymore.
Election season overtime is finally winding down, so Democratic operative Joe Sudbay joins David Nir on The Downballot as a guest-host this week to recap some of the last results that have just trickled in. At the top of the list is the race for Arizona attorney general, where Democrat Kris Mayes has a 510-vote lead with all ballots counted (a mandatory recount is unlikely to change the outcome). Also on the agenda is Arizona's successful Proposition 308, which will allow students to receive financial aid regardless of immigration status.
Over in California, Democrats just took control of the boards of supervisors in two huge counties, Riverside and Orange—in the case of the latter, for the first time since 1976. Joe and David also discuss which Democratic candidates who fell just short this year they'd like to see try again in 2024, and what the GOP's very skinny House majority means for Kevin McCarthy's prospects as speaker.
Reprinted with permission from Daily Kos.