Jared Kushner, Trump Adviser And Son-In-Law, Reported Under FBI Scrutiny In Russia Probe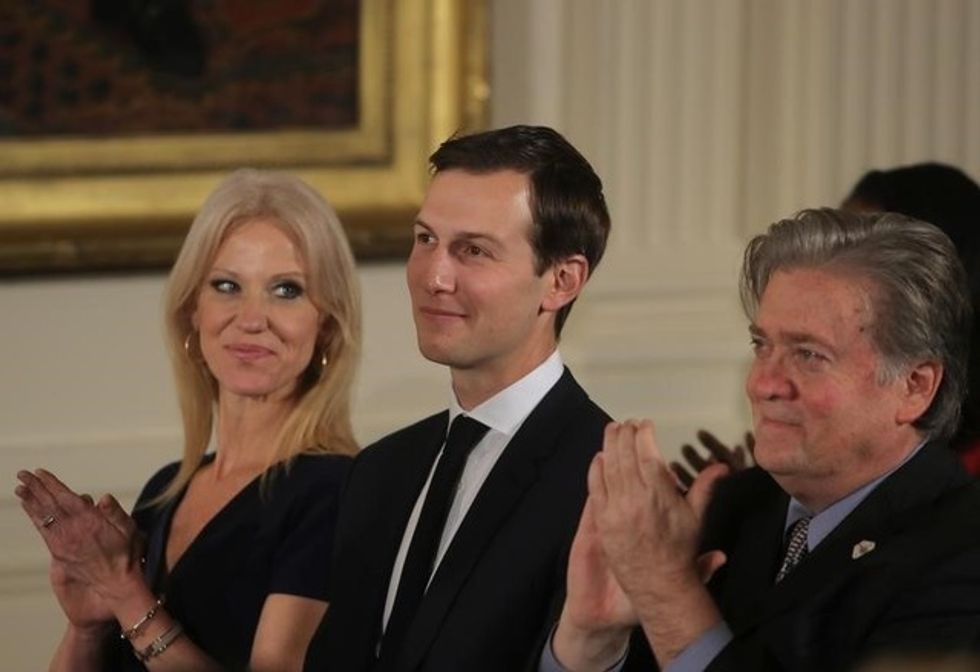 Multiple news sources reported on Thursday evening that the FBI is closely examining Trump son-in-law and senior adviser Jared Kushner as a person of interest in its ongoing investigation of Russia's intervention in the 2016 election and related matters. Investigators are scrutinizing an extensive series of meetings that Kushner held with Russians, according to those news outlets, which quoted sources close to the probe.
The naming of Kushner follows a story that appeared in the Washington Post last week, which reported that a "senior White House official close to the president" had become an important focus of the investigation. Much speculation ensued that the high-level staffer might in fact be Kushher — who failed to report his post-election meetings with Russian ambassador Sergey Kislyak and with Sergey Gorkov, a Russian banker with close ties to the Kremlin and its intelligence services.
None of the reports on Kushner indicated that he is currently a "target" of the Russia investigation, which appears to be heavily focused on former Trump campaign manager Paul Manafort, former Trump national security adviser Michael Flynn, and former Trump campaign adviser Carter Page. And no evidence of wrongdoing has so far been adduced against Kushner, whose attorney Jamie Gorelick says he will cooperate fully with both the special counsel and the Senate Intelligence Committee investigations.
According to the Post, FBI investigators are looking at possible financial offenses beyond the scope of collusion between the Trump 2016 campaign and the Kremlin. But the paper's sources would not discuss those potential crimes. None of the reports indicates that Kushner is a target, suspect or even a central focus of the investigation, however, and he has not been accused of any wrongdoing.
Still, as columnist Aaron Blake noted in The Fix, Kushner's familial relationship with Trump has raised questions — and eyebrows — from the first days of the new administration. His failure to fully divest from the Kushner companies and his family's blatant attempts to cash in on its relationship with Trump — which embarrassed the president recently when Kushner's sister Nicole Meyer sought to raise financing from Chinese investors — have put Ivanka's husband under a harsh spotlight that investigators cannot ignore.