Late Night Round-Up: Of Paris, Peace, And Presidents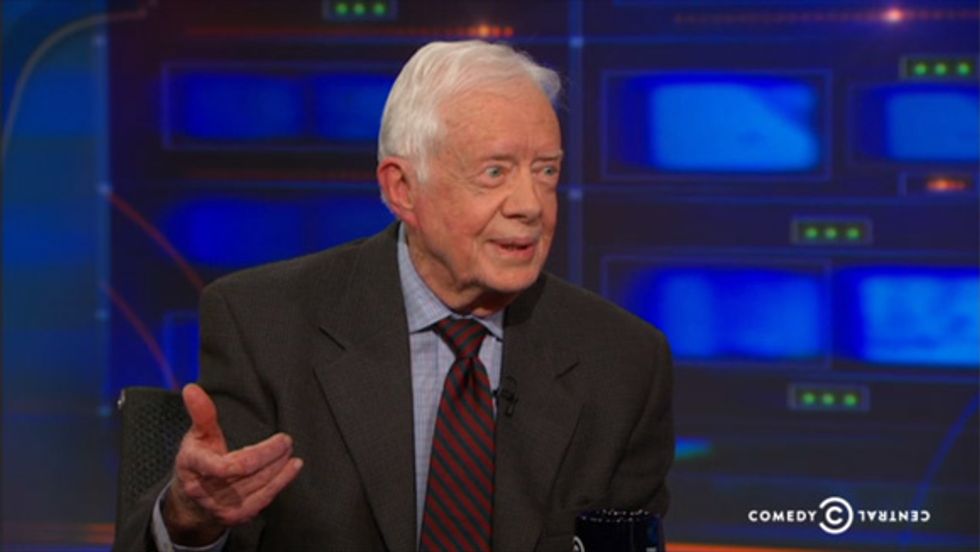 Former President Jimmy Carter appeared on The Daily Show, and discussed the efforts that must be made for peace and security in the wake of the terrorist attacks in Paris. He also told an interesting story: During the Camp David peace summit when he was President, Israeli Prime Minister Menachem Begin and Egyptian President Anwar El Sadat were so argumentative for three days, that he ultimately told them to go to separate rooms and that he would go back and forth between them.
Jon Stewart asked: "Can you give world leaders a timeout?"
Conan O'Brien is already getting ready for the next election: "I hate to say this, but people are starting to talk about the 2016 presidential race already. Yeah. According to a new survey, this is interesting, the potential presidential candidate that most voters said they'd like to live next door to is Elizabeth Warren. That's what they said — that's the one they want to live next door to. Personally, I'd like to live next door to Mitt Romney, because that would mean I have billions of dollars."
Tony Danza appeared on Late Night with Seth Meyers, and told an amusing personal anecdote: The time that Speaker John Boehner sang to him for his birthday at an Italian restaurant in New York City.