Late Night Roundup: 'America's Id Is Running For President'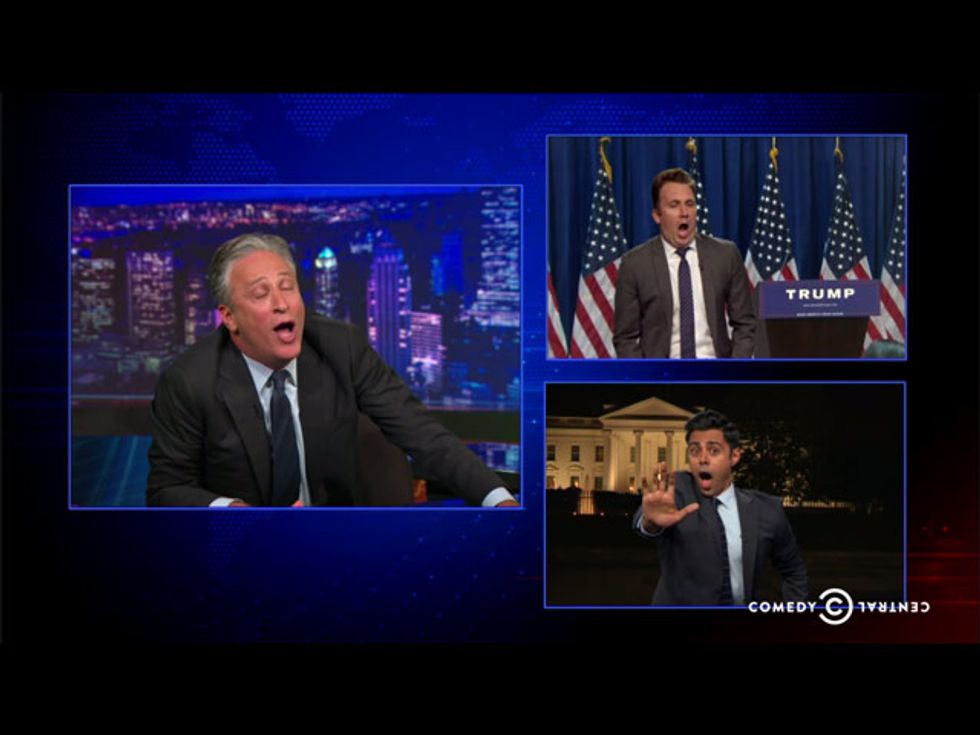 Jon Stewart marveled at the pure comedic perfection of Donald Trump's 50-plus minute presidential campaign announcement: "Thank you, Donald, for making my last six weeks my best six weeks. He is putting me in some kind of comedy hospice, where all I'm getting is straight morphine."
And then Jon, Jordan Klepper, and Hasan Minhaj had a collective reaction to the prospects of The Donald's candidacy that was less than "safe for work."
Seth Meyers commented on Donald Trump's entry into the race — as one of those days when things are just really easy for a comedian. On the other hand, Seth also gave Donald some credit for his experience on Celebrity Apprentice: "A content with 16 participants who will do or say anything to win."
And James Corden looked at Trump's presidential campaign in a truly appropriate way: a game show sketch, to highlight the most absurd clips he could pick from a truly absurd speech.
But another candidate also got some time on the late-night shows: Jeb Bush stopped by The Tonight Show to promote his candidacy — by joining in Jimmy Fallon's "Slow Jam the News" feature, in both English and Spanish.
Meanwhile, Conan O'Brien looked at Jeb Bush's "Jeb!" campaign logo — as the logo for a '90s sitcom. And that theme song wasn't exactly flattering.