Late Night Roundup: Donald Trump Isn't Talking About Something!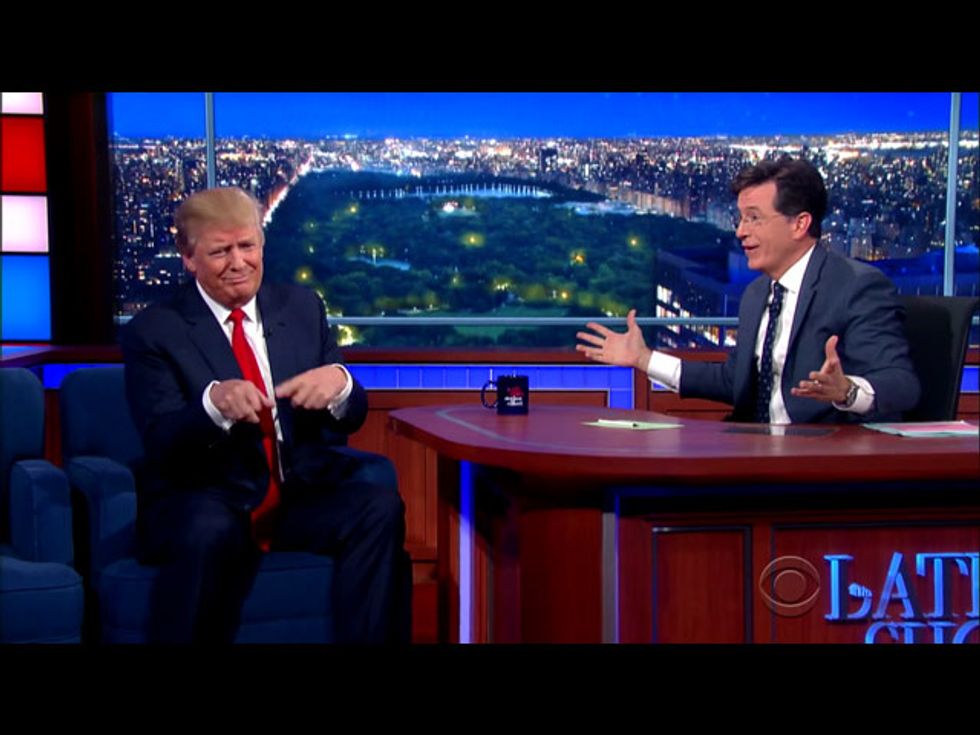 Stephen Colbert sat down with Donald Trump — one gonzo comedian to another.
The Donald elucidated on how he could get Mexico to pay for his border wall — and yet again, he refused to say whether President Obama was born in the United States: "You know, I don't talk about it anymore."
Colbert presented a special game for Trump to play: testing whether an over-the-top quote was said by Trump — or by Stephen's absurdist personality from his old Comedy Central show.
Colbert also welcomed Energy Secretary Ernest Moniz, who set out to explain just how stringent the Iran nuclear deal really will be.
Seth Meyers sat down with John Kasich, who talked about his efforts to stay positive and reasonable in the crowded Republican field. "You know what a demolition derby is?" he said of last week's GOP debate. "I was just trying not to crash my car."
Seth also made an editorial statement on the anti-Muslim statements from both Trump and Ben Carson: "With anti-Muslim rhetoric from candidates like this, it makes it hard to believe that it's 2015. But you can't blame people for not knowing what time it is – when they're arresting kids for building clocks."
Larry Wilmore looked at the latest outrageous statement from Mike Huckabee, who has blasted President Obama for nominating longtime Pentagon official Eric Fanning, who is gay, to be the new secretary of the Army — to which Huckabee said in a statement: "President Obama is more interested in appeasing America's homosexuals than honoring America's heroes."
Larry's response: "Mike Huckabee, you know that 'homosexual' and 'hero' aren't mutually exclusive terms, right? Just wanted to clear that up. Let me give you an example of mutually-exclusive terms: 'human' and 'Huckabee.'"