Late Night Roundup: Kindergarten Carson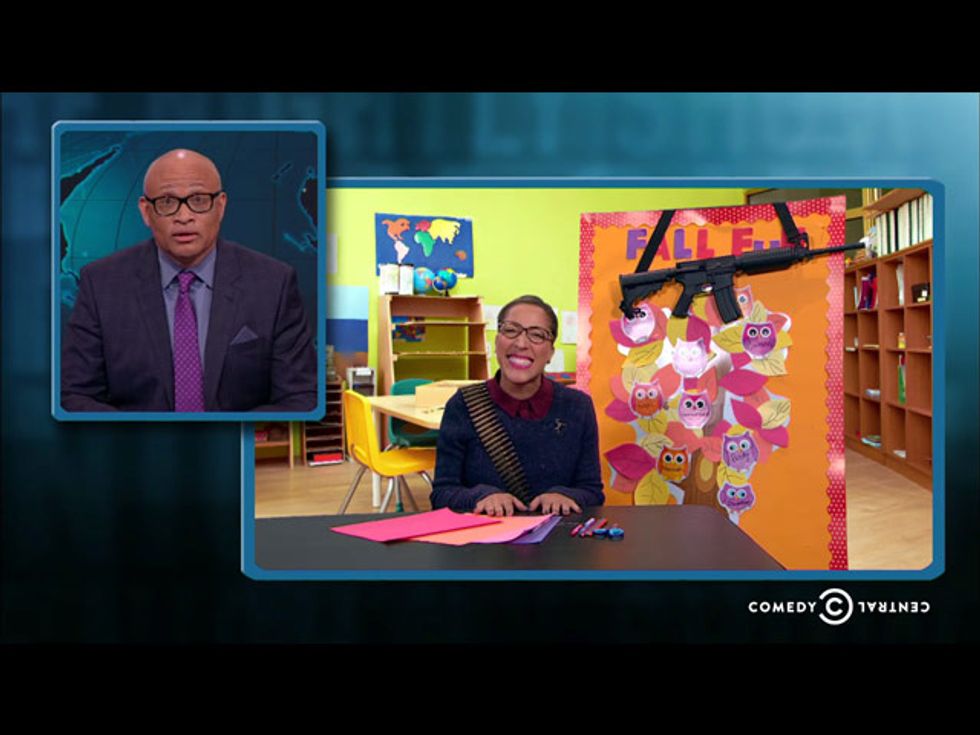 The late night shows took a hard look at the Republican candidates' responses to school shootings.
Ben Carson came under particular attention for calling upon civilians to charge against a gunman together — even laughing as he described it — and also his call for even kindergarten teachers to be trained and equipped with guns.
Larry Wilmore put it bluntly: "You are out of your f@#$ing mind."
Larry also showed a kindergarten class where Carson's ideas are actually put into practice.
Trevor Noah slammed Carson for describing the victims' actions as having "let him shoot you." Trevor also noticed the similarity between Carson's strategy of charging a gunman en masse — and zombie movies: "Wait a second: slow, languid pace; dead eyes; loves brains. Oh my god, this explains everything — Ben Carson is a zombie!!!"
The Daily Show correspondent Desi Lydic also examined Carson's victim-blaming: "We've all heard the saying: 'Guns don't kill people — people shot by guns, who don't rush the guy shooting them, kill people.'"
Stephen Colbert highlighted Jeb Bush's remarks "stuff happens" remark about not acting to prevent school shootings. "Jeb Bush clearly has all the advantages that a candidate could want, and should be doing way better. But when he says things like that, after 142 school shootings since Sandy Hook, it sounds like he's got — how can I put this delicately — stuff for brains."