Why Losing To Lauren Boebert Makes Adam Frish Optimistic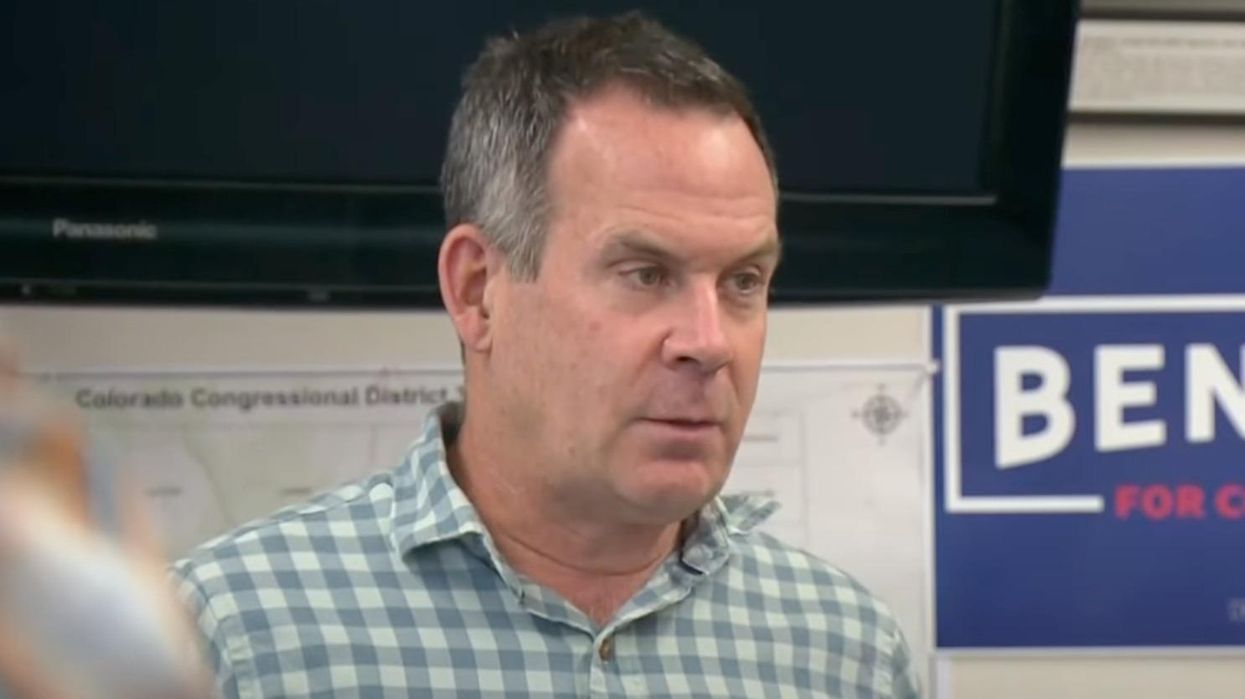 Youtube Screenshot
The announcement this week that Republican Lauren Boebert had won her race, and would be heading back to Washington to represent Colorado's 3rd District in the House, hardly came as a surprise to her Democratic opponent. The surprise is the optimism of Adam Frisch — about Colorado, America and politics — after coming so close (a 546-vote margin close) to upending predictions and winning the seat.
"We're all very proud of how well we ran and the way that we did it," he said when I spoke with him on a Zoom call last week. "We took the high road throughout the whole journey, and that resonated with a lot of people."
Frisch had already conceded before the recount, citing Colorado's "very, very strong election laws" and "very high level of election integrity" and finding comfort in that. Based on her well-documented mistrust of government, I doubt Boebert would have accepted defeat quite so easily.
He is human, so "as great as the moral victory is or was," Frisch said, "it certainly would have been better to have a victory victory." But I believe Frisch when he says the 20,000-plus miles he traveled during his campaign were more than worthwhile. That's because I had already met the other person on our call, his frequent companion in his trips throughout the district, the candidate's 16-year-old son, Felix Frisch.
That any journalist covering politics, culture and race might occasionally succumb to cynicism will come as a revelation to exactly no one. One remedy for me turned out to be teaching a group of high school juniors and seniors and incoming college freshmen for two weeks, as I did this past summer, in a School of The New York Times Summer Academy course in political commentary. Felix was one of the students.
We explored Washington, D.C., including stops at the Library of Congress, the Smithsonian's National Museum of African American History and Culture and, on an early excursion, the memorial to third president Thomas Jefferson, where we had a chance to consider the complicated legacy of one of America's Founding Fathers.
On the walk back to the Metro on what must have been one of the hottest days of the summer, Felix told me he had been campaigning for and with his father, traveling the Colorado district to convince voters that Adam Frisch would represent their needs better than incumbent Lauren Boebert would.
I listened as he spoke excitedly of meeting voters in corners of the district few candidates had taken note of, and I thought to myself, "Too bad your dad doesn't have a chance."
But though it's natural for any son to think his dad can do anything, Felix was on to something.
The Boebert I covered at the North Carolina Faith & Freedom Coalition's Salt & Light Conference in September was ripe for a challenge, with her emphasis on grievance as she cast herself as victim in a kind of holy war.
Adam Frisch thought so too.
He wrote down some thoughts 14 or 15 months ago, and "basically 98 percent of it played out," he told me.
"I think 30 to 40 percent of the Republican Party want their party back," Frisch said, "and Lauren Boebert doesn't represent a traditional, conservative, Republican conversation going on." He repeated a phrase that anyone who followed his campaign heard repeatedly, saying she was part of the "angertainment industry," crediting the expression to his middle and high school buddy, current Minnesota Democratic Rep. Dean Phillips.
Frisch learned in his travels that "ranchers and farmers are pragmatic … and she's the antithesis of pragmatism, of trying to work across party lines and solving things for their district."
In one stop at Grand Junction, which the Aspen-based candidate called the "heart of Trumpism in the state," he said he took questions from everyone. Though he obviously didn't win over quite enough of them, he made some connections.
His son was there for a lot of it, and Felix said he has appreciated growing up witnessing people challenge both his father, a former city councilman, and his mother, a member of the school board and a big part of her husband's campaign. "I know what it's like to admit mistakes in front of people, to have accomplishments and be proud of that."
Felix, who managed, coordinated and truly appreciated the work of campaign volunteers, said his biggest takeaway is that "people are a lot more together on things" than conventional wisdom and reporting would suggest.
Sounding pretty political himself, he said he'd like to see politicians realize that young voters care about a variety of policy issues and need to be taken seriously. No party can "just rely on the young people to show up," he said.
Now that his calls are being returned, Adam Frisch puts the odds of his running again "between probable and possible" in what will surely be a contentious 2024 cycle; pushing back against extremism in Colorado and nationally is his priority now, he said. That and getting back into shape after brewery, bakery, barbecue and burger tours.
He also had advice — for both parties.
For Democrats, it's to try to expand on the party's comfort zone of bigger cities, despite how difficult that might be now that so many voters have hardened support for their political "team" over any other consideration. The American people's job, he said, "is to make sure they really think about character and the kind of people they send into office."
While he wishes the Republican Party would turn away from Donald Trump "because of him having dinner with neo-Nazis and trying to suspend the Constitution," he at least believes the party will distance itself from the former president because it's electorally smart.
Both sides, he said, need to fix the primary system to allow room for moderation, and hopefully, "extremism is going to continue to be punished."
"It's important for people to stand up and truly say what they believe in."
It's a nice sentiment, fitting for the season, though anytime so-called leaders willing to break laws and traditions to keep Trump in the White House are well-represented in the incoming GOP House majority, a hint of cynicism and caution seems not only healthy, but also necessary for the new year.
Mary C. Curtis has worked at The New York Times, The Baltimore Sun, The Charlotte Observer, as national correspondent for Politics Daily, and is a senior facilitator with The OpEd Project. She is host of the CQ Roll Call "Equal Time with Mary C. Curtis" podcast. Follow her on Twitter @mcurtisnc3.
Reprinted with permission from Roll Call.