Ohio's Women Organize Against A Wealthy And Fanatical 'Knight Of Malta'
@ninaburleigh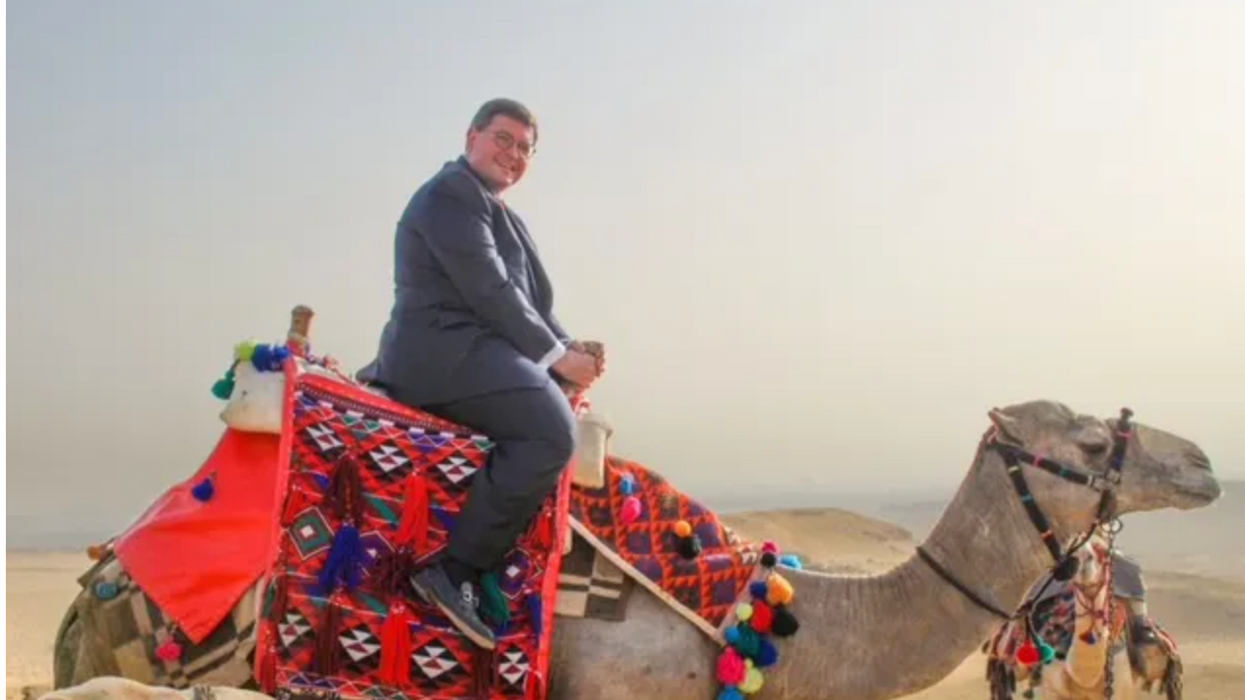 The Catholic Church does some good things around the world. Think of the nuns and priests murdered by death squads for supporting peasants in Central America. Or Pope Francis, reminding humanity to hold some compassion for the poor and downtrodden every Sunday from his Vatican balcony. Then there are its fanatics and extremists, men-without-women in red hats and red shoes, obsessed with controlling female reproductive organs and protecting pedophile priests. The descendants of Galileo's jailers might be history's longest running club of sick puppies. Increasingly, their medievalism is encroaching on Americans.
This week, Catholic extremism's most high and efficient emissary in Washington, Knight of the Sovereign Military Order of Malta Leonard Leo, will discover whether billions in anonymous donor money and a lifetime of DC networking will meet the limits of power in the voters of the state of Ohio.
On Tuesday, Ohio voters will decide whether to approve Issue 1, a ballot initiative that would establish an individual "right to make and carry out one's own reproductive decisions" in their state constitution. The fact that the ballot initiative exists at all is a triumph. The Ohio legislature is captured by right-wing extremists engaged in an audacious experiment in despotism. They have ignored their own state courts and the will of the Ohio voters with respect to gerrymandering. They are bought and paid for by oligarchs and oil and gas interests for whom they have shut down environmental regulations and even legalized the sale of radioactive fracking waste as a road de-icer. (For more on this dirty business read David Pepper's Laboratories of Autocracy: A Wake-up Call from Behind the Lines.)
When the Supreme Court overturned Roe v. Wade last year, Ohio was one of the states that instantly became Handmaids Tale territory, with forced birth the actual law of the state. Other states had the same kind of ban on the books, just waiting for the SCOTUS green light, but Ohio made national news when a ten year old rape victim was impregnated, and the state refused to allow the child to get an abortion. Her trauma was compounded by having to travel out of state to get care.
Against great odds, prochoice forces in Ohio managed to get a constitutional right to abortion on the ballot. Ohio voters will now get to decide whether to follow states like Kansas and Michigan in returning bodily agency to women and girls.
The fight is ugly and expensive. Pro-choice forces have money and the wind at their backs with wins in other states. Desperate anti-choices in Ohio are flooding the zone with misinformation, claiming the amendment will lead to "abortion on demand" or "dismemberment of fully conscious children" if voters approve it. These lies are promoted on the official government website of the Republican-controlled Ohio Senate. (Issue 1's text explicitly says "abortion may be prohibited after fetal viability.")
Ohio Republicans have also used the levers of government they control to change the rules to make it harder to get initiatives on the ballot (they failed) and now, they've initiated last-minute voter purges. In a roundup on the Ohio tactics in Talking Points Memo yesterday, Kate Riga wrote, "The abortion rights supporters have money, polls and the recent history of other red-state abortion proposals on their side; the opponents have various schemes of essentially legalized cheating on theirs."
Who helps pay for this effort to trick Ohio voters into privileging rapist sperm cells over 10-year old rape victims? The same strange little man behind the overturning of Roe, of course.
Leonard Leo -- the Knight-Errant in Italian loafers on a camel above -- is an ideological time traveler from the 11th Century, and he's proud of it. He likes to include his status as a Knight of Malta in his official bios. The Sovereign Military Hospitaller Order of Saint John of Jerusalem of Rhodes and of Malta is a Roman Catholic organization founded in 1048 in Jerusalem as a monastic order that ran a hospital for Christian pilgrims, later tasked by Rome with military duties defending Christians from the local Muslim population. Ejected from Jerusalem when the Turks retook it, the order eventually settled on Malta, ruling it until Napoleon's army dispersed them in 1798. They did not disband.
According to Foreign Policy magazine, the modern day Knights are a nonstate entity with 13,000 members, maintaining diplomatic relations with 104 countries. After centuries in which membership was restricted to European aristocrats, in 1956 a new rank, ''knights and dames of grace and devotion,'' was opened to commoners. The order operates out of a single building in Rome, with a famous "keyhole view" of the Vatican. Their leader is referred to as the prince and grand master, is elected for life in a secret conclave and must be approved by the pope.
Leo has enjoyed four decades of success in Washington, advising Republican presidents on conservative lawyers to fill the federal judiciary. He is responsible for the U.S. Supreme Court rightist quintet of Roberts, Alito, Gorsuch, Kavanaugh, and Coney Barrett. As a young man, he helped Clarence Thomas through his nomination fight in 1991. Now he is using donor money to get extremists into state judgeships around the country.
The Knight mostly jousted in the K Street shadows. But since the overturning of Roe, and his historic $1.6 billion dark money treasure haul last year, which I covered for The New Republichere, reporters are paying more attention to him. He leads an increasingly lavish lifestyle in a coastal Maine palazzo (purchased from another Knight of Malta). I've been told he bought his own church, made his wife choirmaster and so has his own priest, like the Sicilian noble in Lampedusa's novel Il Gattopardo. His fans in the Catholic Church are pushing for sainthood for a deceased daughter.
Investigations at Pro Publica and Politico turned up accounting and other irregularities, prompting the DC attorney general to look into his networks. (In Ohio, anti-choice activists funded by his network have reportedly paid his consultancy some $2 million.) Shameless Ohio Rep. Jim Jordan recently announced he will investigate the Attorney General for opening that investigation.
Leo would clearly like to keep a low profile in Ohio. As recently as September, he was listed as President of Students for Life America, one of the most active anti-choice groups in Ohio. As the Issue 1 vote nears, his name disappeared off the website, where he has been on the board since 2008. Investigators at The Lever discovered one of Leo's many pots of money, the Concord Fund, donated $18 million to an anti-choice outfit called Protect Women Ohio Action, with more than $6 million in the past two months.
Last year, the Catholic Information Center (CIC), with offices on K Street, gave Leo an award as a "champion of the rule of law." The CIC describes itself on its website as "the closest tabernacle to the White House." In his acceptance speech, which can be viewed on video, the Knight-Errant let loose: "Catholicism faces vile and immoral current-day barbarians, secularists and bigots. These barbarians can be known by their signs. They vandalized and burned our churches after the Supreme Court overturned Roe v. Wade. … Our opponents are not just uninformed or unchurched. They are often deeply wounded people whom the devil can easily take advantage of."
Calling pro-choice women devil-manipulated barbarians and bigots is both laughable and a kind of hate speech. Most American pro-choice women are like Thera Parks, 51, an Ohio insurance saleswoman, whom the Washington Post interviewed recently. Parks is a Republican who volunteered this spring to collect signatures to get the abortion amendment on the ballot.
Why would a Republican work to overturn her party's signature achievement - the abrupt end of a right to privacy that women have enjoyed for 40 years? Here's what she told the Post: "When reproductive rights are banned, parents don't have a choice or say over their kids or their families or even their own bodies," Parks said. "A little girl had to leave Ohio to receive care. A thought of forcing young girls to stay pregnant and carry to term is just terrible to me."
Parks is one of the million points of democratic light around America who will prove to Washington's Knight of Malta that medieval mores have no home here. As long as democracy exists in some form in the states of the United States, common sense will ultimately prevail over fanatical lunacy.
Nina Burleigh is a a journalist, author, documentary producer, and publisher ofAmerican Political Freakshow, a Substack on politics. Her journalism has been published in The New York Times, The New Yorker, Airmail, and New York. She is the author of seven books including most recently Virus: Vaccinations, the CDC, and the Hijacking of America's Response to the Pandemic and an adjunct professor at New York University's Arthur L. Carter Journalism Institute.