Lindsey Graham Introduces Bill For Nationwide Ban On Abortion
@LauraClawson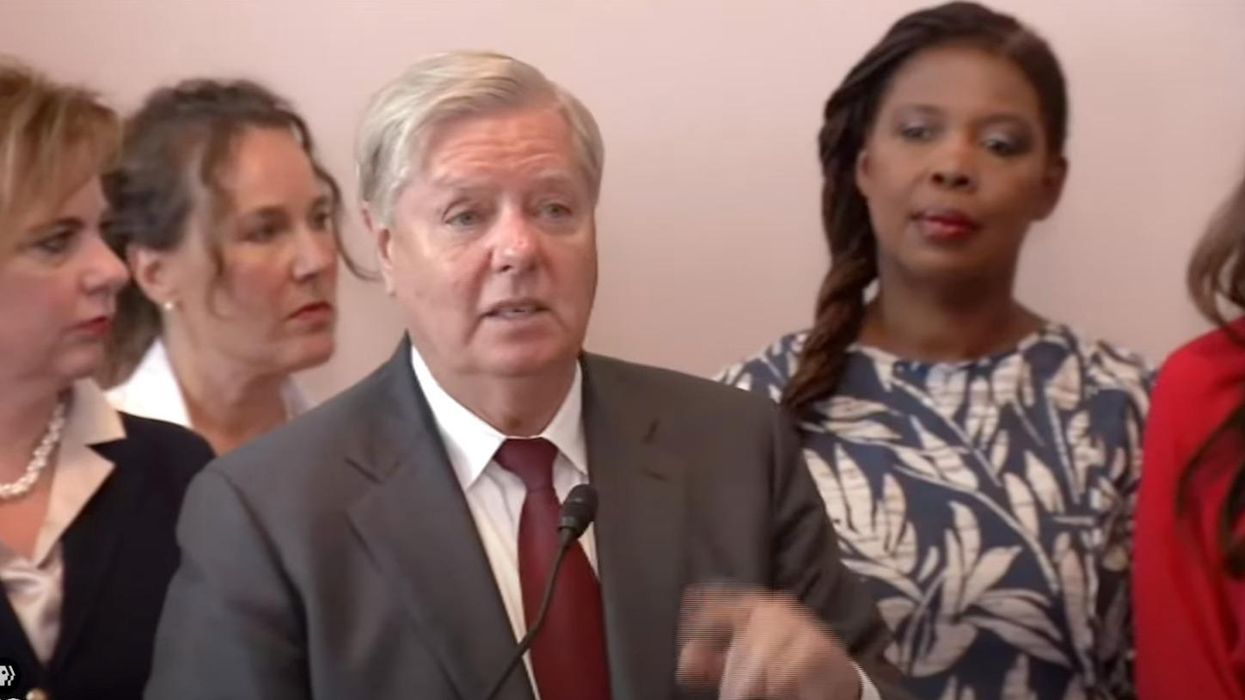 Youtube Screenshot
Republicans are struggling with the backlash against the Supreme Court overturning Roe v. Wade and a series of Republican-controlled states instituting harsh abortion bans. Voters are angry, and that anger has contributed to a reduction in Republican hopes for November's midterm elections. So what are they doing about it? Well, Sen. Lindsey Graham is going to introduce a national 15-week abortion ban.
That's one way to do things. Voters are angry that your party is banning abortion in the states? Go ahead and ban it nationally! Many in your party defended the Supreme Court's move as backing states' rights on this issue? Take it federal!
Graham's move is a political calculation. He's calling his 15-week abortion ban—which falls far short of Roe's standard of viability, usually around 23 or 24 weeks—the "Protecting Pain-Capable Unborn Children from Late-Term Abortions Act." He thinks he can convince swing voters to hear "late-term abortions" and "pain-capable" and think, "This is a reasonable limit I can support in the name of compromise."
But that's presuming that voters will hear those words and not just "national abortion ban." Or that they won't see through the fact that what Graham proposes is a sharp cut from what had been the national standard for nearly five decades.
It's also, of course, total bunk. Fetal pain is a big Republican talking point, but as applied to a 15-week ban, it's simply a lie. Here's what the American College of Obstetricians and Gynecologists has to say on the issue: "The science conclusively establishes that a human fetus does not have the capacity to experience pain until after at least 24–25 weeks. Every major medical organization that has examined this issue and peer-reviewed studies on the matter have consistently reached the conclusion that abortion before this point does not result in the perception of pain in a fetus."
Then there's "late-term." This is not a medical concept. "Late-term pregnancy" is a thing, meaning when a pregnancy goes past 40 weeks. But "late-term abortion" is a sneaky way to relate abortions performed past some indeterminate point—here, 15 weeks!—to actual late-term pregnancies. Fifteen weeks is also before the anatomical ultrasound at which many serious fetal anomalies, including many incompatible with life, are discovered.
It's not hard to see what Graham thinks he is doing with this messaging bill that has no chance of passing in a Congress controlled by Democrats or being signed by a Democratic president. He's trying to use the deceptive name of the bill to convince voters that Republicans just have reasonable goals when it comes to a national abortion ban. The thing is, Republicans haven't given voters a lot of reason to trust them on this issue, given the harsh abortion bans in so many Republican-controlled states, and the horror stories coming out of those states of women denied care for miscarriages or pregnancies that threaten their health, or child rape victims forced to travel out of state for medical care. And Graham's ban wouldn't reinstitute abortion rights up to 15 weeks in the states with near-total bans—it would only limit abortion rights where they currently exist.
It is also, of course, a huge betrayal of everything Republicans have said about states' rights. Here's Graham himself, just last month: "I think states should decide the issue of marriage and states should decide the issue of abortion." It isn't, or shouldn't be, a surprise that Graham is a giant liar on this front, but it's another reminder that the implication that Republicans just want to pass this oh-so-reasonable "Protecting Pain-Capable Unborn Children from Late-Term Abortions Act" isn't just a lie when it comes to the name of the bill, it's a lie about their larger ambitions. They're just getting started with this, and yes, Republicans want a national abortion ban.
Republican candidates across the country are frantically backpedaling on their extreme opposition to abortion, and here come Senate Republicans to remind voters that yes, Republicans really do want to ban abortion. Thanks, I guess?
But that's the message to voters. "Republicans want a national abortion ban." It's really that simple.
Reprinted with permission from Daily Kos.