GOP Voter Fraud Again! Authorities Probe Meadows Over Fake North Carolina Address
@Rebekah_Sager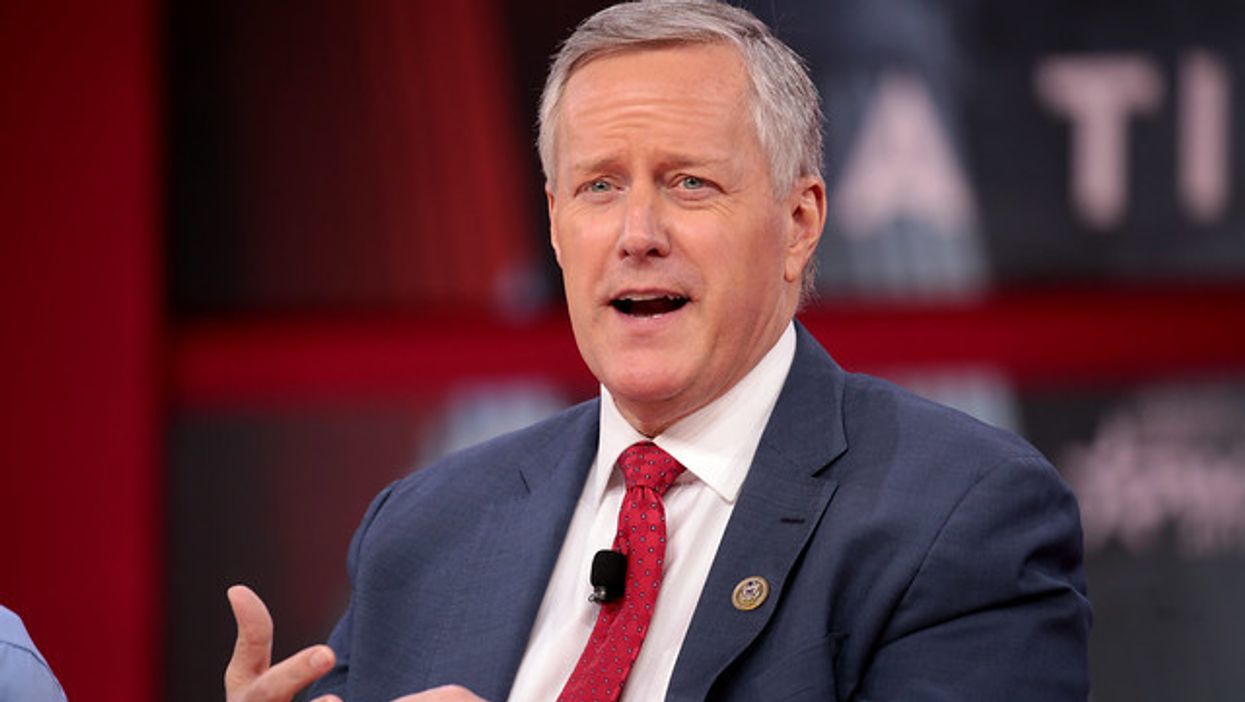 On Sep. 19, 2020, about three weeks before North Carolina's voter registration deadline for the general election, failed President Trump's former chief of staff, Mark Meadows, claimed to be living in a 14-foot by 62-foot mobile home in Scaly Mountain, North Carolina. The trouble is it doesn't appear to be true. Now Meadows is being investigated by authorities in North Carolina for possible fraud.
"The allegations, in this case, involve potential crimes committed by a government official," wrote Macon County District Attorney Ashley Hornsby Welch in a letter Monday to the attorney general's office.
Nazneen Ahmed, spokeswoman for Attorney General Josh Stein's office, told CNBC that "we have agreed to [Welch's] request" to take over the probe.

"We have requested that the Department of Justice's Special Prosecutions Sections investigate alongside the State Board of Elections," Ahmed said. "At the conclusion of the investigation, we'll review the findings."
As first reported by The New Yorker's Charles Bethea, Meadows does not own the Scaly Mountain property, which sits in the southern Appalachian mountains. His wife, Debbie, did rent the house for a couple of months.
The unnamed owner of the house told The New Yorker, "He did not come. He's never spent a night in there." The Meadows family did stay the home in the fall of 2020 when they were in the area for a Trump rally as nearby hotels were mostly booked.
According to The News & Observer, Meadows is still registered to vote at the mobile home address.
According to CNBC, Welch—whose jurisdiction includes Scaly Mountain—said in her letter Monday to Attorney General Criminal Bureau Chief Leslie Cooley Dismukes that she'd previously spoken to DIsmukes about "the voter fraud allegations surrounding former Congressman and White House Chief of Staff Mark Meadows." Welch went on to ask the attorney general's office to "handle both the advisement of law enforcement agencies as to any criminal investigation as any potential prosecution of Mark Meadows."
Welch has recused herself from Meadows' case as he was a congressman in her congressional district, and he had donated to her campaign for district attorney in 2014 as well as appearing "in several political advertisements endorsing my bid."
The district attorney added: "Historically, I have requested the Attorney General's Office to handle prosecutions involving alleged misconduct of government officials.
"It is in the best interests of justice and the best interests of the people of North Carolina that the Attorney General's office handles the prosecution of this case," Welch wrote.
Last month, Pamela Moses, 44, was sentenced to six years in prison for trying to register to vote.
Moses, a longtime Black Lives Matter activist in Memphis, Tennessee, told The Guardian that what happened to her was a straight-up "scare tactic" designed to keep her—and people who look like her—from voting.
In 2019, Lanisha Diresha Bratcher was charged with felony voter fraud. Jones had served time for a felony offense and was out on probation when she tried to vote. She learned then that under North Carolina regulations, as a convicted felon, she wasn't allowed to vote. However, she hadn't been informed of that when she registered to vote in 2016.

North Carolina's ban on voting for people who have been convicted of felonies dates back to a crooked 19th-century policy rooted in racism. It was born out of an urgency to limit the voting power of newly enfranchised African Americans. In 1898, the North Carolina Democratic Party wrote in a Democratic Hand Book of "the special mission of the Democratic Party to rescue the white people of the east from the curse of negro domination."
"A law that is intended to racially discriminate against a group is unconstitutional," John Carella, Bratcher's lawyer, told The Guardian about Bratcher's case in 2019.
We wonder if Meadows will receive the same treatment as Moses or Bratcher.
Reprinted with permission from Daily Kos