Convicted Florida Shock Jock Offers Cooperation In Gaetz Probe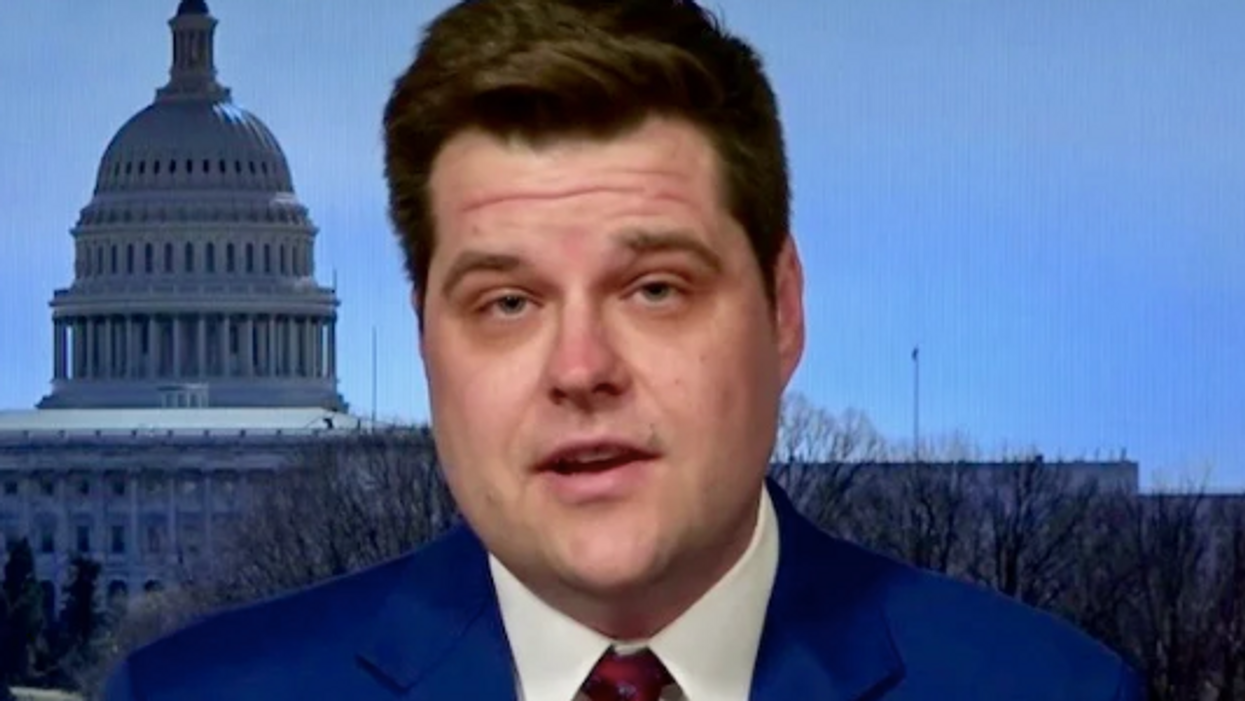 The guilty plea entered by a former Florida shock jock in connection with yet another bizarre criminal case may indicate that federal investigators are closing in on Rep. Matt Gaetz (R-FL).
According to The Daily Beast, Joseph "Big Joe" Ellicott, one of Gaetz's associates believed to have key information about his alleged sex trafficking case, entered his plea this week in federal court.
On January 18, according to court documents, Ellicott signed the plea agreement in connection with two different crimes. He was reportedly accused of committing fraud when he agreed "to 'pay bribes and kickbacks' to a public official and a separate drug crime: illegally selling the attention deficit hyperactivity disorder prescription medicine Adderall."

According to prosecutors, Ellicott was the intermediary in the kickback arrangement, carrying a $6,000 cash bribe from an unnamed tax office contractor to a Public Official—Greenberg. In exchange for the bribe, Greenberg and the contractor worked out a deal where the contractor inflated invoices for work with the tax office, pocketing the difference.
The former jock is also said to have sold more than $5,000 in Adderall to one client, in particular, over a two-year period.
Speaking to the Beast, Joe Zwick, Ellicott's attorney, also indicated that his client has been cooperative with federal investigators as they continue the probe into the sex trafficking case against the Republican lawmaker.
"This investigation had nothing to do with the sex scandal, but with the unprecedented things Greenberg was doing with the tax office. The big difference is that Joel Greenberg was elected to serve the people, and Joe was not. And the fact that this was done by criminal information not an indictment is pretty telling of how the prosecutors view him in this case," Zwick said as he noted that Ellicott had not been arrested. "Obviously they value his continued cooperation, as he does as well. We are going to set off sentencing as long as we can, and do everything we can to reduce his time."
Ellicott is reportedly a longtime friend of Joel Greenberg, a former tax collector in Seminole County, Florida, who has been described as Gaetz's "wingman in the underage sex operation," per inside sources with knowledge of their relationship.
The embattled former shock jock's plea follows The Daily Beast's previous report which "revealed that Ellicott knew intimate details about the teenage girl who was paid for sex by the group—and actually texted what essentially amounted to a confession that they were scrambling to try and coverup details about their sex with a 17-year-old from the feds."

Per the latest report published by the Beast, Ellicott's professional involvement with Greenberg appears to have been a major factor in the case investigators built against him. Greenberg, who faces sentencing for multiple charges including "trafficking a minor, stalking a political opponent, producing fake IDs, identity theft, embezzlement, and bribery," is said to have also had a habit of employing friends for "no-show jobs" at his tax agency.
Reprinted with permission from Alternet