Ethics Panel Reopens Gaetz Teen Sex Probe As Freedom Caucus Rebels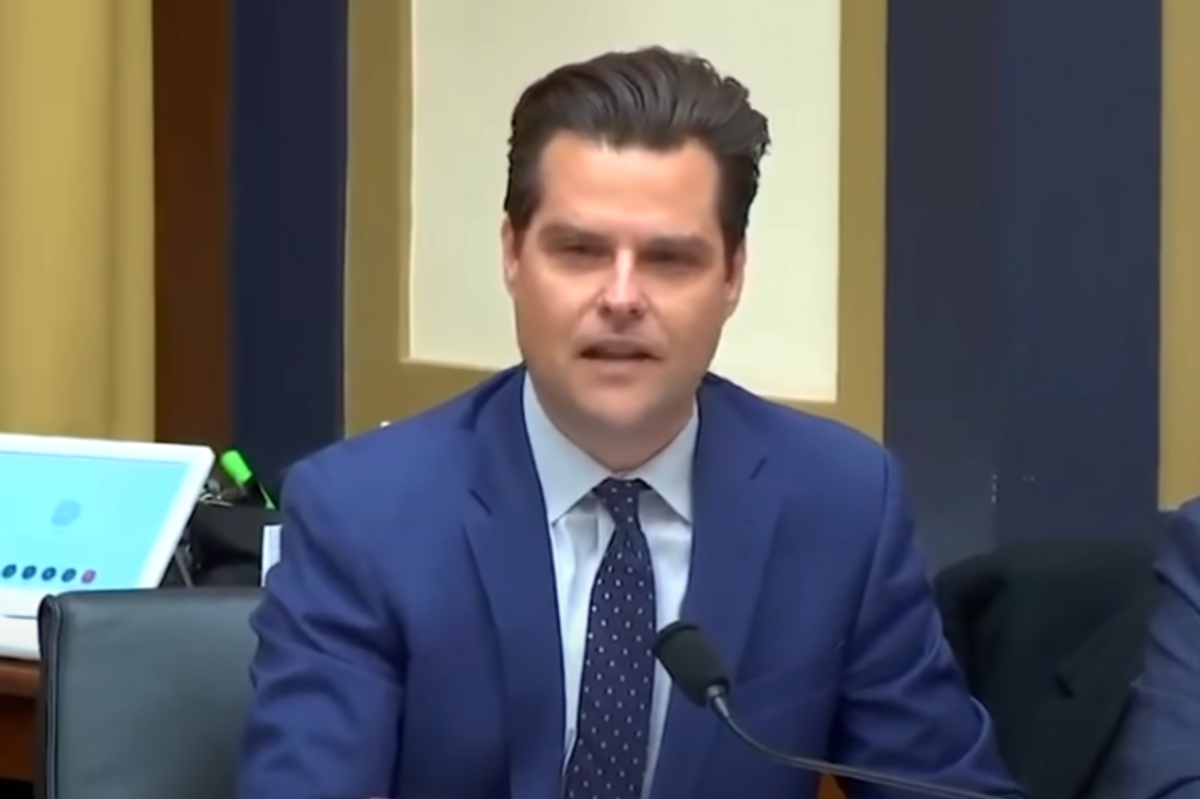 How do you even negotiate with these puffed up numbskulls?
\u201cReps Burchett, Buck, Biggs & Rosendale just arrived to meet with Speaker McCarthy. What's your message? \nBiggs: "Free the people"\u201d

— Jamie Dupree (@Jamie Dupree) 1686602497
The rebellion that shut down the House last week shows every sign of continuing this week, with no agreement yet announced between House Speaker Kevin McCarthy and the 11 nihilists whose tantrum ground House business to a halt. According to The Washington Post, leadership hasn't tried to engage the group since last Wednesday, when they gave up on accomplishing anything legislatively and sent everyone home. A new development late last week could make matters even worse for McCarthy and team.
According to Punchbowl News, the House Ethics Committee has reopened an inquiry into one of the ringleaders of the revolt, Rep. Matt Gaetz of Florida. The Department of Justice previously asked the committee to back off while it conducted a federal sex trafficking investigation involving underage girls. That investigation concluded without charges against Gaetz, but now the committee has reportedly opened its inquiry back up.
The committee announced the investigation in April 2021 to look into public reports that Gaetz "engaged in sexual misconduct and/or illicit drug use, shared inappropriate images or videos on the House floor, misused state identification records, converted campaign funds to personal use, and/or accepted a bribe, improper gratuity, or impermissible gift." Expect Gaetz to scream that this is leadership's retribution against him for his role in shutting the House down.
That won't help McCarthy get the House back on track, though Majority Leader Steve Scalise announced that they're going to try.
They'll reconvene late Monday afternoon and work through simple legislation that doesn't require procedural votes to move forward. Leadership will also try to bring back the rule vote from last Tuesday that kicked off the rebellion. If that's not blocked—which seems unlikely at this point—the Rules Committee, which is meeting Monday afternoon, will try to advance the items that were blocked last week: securing our freedom to buy gas stoves and other efforts to hobble the Biden administration, including trying to block restrictions on stabilizing braces that can be attached to pistols, transforming them into short-barreled rifles.
That last gun-related bill was one point of contention last week, when the sponsor, Rep. Andrew Clyde of Georgia, claimed Scalise threatened to tank his bill in retaliation for Clyde's vote against the debt ceiling bill. Scalise contends that the delay in bringing up the bill is because it's too controversial among Republicans.
Bringing that bill up this week isn't going to work to appease them. "It's kind of disingenuous," said Rep. Ralph Norman of South Carolina. He insists the hostage crisis will continue until the group gets what it wants on government spending. "We got a slim majority, but everything fails to pass until we get spending under control," he added. "Everything."
The group claims that one of McCarthy's secret promises to them back in January, the agreement that secured his speakership, was that the House wouldn't pass any spending bills that were higher than fiscal year 2022 levels. The debt ceiling deal he worked out with President Joe Biden violated that secret agreement with them, they insist, and now they're going to hold the House hostage until McCarthy backs down.
What that means is the 12 spending bills that are supposed to be voted on this year are in jeopardy, as is a functioning government. If those bills don't get passed, there will be across-the-board cuts to everything, including defense and veterans' care, starting January 1. That was included in the debt ceiling deal as a deterrent to the House trying to shut the government down—it would harm their favorite things and be politically damaging. If the far-right nihilists get the level of funding cuts they want, the Senate won't agree, and the bills won't pass. Which means McCarthy is going to have to compromise on funding again, and we'll be right back here with pissed-off maniacs.
Ideally, the funding bills would all be decided upon by October 1, when the new fiscal year starts. Given that there are just 32 legislative days left, that's not going to happen. The House lost all of last week because of the rebellion, and at this point, this week could be a wash as well.
Even if McCarthy could appease them on the spending bills, that won't end the complaints the rebel group has with leadership, real or imagined. One of them, Rep. Tim Burchett of Tennessee, insisted to Politico that leadership has a nefarious plot to harm them. He says he witnessed an act of intimidation of one of his colleagues by someone he would only identify as "the chairman," calling it a "beat-down." And Burchett isn't even one of the worst of the lot — he supported McCarthy's speaker bid on every vote and isn't officially a member of the Freedom Caucus.
McCarthy has somehow managed to alienate a former supporter, and certainly hasn't figured out how to resolve this standoff with the party's fringe. Instead, he picked a fight with his own leadership team. Meanwhile, he's out there on right-wing radio questioning Biden's ability to lead.
\u201cHugh Hewitt: \u201cYou just negotiated with President Biden \u2014\u00a0do you see him actually running for president?\u201d\n\nHouse Speaker Kevin McCarthy: \u201cI think it\u2019s gonna be difficult for him. I don\u2019t think he can put the time in \u2026 I just don\u2019t see the same vigor that I saw years past.\u201d\u201d

— The Recount (@The Recount) 1686577358
McCarthy needs to spend a little more time on figuring out how to do his own job, and less prognosticating for 2024.
Reprinted with permission from Daily Kos.