Defending Carlson, Gaetz Embraces White Nationalist 'Replacement' Theory
@alexvhenderson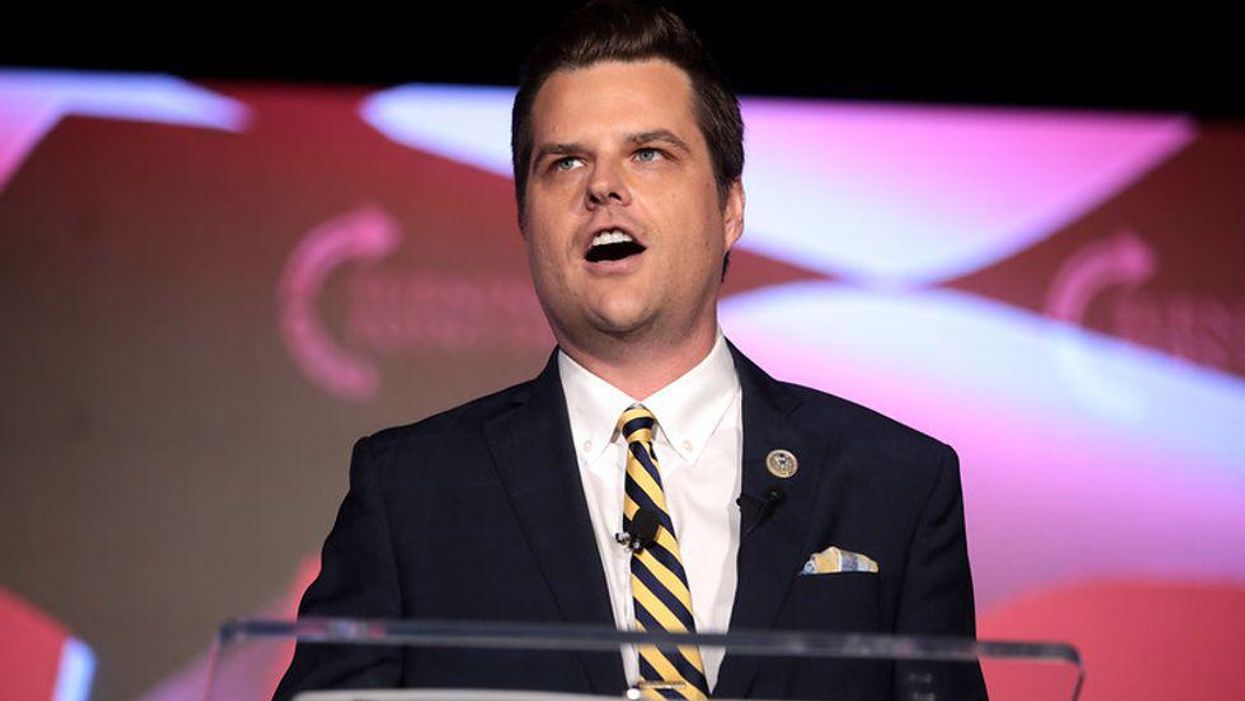 Reprinted with permission from AlterNet
Fox News' Tucker Carlson drew widespread condemnation when, in April, he promoted the Great Replacement Theory, a racist belief that is embraced by white supremacists and white nationalists. Some of that condemnation came from the Anti-Defamation League, but Carlson has only doubled down on his views. And he railed against the ADL during a conversation with former Fox News host Megyn Kelly on SiriusXM.
The Great Replacement, a white supremacist/white nationalist conspiracy theory, claims that liberals in western countries are trying to "replace" whites with non-whites. In France, supporters of far-right white nationalist Marine LePen claim that French liberals and progressives are trying to "replace" France's whites by bringing in immigrants from Africa and the Middle East — and Carlson, similarly, has claimed that Democrats and the Biden Administration are trying "to change the racial mix of the country" by bringing in immigrants from developing countries.
ADL CEO Jonathan Greenblatt has been calling for Fox News to fire Carlson, but that is unlikely to happen — as Carlson enjoys some of Fox's highest ratings and maintains a devoted following on the far right. When Kelly asked Carlson about criticism from the ADL, he responded, "The ADL? Fuck them."

Carlson added that in the past, the ADL "was a noble organization that had a very specific goal, which was to fight anti-semitism, and that's a virtuous goal. They were pretty successful over the years. Now, it's operated by a guy who's just an apparatchik of the Democratic Party."
Continuing to double down on his support for the Great Replacement Theory, Carlson told Kelly, "The Great Replacement Theory is, in fact, not a theory. It's something that the Democrats brag about constantly, up to and including the president. And in one sentence, it's this: Rather than convince the current population that our policies are working and they should vote for us as a result, we can't be bothered to do that. We're instead going to change the composition of the population and bring in people who will vote for us. So, there isn't actually inherently a racial component to it, and it's nothing to do with anti-semitism."
Rep. Matt Gaetz, a far-right Florida Republican and ally of the extremist Rep. Marjorie Taylor Greene of Georgia, vigorously defended Carlson on Twitter and posted:
.@TuckerCarlson is CORRECT about Replacement Theory as he explains what is happening to America.\n\nThe ADL is a racist organization.https://www.theguardian.com/media/2021/sep/25/tucker-carlson-fox-news-anti-defamation-league?CMP=oth_b-aplnews_d-1\u00a0\u2026

— Matt Gaetz (@Matt Gaetz) 1632588759
Josh Marshall, in response to Gaetz's tweet, posted:
Where the GOP is now, explicitly supports Great Replacement Theory, by name! And calls the ADL racist against white people. As recently as half a dozen years ago this identified someone as a poster on Stormftonthttps://twitter.com/mattgaetz/status/1441807874053885952\u00a0\u2026

— Josh Marshall (@Josh Marshall) 1632660462
Greenblatt recently slammed Carlson for "openly embracing White nationalist talking points" and said, "For Tucker Carlson to spread the toxic, anti-Semitic and xenophobic 'Great Replacement Theory' is a repugnant and dangerous abuse of his platform."