In Mexico, Water Fight Underscores Distrust Of Government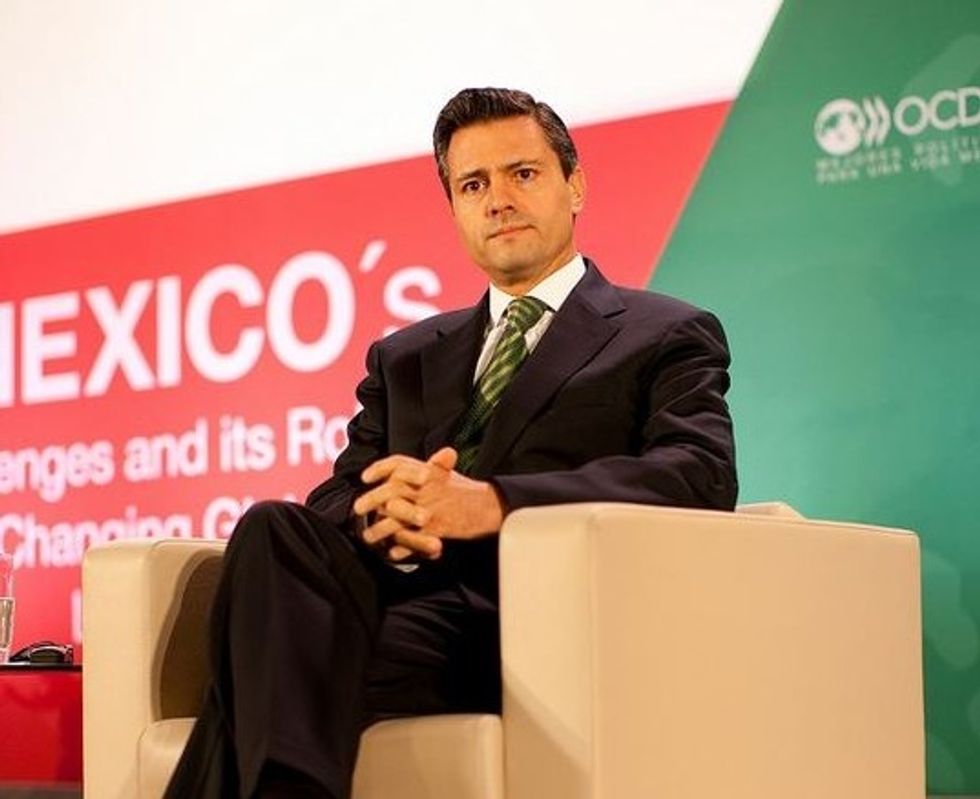 By Hector Becerra, Los Angeles Times
SAN BARTOLO AMEYALCO, Mexico — The church bells rang out, a normal occurrence in a community where the sound usually beckoned residents to weddings, funerals, or religious services. But the clanging on this morning was different: frenetic, insistent, relentless.
The sound signaled an alarm — and a call to arms.
More than 1,000 armored anti-riot police had begun to move into the outlying Mexico City colonia. Residents, meanwhile, prepared to meet them, armed with rocky projectiles they had created by swinging large hammers into the pavement, sidewalks, and planters.
More than 100 people were injured, some seriously, in skirmishes that day in late May in the isolated highland community. Most of the badly hurt were police, beaten by angry residents in fighting caught on television cameras.
The protesters said the government was seeking to steal a rare commodity: fresh volcanic spring water that has fed much of the town since before the Spaniards came. They insist that politicians want to move water to Santa Fe, a nearby wealthy community of gleaming corporate high-rises that grew out of a smelly dump about a generation ago and in many ways represents the way the Mexican government would like the country to be seen — as economically ascendant.
The conflict underscores the chronic distrust many Mexicans have of their government, and fears that the country's engines of economic growth may be stalling, even as President Enrique Pena Nieto proclaims this to be "Mexico's moment."
Places such as Santa Fe — international, modern, and brimming with wealth — are potent symbols of possibilities. But Santa Fe, like much of the Mexican economy, has hit a bit of a wall. Water is one of the problems.
Government officials said police were actually sent to safeguard a project that would provide water to thousands of people on the edges of San Bartolo Ameyalco, as well as those who live there. Authorities also say the pipeline would take water from a river and not from the treasured spring.
Leonel Luna, the elected leader of the municipal district, said the protest was led by "a violent group" that has lied about the project.
"We're talking about the same people who for years have opposed this project and who through misinformation have sought to confuse and manipulate the information," he said.
The violent confrontation has left both sides with black eyes.
"In a democratic country, there is neither a place for beating police savagely, as occurred May 21 in San Bartolo Ameyalco, nor for citizens to be abused by these tools of power," political analyst Alfonso Zarate wrote in the newspaper El Universal.
"Unfortunately in Mexico the government works in the service of money and power," said Bibiana Perez Linares, 39, whose brother was among five people arrested May 21.
Political analyst Jose Antonio Crespo said Mexicans are tired of government inefficiency and an atmosphere of impunity. He said it's a reason that some Mexicans have taken the law into their hands, as in Michoacan, where vigilantes rose up against the Knights Templar drug cartel in the last year.
It may be untrue that the government wants to take water from San Bartolo Ameyalco's natural spring to Santa Fe, Crespo said. But in Mexico, there's history enough to suggest that it could be the case.
"Things like that happen a lot in Mexico," he said. "The rich are the ones who can impose their way."
To drive through Santa Fe is to almost forget that it was once a rank place where trash pickers known as pepenadores scraped together a living. Many of them still live in the community, on a steep hill of ramshackle homes largely segregated from the burnished corporate towers. But its growth is exceeding its ability to manage a host of problems. To many in San Bartolo Ameyalco, a largely poor community, it makes sense — despite denials — that the government would want to take their water to feed the juggernaut.
No political figure in San Bartolo is more polarizing than Luna, whose name is splashed on banners in the central square. As he sat at a long table at the municipal government's headquarters, he spread out maps that he said demonstrated the distance of the water project lines from the natural spring. He said the pipes that would be used were far too small to move that water from San Bartolo to Santa Fe.
Luna said the project will soon be resumed.
The Mexico City area suffers from chronic water shortages, and conflicts are not uncommon, but the San Bartolo Ameyalco battle — in which Molotov cocktails and tear gas were used — was especially violent.
Luna said the project was first proposed in 1986 and has been opposed since by the same group of people. The lack of progress has resulted in thousands of residents being forced to pay for water, he said, sometimes hundreds of dollars a month. He accused water truck interests of inciting demonstrations.
Luna said that without a major police presence May 21, people might have been killed. "It's a violent group," he said, "and the neighbors who are soliciting the project were going to defend it because they have no water."
Opponents said police acted too aggressively, shoving residents, including children.
Victor Mejia, 58, said he was trying to keep the peace and that his son, who was arrested, did not attack. Maybe officials won't take water to Santa Fe now, but Mejia said he is suspicious.
Next time the bells will be accompanied by fireworks launched into the sky "to let them know we're serious," he said.
"Our water is clean. That's why to us it is a blessing and a curse," he said. "It's a blessing because we have it. And it's a curse because everyone wants it."
Photo: OECD Organisation for Economic Co-operation and Development via Flickr
Interested in world news? Sign up for our daily email newsletter!