Michelle Obama Looks Overseas In Final Years As First Lady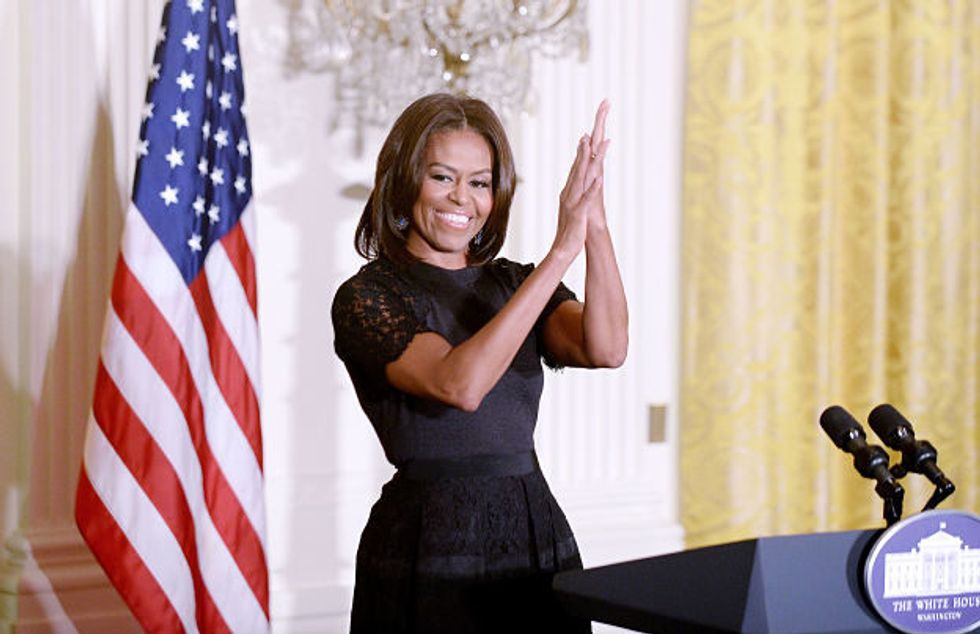 By Margaret Talev, Bloomberg News (TNS)
From the "Let's Move!" anti-obesity campaign to initiatives to boost resources for military families and get more students through college, first lady Michelle Obama has focused her agenda on Americans.
As her husband's presidency begins to wind down, though, she's adapting a lesson from the adage that U.S. presidents do well to turn toward foreign policy in their last years in office.
This week, she will travel to Asia, with stops in Japan and Cambodia, to promote the administration's Let Girls Learn initiative, which aims to support efforts in countries around the world to keep teenage girls in school.
After six years of being first lady of the United States, "at this stage she's had a greater understanding of how first ladies around the world — or first spouses — can work together," said Anita McBride of the Center for Congressional and Presidential Studies in the School of Public Affairs at American University, who served as Laura Bush's chief of staff.
Arriving in Japan on Wednesday, Obama will visit Tokyo and Kyoto, teaming up with Akie Abe, Japanese Prime Minister Shinzo Abe's wife, who is a leading advocate in her country and the region for women advancing in the workplace and men sharing tasks at home. From there, Obama will visit Cambodia with Peace Corps Director Carrie Hessler-Radelet to visit with volunteers and students at a school in Siem Reap.
For decades, first ladies have made overseas trips, pressing countries to educate their daughters and move toward gender equality. Hillary Clinton, during her time as first lady, turned her attention to women overseas after controversies at home. And in aftermath of 9/11, Bush promoted the education of girls and women in Afghanistan. Obama has already visited some foreign countries independently of her husband, including China, South Africa, and Haiti.
Still, in picking up the mantle on girls' education worldwide, Obama is expanding her own legacy, while staying within the boundaries she set at start of her husband's presidency to stick to politically safe issues involving children and families rather than take a hands-on role in contentious debates such as health care or foreign policy.
"As I've traveled the world over the past six years, I've seen time and again how our young people, particularly our girls, are so often pushed to the very bottom of their societies," she said at a March 3 event at the White House announcing the initiative. "And that's where this issue becomes personal for me, and for Barack, because I see myself in these girls. I see our daughters in these girls. And like all of you, I just can't walk away from them. Like you, I can't just sit back and accept the barriers that keep them from realizing their promise.
"So I know that I want to use my time and my platform as first lady and beyond to make a real impact on this issue. I want to lift up the extraordinary work all of you have been doing long before I came to this issue, and I want to bring new resources and new partners to this effort."
White House spokesman Eric Schultz said that President Barack Obama also is committed to the initiative, that he presses for advancement of girls' education in his meetings with foreign leaders, and that the White House's national security team is involved in coordinating the approach. "This is an issue that's important to the president," Schultz said. "The president believes there's no better voice for this than the first lady."
Because Obama is the first black first lady, her message to women of color in developing nations may have a special impact. "It sends a really strong message to people around the world that we can move past some of our own issues related to race" in the U.S., McBride said.
According to the Obama administration, there are 62 million girls worldwide not in school, half adolescents. The initiative starts with the premise that less educated women will earn less and be more susceptible to forced marriage, domestic violence, and HIV/AIDS.Obama's engagement is expected to continue through the end of her husband's administration.
The Peace Corps will focus on 11 countries, including Cambodia, in the first year of the initiative. The other countries are Albania, Benin, Burkina Faso, Georgia, Ghana, Moldova, Mongolia, Mozambique, Togo and Uganda. "The Peace Corps is so proud to be working closely with the first lady," Hessler-Radelet said in an e-mail.
USAID already supports programs to boost girls' education in the Democratic Republic of Congo, Liberia, Malawi, and Jordan. The Millennium Challenge Corporation has initiatives underway in El Salvador and Georgia to boost girls' education. The U.S. government also funds empowerment and leadership programs for women and teen girls in Afghanistan and Rwanda. And the U.S. funds programs around the world to combat female genital mutilation and forced marriage.
Myra Gutin, a Rider University professor who studies first ladies, said that while Obama has largely steered clear of policy activism, advocacy for girls' education is controversial in many of the world's top conflict hotspots. "It's important at this point in time when human rights are certainly not guaranteed around the world," Gutin said.
Photo: U.S. first lady Michelle Obama speaks during an event to mark Nowruz on Wednesday, March 11, 2015, at the White House in Washington, D.C. Nowruz is a holiday that is celebrated by more than 300 million people in diverse ethnic and religious communities across the Middle East, Central and Southwest Asia, and Eastern Europe. (Olivier Douliery/Abaca Press/TNS)