Republicans Prepare Racially Inflammatory Anti-Immigrant Midterm Campaign
@TUSK81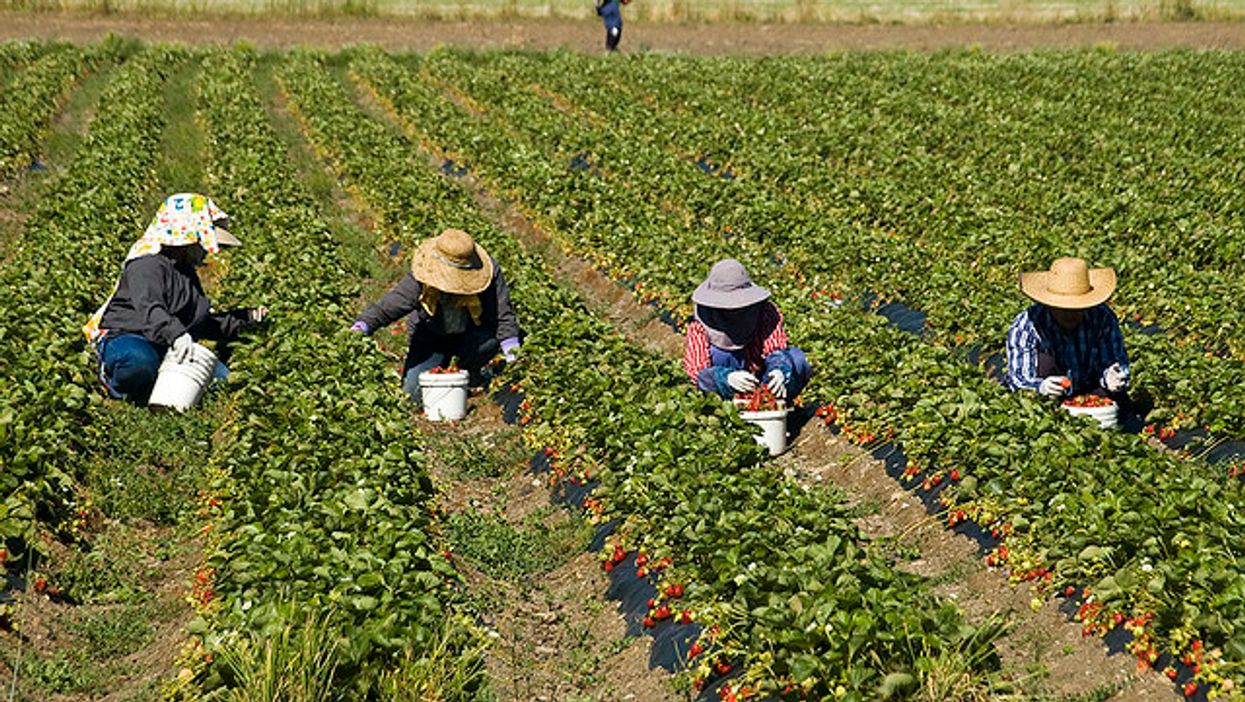 Two organizations tracking anti-immigrant advertising say they've documented more than 700 such ads leading into the 2022 midterms, including attacks against the Biden administration over a so-called "border crisis" and content designed to undermine a vastly popular pathway to citizenship for the nation's undocumented communities.
The former is particularly shameless considering two of the previous administration's worst policies largely shutting down the U.S. asylum system, Remain in Mexico and the debunked Title 42 public health order, are still in effect today. But that hasn't stopped Republicans from lying. And as we get closer to Election Day, we already know it'll only get worse.
"Increasingly, these 'border crisis' attacks are also using Vice President Kamala Harris as their main foil: the border czar," America's Voice and Immigration Hub said in the report. "Thirty-seven paid ads invoke the Vice President with xenophobic dogwhistles, echoed by members of Congress, such as Senator Ted Cruz of Texas and Congressman Mike Johnson (R-LA). The gender and racial connotations are also quite evident."
The report notes hate group Federation for American Immigration Reform (FAIR) has spent tens of thousands of dollars over the past two months targeting nearly two dozen House Democrats for their support of popular, pro-immigrant legislation. The racist Tanton network organization has launched ads against House Democrats despite the fact that House Republicans also voted in favor of bills protecting Deferred Action for Childhood Arrivals recipients and undocumented farmworkers.
But anti-immigrant advertising isn't solely a product of the fringe right-wing. Racism is the Republican mainstream. (FAIR led Congressional Republicans in "border crisis" messaging from the very start of Biden's administration.)
America's Voice late last year noted racist ads from House Republican Conference Chair Rep. Elise Stefanik and Sen. Rick Scott, who heads the National Republican Senate Committee. While both voted to overturn the results of the 2020 election in favor of the twice-impeached former president, Stefanik's ad stoops to calling undocumented immigrants the real insurrectionists. Stefanik also echoed the white supremacist "replacement theory" in her ad.
The report notes that Lindsey Graham, once a Republican champion of comprehensive immigration reform, also echoed racist "invasion" rhetoric. Once again: It's not the fringe, it's the GOP. But America's Voice and Immigration Hub note that GOP-led attacks "fail to dampen support for citizenship."
"The report includes new results of a study by Immigration Hub, conducted by BlueLabs Analytics, testing political ads among Florida, North Carolina, and Pennsylvania voters," the two organizations said. "A GOP ad that attacked President Biden on his management of the border failed to move voters against a path to citizenship, only managing to drive down Biden's approval numbers."
"However, voters who viewed the Hub's ad that exposed the GOP's obstruction and politicization of the border and pushed for citizenship, moved voters in favor of Democrats. By going on offense, Democrats have an opportunity to counter the Republican electoral playbook." America's Voice has separately noted that in a futile attempt to stop GOP attacks, "the Biden administration has maintained numerous Trump policies along the border, only to continue to be attacked by the rabid right wing media." The groups encourage Democrats to combat Republicans by delivering on promises for a more humane immigration system.
"Republican and right-wing messages haven't changed since Trump's departure," Immigration Hub chief political and communications officer Beatriz Lopez said. "The warning signals to Democrats are clear: It's immigration today and it'll be immigration in 2022."
"While the right-wing playbook is to exacerbate fears over the economy and public health with hyperbole over immigrants and the border, their strategy fails to shake voters' strong support for a path to citizenship," she continued. "Our tracking and testing among battleground voters makes clear that Democrats must go on offense by driving their efforts to deliver on a path to citizenship and sensible immigration solutions while exposing the GOP political gamesmanship on the issue."
Reprinted with permission from Daily Kos