Johnson Won Taxpayer-Funded Rebates For Creationist Theme Park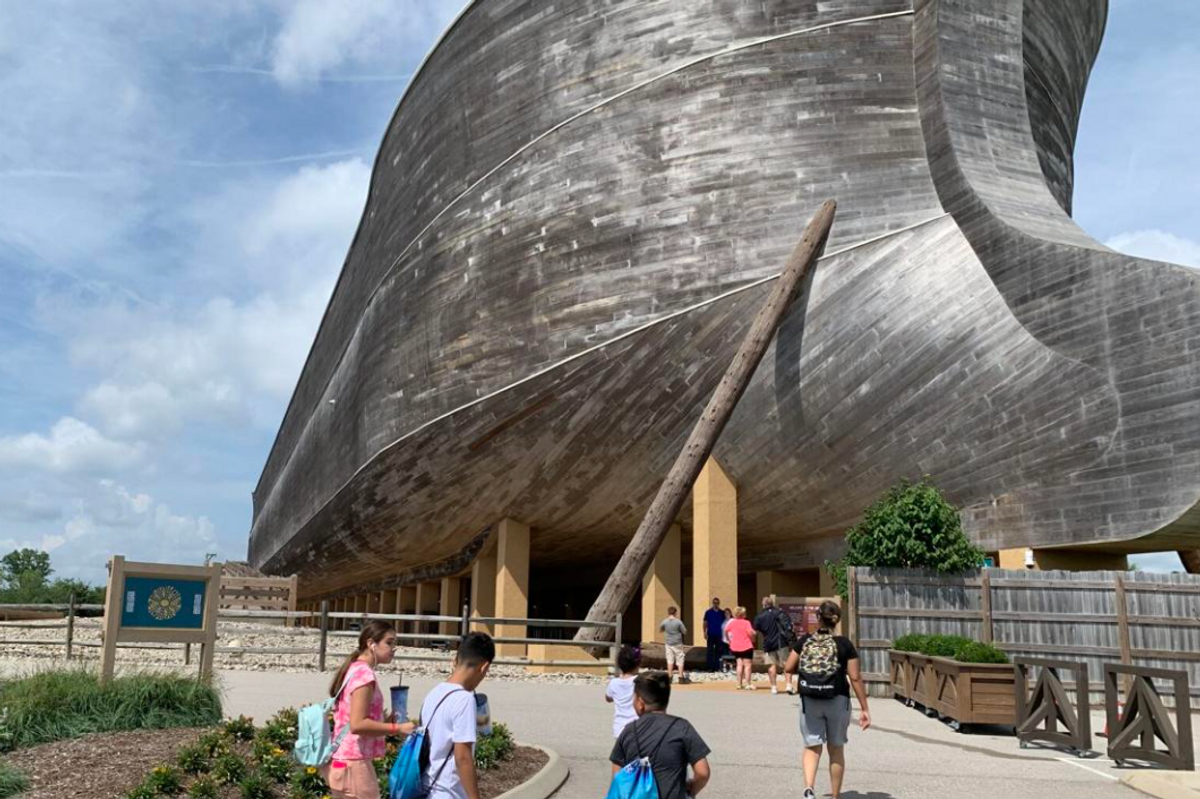 Insert LinkBefore being elected to Congress, newly-sworn-in Speaker of the House Mike Johnson was the founder and chief counsel of a Christian-based non-profit law firm that reportedly won at least $18 million in the form of a sales tax rebate for a biblical-themed entertainment park that had sued after Kentucky's governor charged the builder had changed from a tourism enterprise to a faith-based ministry.
Johnson, a Republican of Louisiana, had worked for the Alliance Defending Freedom (ADF), a now-powerful Christian legal group that recently played a large role in the U.S. Supreme Court's reversal of Roe v. Wade, which stripped Americans of the constitutional right to abortion. After his work at ADF, Johnson founded his own Christian legal firm, Freedom Guard, and was hired to represent Answers in Genesis, a creationist ministry founded by Ken Ham, a young Earth creationist who holds what some consider extremist views on the Bible and Christianity.
Ham's project, Ark Encounter, a "life-sized" Noah's Ark replica and museum is now up and operating in Kentucky, but the road for the project was rocky.
The Guardian reports that Johnson "was among a team of attorneys engaged to press a federal lawsuit described by the Answers in Genesis president and chief executive, Ken Ham, as involving 'freedom of religion, free exercise of religion, freedom of speech in this great nation of America.'"
"Johnson accused the state of 'viewpoint discrimination,' adding: 'They have decided to exclude this organisation from a tax rebate program that's offered to all applications across the state.'"
In an op-ed, "Johnson attributed opposition to the project to 'a few radical secularists and others' who he said were misrepresenting the US Constitution."
Johnson helped smooth that road to win $18 million in tax rebates for Ham's operation, which requires (or at least, did at the time, although it has been recently updated) all employees, including volunteers, to sign a lengthy and detailed "Statement of Faith," which is published on its website.
"In order to preserve the function and integrity of the Answers in Genesis (AiG) ministry (and its various attractions and outreaches, both domestic and international) in its mission to proclaim the absolute truth and authority of Scripture and to provide a biblical role model to our employees and to the global body of Christ, the community, and society at large, it is imperative that all persons employed by the AiG ministry in any capacity, or who serve as volunteers, should abide by and agree to our Statement of Faith and conduct themselves accordingly," it reads.
The Statement of Faith requires parents to "instruct their children in Christian faith and conduct, to set before them godly and consistent examples of the same, and in every way to 'bring them up in the nurture and admonition of the Lord.'"
It also requires employees to agree that same-sex marriage is immoral.
"The only legitimate marriage, based on the creation ordinance in Genesis 1 and 2, sanctioned by God is the joining of one naturally born man and one naturally born woman in a single, exclusive union as delineated in Scripture. God intends sexual intimacy to only occur between a man and a woman who are married to each other and has commanded that no sexual activity be engaged in outside of a marriage between a man and a woman. Any form of sexual immorality, such as adultery, fornication, prostitution, homosexuality, lesbianism, bisexual conduct, bestiality, incest, pornography, abuse, or any attempt to change one's gender, or disagreement with one's biological gender, is sinful and offensive to God."
Watch an Answers in Genesis video featuring Ken Ham and Mike Johnson below or at this link.
Reprinted with permission from AlterNet