Dismissing Khashoggi As An 'Activist,' Pompeo Provokes Fresh Outrage
@next2godwin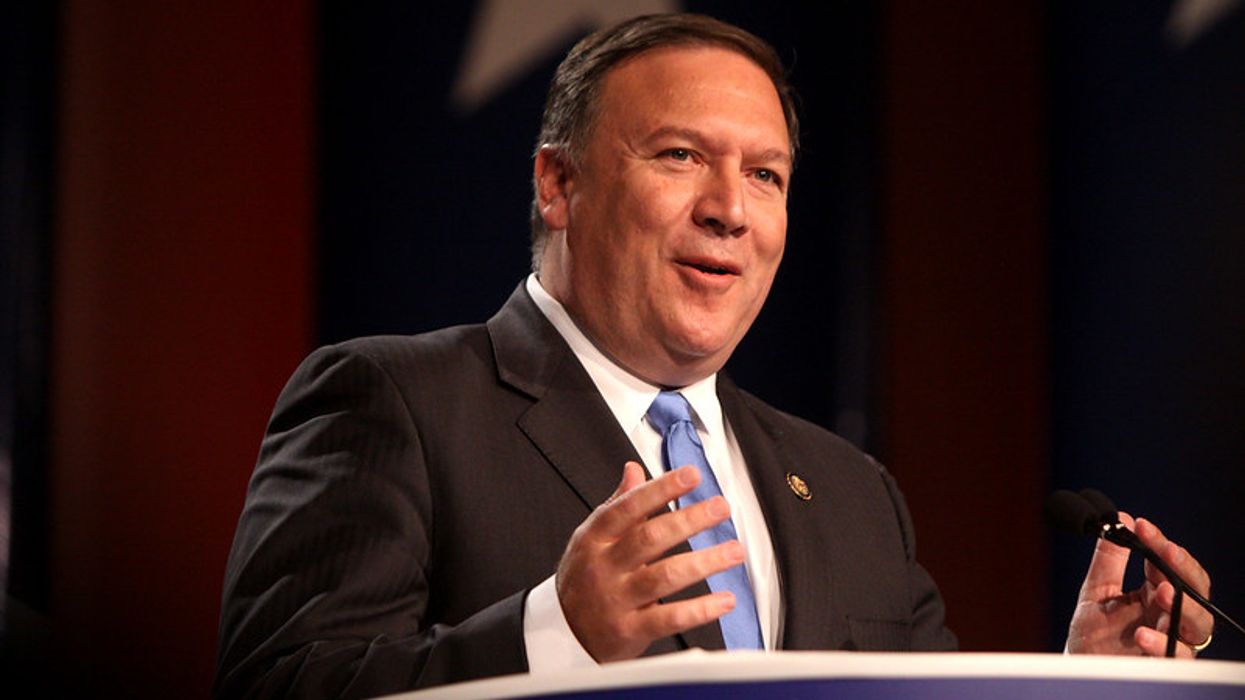 Former Secretary of State Mike Pompeo has come under fire for criticizing the global condemnation of Washington Post columnist Jamal Khashoggi's killing, questioning Khashoggi's journalistic credentials, and cozying up to the Saudi crown prince, whom a U.S. intelligence report concluded had ordered the assassination.
Khashoggi, an ardent critic of Crown Prince Mohammed bin Salman, also known as MBS, was tortured and then murdered by the kingdom's agents in the Saudi Arabian consulate in Istanbul, Turkey, on October 2, 2018.
After the murder, former President Donald Trump and Pompeo, then his top diplomat, sprung to the Saudi kingdom's defense, with Trump describing the public outrage at the Saudis at the time as "just [what we] went through that with Justice Kavanaugh and he was innocent."
Despite four years passing since the CIA found that MBS had ordered Khashoggi's assassination and almost two years since intelligence from the Biden Administration affirmed the conclusion, Pompeo, an ex-director of the CIA, and the Trump family, have continued to legitimize the crown prince and parrot the kingdom's propaganda.
The murder was "ugly" but not "surprising," Pompeo said in his new book, Never Give an Inch: Fighting for the America I Love, wherein he mocked the media for posthumously portraying Khashoggi as "a Saudi Arabian Bob Woodward martyred for bravely criticizing the Saudi royal family."
Pompeo argued that Khashoggi was "an activist who had supported the losing team in a recent fight for the throne" and could only be considered a journalist "to the extent that I, and many other public figures, are journalists," insisting that "we need to be clear about who he was," according to NBC News.
Khashoggi — who blasted MBS, the kingdom's de facto ruler, for allegedly oppressing critics in the months leading to his death — was "cozy with the terrorist-supporting Muslim Brotherhood," an oft-repeated allegation that Khashoggi had vehemently denied time after time when he was alive.
In a statement on Tuesday, the Post's CEO and publisher Fred Ryan Jr. blasted Pompeo for "so outrageously" mischaracterizing the Saudi-born journalist, "falsehoods," he said, that Pompeo perpetuates to "dishonor a courageous man's life" and "as a ploy to sell his books."

The Post's editorial board, in a scathing opinion Tuesday, blasted Pompeo for misrepresenting Khashoggi in an outlandish tirade that "reveals much more about Mr. Pompeo than his critics."

"[Pompeo's comments show] that, rather than acting as a principled leader of U.S. diplomacy, Mr. Pompeo coddled the person who sent the Khashoggi hit squad," the publication wrote.
Sarah Leah Whitson, the executive director of Democracy for the Arab World Now, or DAWN, a non-profit advocating for democracy and human rights in the Middle East, accused Pompeo of echoing MBS's justification for Khashoggi's death.
"Pompeo's crass and craven comments appearing to justify Jamal Khashoggi's murder by disparaging his political views and falsely associating them with terrorism mirror the same justifications Mohammed bin Salman (MBS) and other tyrants use to excuse their crimes," Leah wrote in a statement.
Speaking to NBC on Monday, Khashoggi's widow, Hanan Elatr Khashoggi, said that her late husband was "not part of the Muslim Brotherhood" and that she hungered "to silence all of these people who publish books, disparage my husband, and collect money from it."

"Whatever [Pompeo] mentions about my husband, he doesn't know my husband. He should be silent and shut up the lies about my husband," Helen Elatr Khashoggi said. "It is such bad information and the wrong information. … This is not acceptable."
Pompeo dismissed the criticism on a right-wing podcast hosted by Fox New's Bret Baier, saying that the Post "went on a major mission to undermine the work that we [in the Trump administration] were trying to do to keep America safe and our relationship with the kingdom of Saudi Arabia."
"I didn't write that to sell books," Pompeo told Baier. "I wrote that to explain how we were thinking about keeping the American people safe."
"Americans are safer because we didn't label Saudi Arabia a pariah state," Pompeo tweeted late Tuesday, responding to the Post's statement. Just b/c someone is a part-time stringer for WaPo doesn't make their life more important than our military serving in dangerous places protecting us all.
On the road promoting his book — which, upon review, Pulitzer prize-winning journalist Tim Weiner branded a "master class in the performative anger poisoning American politics" — talked up the prospect of a potential White House run in a CBS Morning interview Tuesday.
"Susan [his wife] and I are thinking, praying, trying to figure out if this is the next place to go serve. We haven't gotten to that conclusion. We'll figure this out in the next handful of months," Pompeo told CBS's Gayle King.