Milwaukee Sheriff 'Missing In Action' As He Seeks Trump Limelight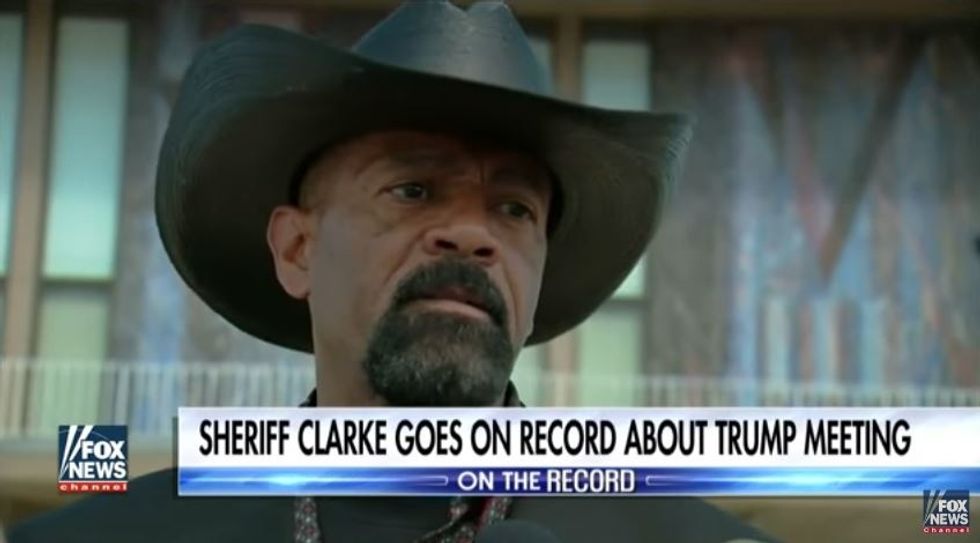 Sheriff David Clarke of Milwaukee County in Wisconsin has become a fixture on Fox News and at conservative political events, regularly serving as a shameless advocate for President Donald Trump.
But local journalists who report on the 15-year sheriff of Wisconsin's most populous county say his newfound national spotlight sharply detracts from his law enforcement duties. They note that he spends much of his time away from home, either promoting Trump or pushing his new book, Cop Under Fire: Moving Beyond Hashtags of Race, Crime and Politics for a Better America.
Wisconsin reporters also point out that his local approval ratings continue to fall as he ignores his responsibilities, as well as a string of troubling incidents that have occurred in the past few years. Chief among the concerns are four inmate deaths that occurred in his jails in 2016, which Clarke has failed to adequately explain, they say.
"It gives the impression that he is missing in action and that he is an advocate for the Trump administration," Daniel Bice, a columnist for the Milwaukee Journal Sentinel who has reported extensively on Clarke, said about his recent actions. "The perception is that he has gone from being the sheriff to being an advocate for Trump — that is his primary role right now."
Clarke, a Democrat and African-American, is among Fox News' favorite guests. A search of Fox News transcripts on Nexis since 2015 finds he has made prime time appearances more than 100 times, in most cases to discuss national issues, not his home county. (Nexis does not capture Fox News appearances on morning and daytime programming.)
In addition, a recent Journal Sentinel review of Clarke's outside income disclosure statements found he had earned more than $220,000 in 2016 from speaking fees and related expenses, along with other gifts, during speeches to 34 different groups in 20 states outside of Wisconsin. These earnings outpace his sheriff salary which is $132,290.
"He's not around and he's not doing his job and not providing any leadership," said Charlie Sykes, a longtime conservative Wisconsin talk show host now appearing on MSNBC and WNYC Radio in New York. "His approach has been to refuse to comment, refuse to be transparent in any way, and attack anyone who raises questions about it."
And then there are the questionable incidents involving Clarke, ranging from his tweet calling CNN's Marc Lamont Hill a "jigaboo" to his alleged harassment of a fellow airplane passenger.
Clarke also called for a boycott of a local Fox affiliate, claiming it presented "fake news" and "racist" coverage.
"He doesn't talk to the local press except through the county sheriff's Facebook page, but he does talk to Fox News, which is a contrast," Bice said. "The assumption nationally among the conservatives is that he is beloved here, but even conservatives are frustrated with how long he is gone and not doing his job."
Clarke was first appointed sheriff in 2002, winning re-election later that year and again in 2006, 2010 and 2014. He is up for re-election again in 2018.
But he didn't gain national prominence until his last election, when groups of gun-safety advocates helped support an effort to have him voted out.
When he won that election, local reporters say, he started getting national attention as a gun-rights advocate and law enforcement voice. He drew further attention last year when he spoke out against the Black Lives Matter movement, calling it a hate group. He was also an early Trump supporter.
One of the misconceptions about Clarke, however, is his image as a crime-fighter, local journalists say. His office does very little in the way of policing, with most of its work focused on the county's jails, highways, and parks.
"The county sheriff has almost nothing to do with crime. The police handle the crime," said Bruce Murphy, editor of UrbanMilwaukee.com, former editor of Milwaukee Magazine and onetime Journal Sentinel reporter. "He's the classic example of all hat and no cattle. He talks tough and he has the impression of being this guy who is taking care of crime, and he has very little to do with it."
A January 31 report from Public Policy Polling found that Clarke had a 31 percent approval rating among local voters, and it noted that "voters consider him to be somewhat of a national embarrassment." It also revealed that 65 percent believed Clarke has had a negative impact on Milwaukee County's image.
PolitiFact, meanwhile, has deemed 75 percent of his statements that it reviewed false or mostly false.
"He's very thin-skinned. He enjoys the limelight, likes the big checks and flying first class," said Mike Crute, a talk show host on WRRD News Talk 1510 in Milwaukee. "It's horrible. He's got people dying in his own jails and he is nowhere to be found."
Crute added: "He is a guy who undermines the office and the public service office. It's all narcissism, building himself as a TV brand, following Trump's example. The sheriff's office and its duties are just tedious to him. He doesn't do anything."
James Wigderson, assistant editor of the conservative website RightWisconsin.com, called the outside appearances "a distraction."
"The fact that he probably earns more from speaking fees than he does at his day job leads you to believe that his day job has to be suffering at some point in this process," Wigderson said. "It's a mixed bag in Milwaukee County when you are more frequently appearing on Fox News nationally than you are on the local news discussing what is going on in Milwaukee County."
Journalists also say that he has not properly addressed the jail deaths or his constant trips out of town. When Media Matters approached him at the recent Conservative Political Action Conference in February outside Washington, D.C., Clarke declined to comment on either.
Most reporters who cover Clarke believe he will not run for re-election in 2018, due in part to his diminishing local image and popularity, but also because of his continued support for Trump, as many believe he still hopes to serve the president in some capacity.
"He's become a Fox News commentator/Trump surrogate and at that point has become almost completely disconnected with the community," said Sykes.
In response to a request for comment, Fran McLaughlin at Clarke's office sent the following:
I spoke with the sheriff :

The left (Progressives, Democrats) doesn't think a black guy is capable of handling many things at one time. Let me introduce them to Sheriff David Clarke. He's added Tammy Baldwin to the list. He's EVERYWHERE! He's too busy to talk to you right now though. #MakeAmericaGreatAgain