Not Just Conservative: Putting Media Lipstick On 'Moms For LIberty'
@LauraClawson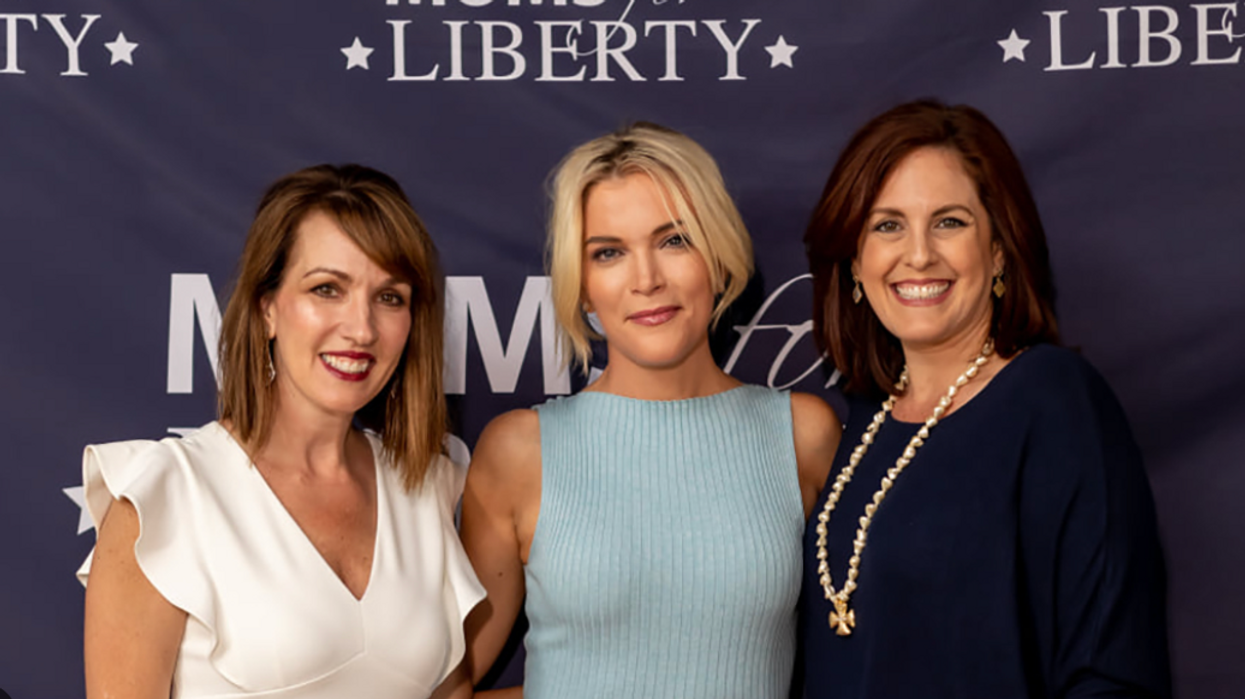 A Moms for Liberty chapter recently had to apologize for quoting Adolf Hitler approvingly in its newsletter, and the national organization was described by the Southern Poverty Law Center as an anti-government organization spreading "messages of anti-inclusion and hate." But that didn't stop the group from drawing top Republican presidential candidates and favorable media coverage as it held its big conference in Philadelphia.
Donald Trump, Florida Gov. Ron DeSantis, and fellow Republican presidential candidates Nikki Haley and Vivek Ramaswamy spoke at the event, with DeSantis doubling down—his wife Casey also spoke. (Robert F. Kennedy Jr., ostensibly a Democratic presidential candidate, dropped out of the event at the last minute.) The candidates lavished praise on the supposedly grassroots gathering, laying it on thick about "moms."
"I think what we've seen across this country in recent years has awakened the most powerful political force in this country: mama bears and they're ready to roll," said DeSantis.
"You have proven beyond all doubt that there is no earthly force more powerful than the love of a mother for her children—that's true," Trump said. "In school board races, PTA meetings and town halls across the nation, you have taught the radical left Marxists and communists a lesson they will never forget: Don't mess with America's moms."
What they mean, of course, is conservative white women for whom "mom" is a useful political identity. Moms for Liberty is no grassroots group, either. One of the group's original co-founders is married to the head of the Florida Republican Party, and within months of launching, the group had been featured by Rush Limbaugh, Tucker Carlson, and Breitbart News. In the first two years of its existence, it held fundraisers with ticket prices up to $20,000 featuring guests like former Fox News personality Megyn Kelly and musician John Rich.
Its first annual conference, held last year, included Sen. Rick Scott, Ron and Casey DeSantis, former Trump Education Secretary Betsy DeVos, and more big names. This is not what grassroots groups look like. Yet when media organizations like ABC News are covering the Moms for Liberty conference, the "regular moms" framing is what leads, while the big money and interesting connections are mentioned only in passing, if that.
Here's the aforementioned ABC News:
They call themselves joyful warriors -- but this group of conservative moms are mad.They're mad at their teachers, their principals, their president. And now they're fighting back through school boards, local elections and -- if they get their way -- their next president.
What are they mad about? Talk to us about that. Because it sounds less like righteous mom stuff if you say up front that they're mad that schools are teaching the history of race and civil rights in the U.S. and that the existence of LGBTQ+ people is not being erased or treated as shameful.
This weekend's Moms for Liberty conference showcases how local issues like education can have tremendous, galvanizing national influence, as Gov. Ron DeSantis, former President Donald Trump, and former U.N. ambassador Nikki Haley tried to woo nearly 700 attendees of the over 150,000-member group Friday.
The big national Republican money behind this shows that it's not a question of local issues having a national influence. It's a form of circular messaging Republicans have mastered: The first "local parent voices" are, if you dig a little bit, longtime right-wing activists with deep ties to the Republican Party, but when they go on Fox News within weeks of launching their new organization, they're billed simply as "concerned parents." The Fox News appearances draw in some people who are just regular angry conservatives, helping the new group, with its establishment ties and big donors, paint itself as "grassroots."
Moms for Liberty is—like Betsy DeVos—committed to undermining, defunding, and ultimately abolishing what they call "government schools." That's public schools. COVID-19 restrictions were the group's first way into the public eye, but since then they've jumped on and helped promote every Republican attack on teachers and schools as it's come up. It was critical race theory, with Moms for Liberty chapters loudly opposing children's books on civil rights figures like Ruby Bridges and Martin Luther King Jr. Then there were attacks on teachers as "groomers" as Moms for Liberty sought to eliminate any mention of LGBTQ+ people from schools.
You cannot talk responsibly about Moms for Liberty without mentioning their extremist ties, laid out clearly by the SPLC:
One of the most notable connections is the association with several chapters with the Proud Boys, a White nationalist group. Pictures have circulated across social media of Moms for Liberty leaders and members posing with Proud Boys in their full regalia.Bridget Ziegler was recently elected to the Sarasota County school board – a victory due in part to local Proud Boys, who she was pictured celebrating with afterwards. She later attempted to downplay the connection.
Moms for Liberty also teamed up with the controversial group, Gays Against Groomers, to host an anti-LGBTQ "Protect the Children" rally in Florida, which also included Proud Boys flashing White power signs. ...
Some Moms for Liberty members have turned to law enforcement for support, specifically members of the Constitutional Sheriffs and Peace Officers Association (CSPOA). Some Moms for Liberty member have called on the sheriffs, claiming "sex crimes," further feeding their narrative of children being sexualized and also pushing into the area of QAnon conspiracies of children being groomed by progressives.
"When they mentioned that this was a terrorist organization, I said 'Well then, count me as a mom for liberty because that's what I am,'" Nikki Haley—the former South Carolina governor and United Nations ambassador and current Republican presidential candidate—said at the group's Philadelphia convention. That's who she was associating herself with.
"You're not the threat to America," Trump told them. "You're the best thing that has ever happened to America."
It's irresponsible reporting to cover these Republican candidates praising this group without putting its hate group connections and bigoted positions front and center.
Reprinted with permission from Daily Kos.